The music returns: Lockdown ends in Spain
Readers' Speak: Spain lockdown lifts with concert at Barcelona opera house; Donald Trump in trouble ahead of US elections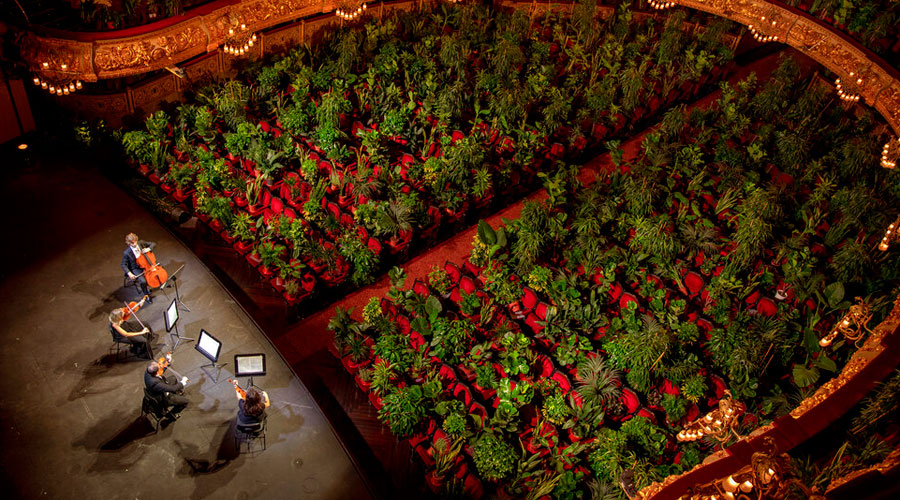 Musicians rehearse at the Gran Teatre del Liceu in Barcelona, Spain, Monday, June 22, 2020.
AP Photo/Emilio Morenatti
---
Published 01.07.20, 01:21 AM
|
---
Sir — Music is believed to offer a healing touch: can it heal the broken relationship between mankind and nature too? This was the central question posed by a performance at an opera house in Barcelona, marking the end of the lockdown in Spain by playing music to thousands of plants that filled the seats of the auditorium. These plants are to be presented to healthcare workers. The human audience, who could watch the spectacle online and enjoy the beautiful melody, should remember to pay attention to the preservation of the environment once their lives get back to normal.
Abhishikta Dhar,
North 24 Parganas

Out in the open
Sir — One wonders whether to be amused or disappointed every time a former associate of the president of the United States of America, Donald Trump, turns against him, and begins to disclose his dirty secrets to the world ("Trump a danger for republic: Bolton", June 23). This time, John Bolton, the national security adviser whom Trump had dismissed from office last year, has come up with a book, The Room Where It All Happened, to tell on the president's misdeeds — including calls for help from China for his re-election this year. This book is expected to be of particular significance for Trump's campaigns. 

The White House has, of course, rejected the claims made by Bolton, in an attempt to save whatever is left of the president's image — starting from his associations with Stormy Daniels to his liaisons with the Russian premier, Vladimir Putin, during the last presidential elections, allegations against Trump abound in the public domain. What remains to be seen is if these accusations make any difference to the voters.

N. Roy Choudhury,
Calcutta

Sir — The much awaited book by Donald Trump's former national security adviser, hyped for its revelation of Trump seeking China's support for his re-election, has finally been published. However, this information hardly comes as a surprise, as no one expects the US president to behave any differently. It is likely that Trump has deliberately created this daft image of himself, as it makes him popular among his devout supporters. Whether it is his audacious pre-dawn tweets or controversial measures, through which he actually delivers on his electoral promises, Trump is unlikely to alter his attitude.

Ever since he came to power, Trump has been using his position as a newcomer in politics to bring changes to the existing order in the White House and influence others to think and act like him. This has helped him put a spin on every major incident during his regime — the collusion with Russia, steps to repeal Obamacare, tariff wars with other countries, accusations against the media for allegedly propagating 'fake news', condemnation of China for its failure to contain Covid-19 — such that they were accepted as gospel truth by his loyal electorate. As such, it may need even more than a disastrous pandemic for them to desert him. To add to this, the Opposition has done little to counter him. Trump had already begun playing the victim in anticipation of Bolton's book, and stepped up his rhetoric. Should the US economy show reasonable recovery by November, Trump might as well be voted in for a second term.

R. Narayanan,
Navi Mumbai

Sir — Donald Trump is grappling with several problems at home — from the coronavirus outbreak and a failing economy to anti-racism protests directed against him. The US president is further livid because his former national security adviser has now divulged many of his sweeping misdeeds in a new book. These include his attempt to secure help from the Chinese premier, Xi Jinping, to get re-elected by asking the latter to buy more farm products from the US. Such revelations seem poised to further burden Trump's struggles with his re-election campaign.

It was also reported that Bolton has mentioned Trump's express willingness to halt criminal investigations as "personal favours to dictators he liked". To justify that Trump had little knowledge of the other nations he dealt with, Bolton cites the president's expression of surprise upon hearing the United Kingdom had nuclear weapons and Finland was not a part of Russia. The book also alleges that Trump had a role to play in the Chinese government's mistreatment of Uighurs in the country. Curiously, soon after the publications of excerpts from the book, Trump was reported to have signed a bill rebuking the Beijing government over its approach towards the community.
At the very least, the book could be expected to undercut the argument made by Trump's campaigners that the current president is far tougher on China than Joe Biden would be, if he were to be elected.

S.S. Paul,
Nadia