Unity in diversity: Modi govt is destroying democratic institutions
Readers' Speak: Plans to boost sugar production; leaders who change parties often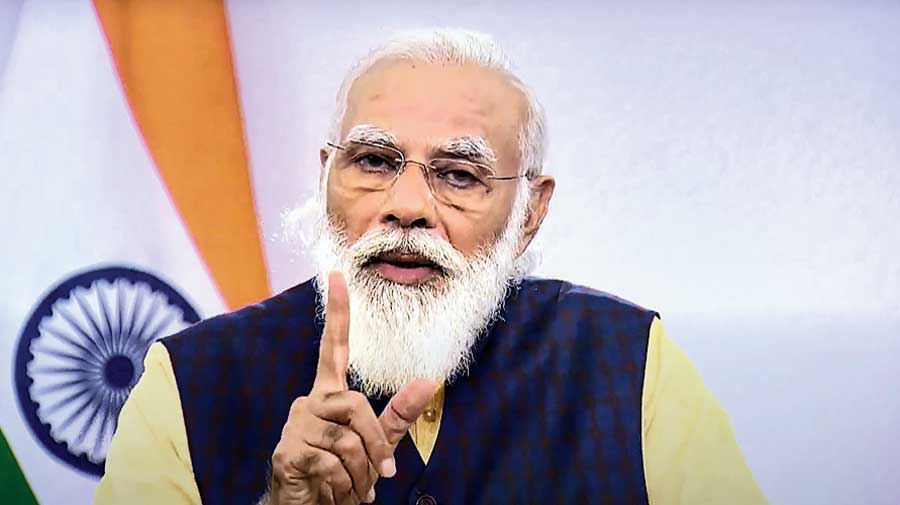 Narendra Modi.
PTI file photo
---
Published 04.11.20, 02:56 AM
|
---
Sir — It is no secret that the current dispensation, led by the prime minister, Narendra Modi, has destroyed the institutions essential to democracy, which take decades to build. Devoid of stalwarts who laid the foundation stones of such institutions, the Bharatiya Janata Party is trying to usurp the work of the hardcore Congressman, Sardar Vallabhbhai Patel, under the banner of the sangh parivar. This was evident in the celebrations of the Rashtriya Ekta Divas on October 31. The contributions of other leaders — Modi's bête noire, Jawaharlal Nehru, M.K. Gandhi and Subhas Chandra Bose are just a handful of such greats — cannot be wished away by the Modi government.
Bidyut Kumar Chatterjee,
Faridabad
Sir — On October 31, Narendra Modi emphasized the words, "ekta" and "akhandta", with respect to the nation. It is more than a little ironic then that on a day dedicated to unity, Jammu and Kashmir and Ladakh were split officially last year into two separate Union territories. Both Modi and his right-hand man, the home minister, Amit Shah, have claimed on numerous occasions that had the integration of Kashmir with India been left to Sardar Vallabhbhai Patel, Article 370 would never have come into existence. 
Yet, several historians like Srinath Raghavan and A.G. Noorani state that negotiations on the matter were held at Vallabhbhai Patel's residence in New Delhi, where Jawaharlal Nehru and Sheikh Abdullah were present. Raghavan even goes so far as to say that when a draft letter from Nehru to Abdullah was prepared, summarizing the understanding reached in the negotiations, it was sent to Patel with a note: "Will you kindly let Jawaharlalji know direct as to your approval of it? He will issue the letter to Sheikh Abdullah only after receiving your approval".
Hoarse proclamations can draw a veil over the truth only for a limited period of time. Facts will emerge eventually and once they do, people will not forgive those who have been trying to violate the spirit of 'Unity in Diversity' that Sardar Patel embodied.
Sushant Panda,
Mayurbhanj, Odisha
Fine balance
Sir — The report about the pathetic condition of the vice-chancellors of various universities in India was shocking ("The shaky chairs in academia", Nov 2). The Delhi University VC, Yogesh K. Tyagi, has been suspended for misgovernance. He is the 10th VC of a Central university to be suspended, dismissed or forced to resign under the present term of the National Democratic Alliance government. This indeed reflects poorly on the selection process. 
Vice-chancellors suspended owing to the misappropriation of funds must be punished; stopping their pension could be one way of going about this. Such punishment will act as a deterrent for others. But the predicament of VCs must be considered as well. They have to tread a thin line between appeasing teachers and students, satisfying the chief minister of their state and the chancellor who could have a different political leaning. A method must be evolved to protect VCs from various warring interests so that they can carry out their duties truthfully in the interest of the country.
Benu Kumar Bose,
Calcutta
Sweet lies
Sir — Plans are apparently afoot to boost sugar consumption in India to balance the country's chronic overproduction. How can two wrongs make a right? Sugarcane is a water-guzzling crop that not only leaches the soil of nutrients but also ruins the lives of farmers across the country. Add to this the water that goes into the production of sugar and we get an environmental hazard. The adverse effects of consuming sugar do not bear reiteration. The government must start awareness campaigns to ensure people do not fall into the trap of marketing gimmicks.
Pritha Das,
Calcutta
Parting shot
Sir — Ordinary voters are confused by leaders who appear to lead from the front as part of a particular ideology, but change their colours once they win. Leaders who, when on opposing sides, used abusive language against one another, are now showering accolades on each other. There is a paucity of leaders with convictions of values or ideology. Most of our politicians are only interested in increasing their bank balances. In the meantime, market prices of all essential commodities have shot up, education and health have been corporatized and employment is at an all-time low. Truly, "ki bichitra ei desh".
Suparna Banerjee,
West Burdwan