Above and beyond: Remembering Sean Connery
Readers' Speak: Travelling during the pandemic; passing of veteran Scottish actor Sean Connery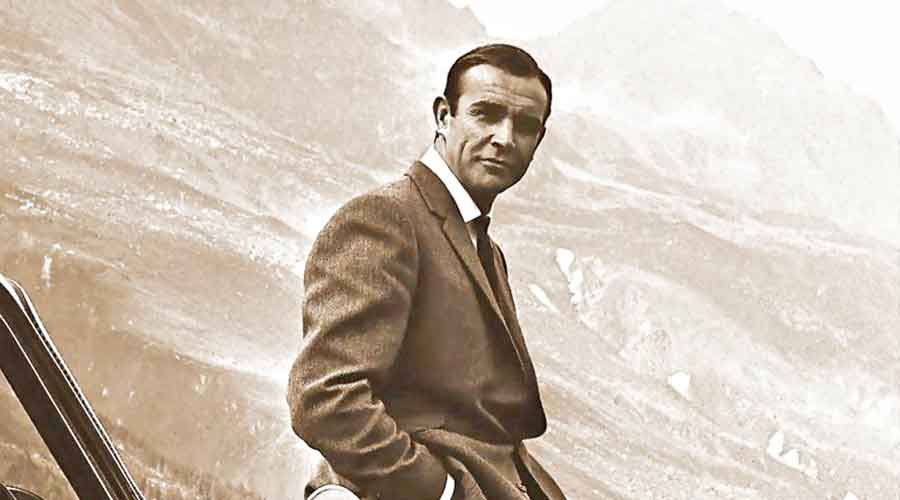 Sean Connery in the 1964 James Bond film Goldfinger.
Sourced by The Telegraph
---
Published 03.11.20, 02:06 AM
|
---
Sir — The passing of the veteran Scottish actor, Sean Connery, comes as a shock to cinema fans all over the world ("Shaken but thank you, Mr Bond", Nov 1). Connery played the infamous MI6 spy, James Bond, in seven movies and was arguably the best actor to play the role. It would seem that no one had quite mastered the art of wielding a gun like he had when he would shoot at villains without even turning his eyes away from the heroine in embrace. The introductory words, uttered by the character in Dr. No when he introduces himself to Sylvia Trench — played by the late British actress, Eunice Gayson — "Bond. James Bond.", has become one of the most famous catchphrases in the history of cinema. Connery was a truly exceptional figure in Hollywood and continued to hold the title of being one of the most desirable men on the silver screen in an industry that is notorious for ageism — he was declared by People magazine as the "Sexiest Man Alive" in 1989 at 59 years of age. 
While paying tribute to Connery, we must also remember his humble origins. He was raised in near poverty in the slums of Edinburgh and left school at 13 to help support his family. He was in many ways an unlikely choice for a character known for his affinity for fast cars and vodka martinis. Connery, however, proved to be the best fit for the role and went on to portray the iconic character in a way that no other has been able to match. The actor was much more versatile than he was given credit for. His portrayal of a tough Irish cop in Brian De Palma's 1987 classic, The Untouchables, led him to win the Oscar in a supporting role. He was also politically conscious and was an ardent supporter of Scotland's independence. He will be mourned like no other.
Shovanlal Chakraborty,
Calcutta
Sir — Sean Connery, the most memorable actor to play James Bond on the silver screen, will be remembered for many incredible performances. Some of his best roles came after he had hung up his boots as Bond, including The Untouchables, The Hunt for Red October and Indiana Jones and the Last Crusade. Although several actors have played the role of James Bond since then, none can come close to his portrayal of the character. 
However, it is Connery's underprivileged background as the son of a factory worker and a domestic cleaner — he worked innumerable odd jobs before he could enthral cinema-goers — that will continue to inspire others. He will always be missed.
Bal Govind,
Noida
Sir — The passing of the original on-screen James Bond, Sean Connery, has left millions of fans around the world in mourning. The Oscar-winning actor rose to prominence in the world of cinema by donning the cap of Ian Fleming's iconic character. He first appeared in Dr. No (1962) and went on to star in six more Bond movies. Had it not been for his charismatic, suave and witty screen presence, the character would not have flourished the way it did. The current James Bond, Daniel Craig, is right in his praise of the late actor. Connery truly did define "an era and a style".
Rahul Chouhan,
Ujjain
Sir — The veteran actor, Sean Connery, whose demise has led to a wave of mourning around the world, was one of the last men in the Hollywood old guard. He lived and worked in an era that favoured a certain kind of overt masculinity that has now become obsolete. He was truly the only actor since Cary Grant that men have wanted to emulate so much. James Bond epitomized the excesses and debauched recklessness that men in the post-World War II era craved to embrace. Dishearteningly, he also once explained in a magazine interview why he believed that slapping a woman with an open hand is justifiable. As a conscious consumer, how do you appreciate his excellence as an actor without acknowledging his glaring shortcomings in other aspects? The Bond films themselves have long been criticized for their abysmal portrayal of women and blatant objectification.
Connery was undeniably a powerful actor whose best performances came later in his career. One of his finest but most underrated performances was as a medieval monk-turned-detective in the historical drama, The Name of the Rose. He was also immensely lovable as Henry Jones Sr., the father of the whip-wielding archaeologist, Indiana Jones. No matter how iconic his early 'macho' roles were, Connery was at his finest when he was humble. It is this Sean Connery that the young generation of cine-lovers will appreciate and remember.  
Anamika Sen,
Calcutta
Risky moves
Sir — As people can no longer travel long distances during the pandemic, many have been vacationing at rural homestays and private resorts. The Bengal tourism department, too, recently announced that it plans to promote rural tourism in Kalimpong. But is it wise to travel to remote areas in the midst of a pandemic? Cities are hotbeds of infections and people are more likely to carry them to rural areas where the situation is not as severe. We must understand that health facilities are far more difficult to access in villages. Any further spread of the coronavirus there will only bring greater misery to the less fortunate.
Bani Saha,
Calcutta