Golden voice: Remembering S.P. Balasubrahmanyam
Readers' Speak: pandemic gives bicycles a new lease of life; the legacy of S.P. Balasubrahmanyam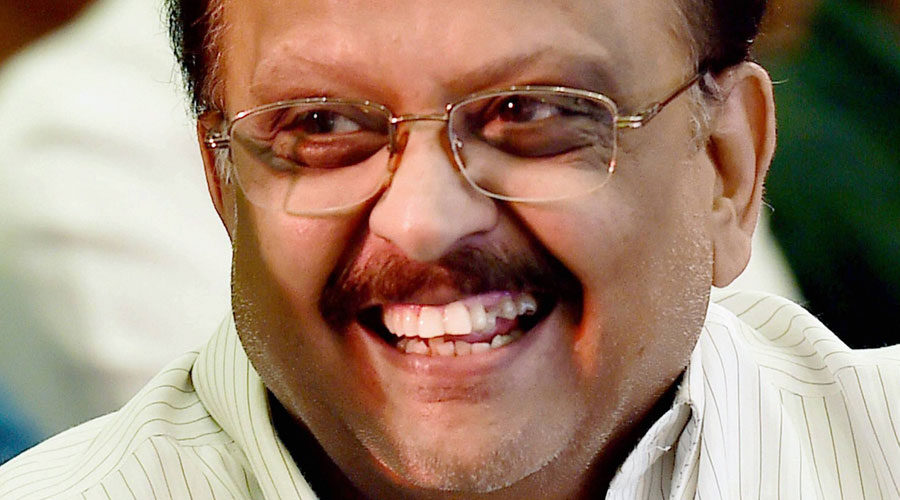 In this Wednesday, Jan. 27, 2016 file picture of playback singer SP Balasubrahmanyam at the audio launch of movie Kanithan in Chennai.
PTI
---
Published 01.10.20, 03:17 AM
|
---
Sir — The demise of the legendary singer, S.P. Balasubrahmanyam, has left a huge void in the field of music ("Gentle giant of music is no more", Sept 26). There are countless songs from Balasubrahmanyam that would fit varied human emotions. From a soothing lullaby to an upbeat number, he could lend his vocals to all sorts of music with ease. 
In spite of scaling dizzying heights and becoming an icon with a career spanning over five decades with more than 40,000 songs across 16 languages, Balasubrahmanyam was the epitome of humility. In many ways, he was similar to the cricketing icon, Sachin Tendulkar, who shared an emotional message after the musician's demise. Tendulkar even revealed that one of his favourite songs by the singer is "Sach mere yaar hai" from Saagar. The genial giant may have left this world, but he will always live in our hearts through his immortal songs.
Ranganathan Sivakumar,
Chennai
Sir — The celebrated playback singer, S.P. Balasubrahmanyam, has left behind an unmatched body of work. He sang in 16 languages, won the National Awards six times and held the title of recording the maximum number of songs in cinema in the Guinness Book of World Records. After K.J. Yesudas, he was only the second male singer from Southern India who could make a name for himself in the notoriously insular Hindi film industry. Much like his idol, Mohammed Rafi, Balasubrahmanyam will be remembered for his soothing and melodious voice. It is a testimony to his massive popularity that so many people gathered to bid him goodbye on his final journey even in the midst of a pandemic.
Bal Govind,
Noida
Sir — S.P. Balasubrahmanyam had a unique voice that suited the needs of many regional film industries including Hindi, Tamil and Telugu. Back in the late 1980s and early 1990s, when I was a school-going child, I would be mesmerized by his voice and watch the Tamil movies that he acted in with rapt attention. I fondly remember his songs being aired often on local television and radio channels in my native areas like Korkai, Tiruchendur and Tirunelveli in Tamil Nadu. Indian cinema has evolved wonderfully over the years and has helped bind people across the subcontinent. The unforgettable songs performed by Balasubrahmanyam have been an integral part of that journey.
P. Senthil Saravana Durai,
Mumbai
Sir — The passing of S.P. Balasubrahmanyam has dealt a huge blow to the Indian film industry. SPB, as he was referred to by his fans, mesmerized millions with his golden voice. In his long and illustrious career, he had worked with almost all the renowned music composers of the country, including Ilaiyaraaja and A.R. Rahman. He will be greatly missed.
Sourish Misra,
Calcutta
Sir — This year has been one of great losses in the Indian film industry. Several artists lost their lives to unforeseen circumstances, with S.P. Balasubrahmanyam being the latest. Their contributions to Indian cinema will always be remembered.
Rohit Sharma,
Gwalior
Pedal away
Sir — The pandemic has given bicycles a new lease of life. While some have been cycling to stay fit, others have taken it up in a bid to avoid public transport. Calcutta organized a cyclothon last month and has also set up a committee to look into possible cycling lanes. Hopefully this enthusiasm for bicycles will endure beyond the pandemic. Cycles are an accessible green alternative to fuel-run vehicles. If opted for in the long run, they can help reduce carbon emissions significantly, thus making way for a cleaner planet.
Abhirup Saha,
Calcutta