Let's help them
Stray dogs often do not get enough to eat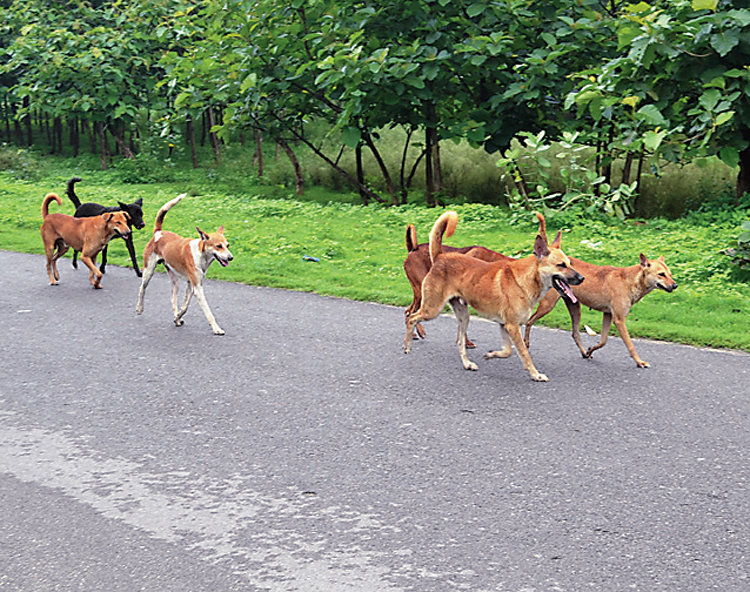 It is the duty of every citizen to treat animals with kindness
(File photo)
---
Published 01.03.20, 06:33 PM
|
---
Sir — While stray dogs are resilient creatures, having to survive on the streets, they are also greatly dependent on human beings for food and care. However, very few people are actually concerned about their well-being. Given that those who cause animals harm or are indifferent to their suffering seem to outnumber those who care, stray dogs often do not get enough to eat. They have to scrounge for food in waste bins at street corners, and many get sick and die without proper medical treatment. It is the duty of every citizen to treat animals with kindness. The government should be responsible for ensuring that stray dogs are sterilized and have access to food and sufficient medical care.
Perumal Renganathan
Game over
Sir — It is saddening that the tennis player and winner of five Grand Slam singles titles, Maria Sharapova, has decided to retire from the sport at the age of 32 ("Sharapova says goodbye to tennis", Feb 27). Her retirement comes soon after the death of the basketball star, Kobe Bryant, who was a good friend of hers and had been a guiding force for her through her career. Sharapova said that Bryant's demise helped her cement her own decision about hanging up her tennis shoes.
The most significant reason for her retirement, however, is the near-constant pain she has had to live with over the last few years. While Sharapova was a world number one player and also one of the most recognized faces of the sport, she struggled to regain her form after a suspension. The ban was the result of her having tested positive for meldonium, a drug developed for ischaemia patients that she said she had been taking for years on account of a magnesium deficiency and a family history of diabetes. The drug, while available in the Baltic countries and Russia, is not approved for use in the the rest of Europe or in the United States of America.
It is a pity that a player of Sharapova's ability and stature is now at the 373rd spot in the world rankings. She became a global star in 2004 by winning Wimbledon at the age of 17, upsetting the top-seeded Serena Williams in a gripping final. Irrespective of how Sharapova's career turned out, she always commanded respect from her peers for her single-mindedness and fighting spirit.
Bidyut Kumar Chatterjee
Faridabad

Sir — It is deeply saddening — albeit not surprising — for all of Maria Sharapova's fans that the five-time Grand Slam champion has announced her retirement. The former world number one tennis star has been struggling with injuries and poor form ever since she returned to the game following a drug ban. All lovers of the sport will miss Sharapova's splendid playing on the tennis court in the future.
Sourish Misra
Calcutta
Sir — With Maria Sharapova's retirement, tennis has lost a star. The player had the potential to be an all-time great of the sport. Even with all the troubles and controversies she faced, she still had a glittering career. The statistics speak for themselves — she spent 21 weeks as the World Tennis Association's number one player and, at the age of 18, became the fifth youngest woman to reach that spot after Martina Hingis, Monica Seles, Tracy Austin and Steffi Graf. She was also a silver medallist at the Olympics in London in 2012 and won 36 singles titles from 59 finals apart from three doubles titles. These are just some of her achievements.
The premature retirement of a mediocre player would perhaps not have evoked the kind of reactions that Sharapova's announcement has elicited. The main reason for the lament of fans and other enthusiasts of the game is the fact that most people acknowledged Sharapova's supreme talent and potential to do greater things in tennis. Injuries, chronic pain and a ban resulted in her career being cut short.
It has been a strange, tough time for the world of sport recently — first, Kobe Bryant passed away and now Sharapova has decided to call it a day, arguably much before her time. It is perhaps not a coincidence that the two were great friends and Sharapova relied heavily on Bryant for advice about her career.
Sreejata Chatterjee,
Calcutta
Back again
Sir — The decision of the West Bengal government to reintroduce the iconic double-decker bus to city roads in a bid to improve the public transport system is a welcome development. The buses, with an open roof design similar to those found in London, will probably be used for tourism purposes before they become available for regular commuters.
The double-decker bus was first introduced in the city in 1926 during the British raj. It plied between Shyambazar and Kalighat. Those buses were phased out around 1998 on account of maintenance costs being too high. Reportedly, the only Indian city that has double-decker buses in its public transportation fleet at present is Mumbai.
The vehicles would initially run on diesel. However, in the light of the rapidly deteriorating air quality index of our cities, there should be plans to ensure that the buses run on CNG or electricity. For electric buses in Calcutta, the overhead electric installations for trams can be used, albeit with some modifications.
Khokan Das
Calcutta