Larger than life
Ignoring Nehru's legacy is to obliterate nearly two decades of collective, post-colonial history in which he was a central character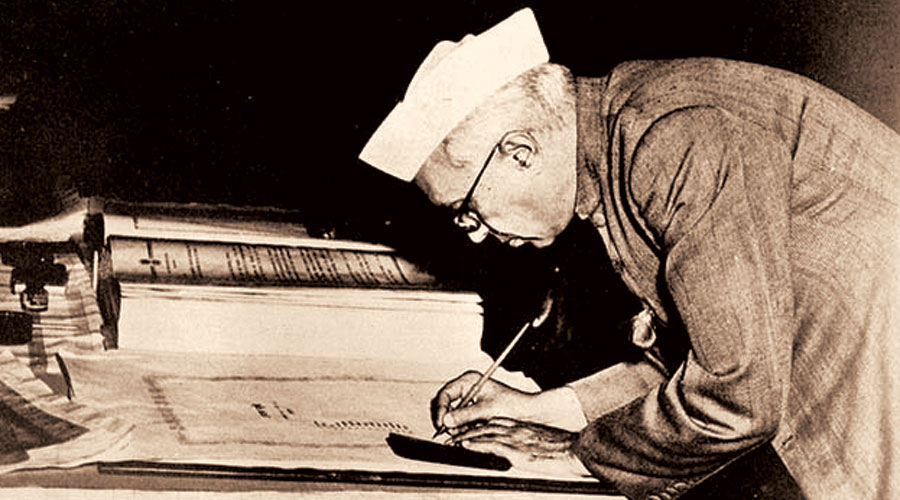 In advertisements in newspapers, the government celebrated major Indian freedom fighters, including the Hindu nationalist ideologue, Vinayak Damodar Savarkar, but largely omitted Nehru.
File Picture
---
Published 24.08.22, 03:34 AM
|
---
As India celebrated the completion of 75 years of Independence, the Narendra Modi government made it clear that it wanted to sideline the legacy of Jawaharlal Nehru. In itself, that's hardly a surprise: demolishing the Nehruvian vision of India has long been the centerpiece of Modi's agenda and that of the ruling Bharatiya Janata Party and its ideological fountainhead, the Rashtriya Swayamsevak Sangh. But the celebrations this month took those efforts to almost bizarre levels. In advertisements in newspapers, the government celebrated major Indian freedom fighters, including the Hindu nationalist ideologue, Vinayak Damodar Savarkar, but largely omitted Nehru. When members of the Congress chose images of Nehru holding the national flag as their social media profile image, the BJP criticised the move as a demonstration of servility to the Nehru-Gandhi family.
It's difficult to say just how much India's current rulers have managed to marginalise and malign Nehru's contributions. What is clear is that despite New Delhi's attempts, the rest of the world still closely associates India's Independence and its post-1947 journey with Nehru. The Sri Lankan president, Ranil Wickremesinghe, while congratulating India on August 15, said he had been inspired by Nehru's "tryst with destiny" speech and recalled how Nehru's government had helped his much smaller country join the United Nations.
He wasn't the only one to remember Nehru. In Canberra, Australia's new prime minister, Anthony Albanese, also paid tribute to him. Albanese referred to Nehru's call to his fellow Indians in 1947 to join with confidence in the task of nation-building. 
During a visit to New Delhi last month, Samantha Power, the administrator of the United States Agency for International Development, spoke about India's values as its greatest strength citing Nehru — not Modi. She talked about Nehru's belief that India ought to help other developing nations emerging from the clutches of colonialism, including through a slew of training programmes, scholarships and fellowships to students and professionals from across Asia and Africa. 
In February, the Singapore prime minister, Lee Hsien Loong, referred to the ideals, "great courage, immense culture, and outstanding ability" with which leaders like Nehru and Israel'sfounding father, David Ben-Gurion, built democracies. Lee then spoke of how India's Parliament today is filled with legislators with criminal records, his comments sparking a formal diplomatic protest from New Delhi.
For Lee and Wickremesinghe, Nehru'scontributions to India and its foreign policy aren't just notes from history. They represent memories they were introduced to as children. Wickremesinghe's father was the UN envoy of Ceylon, as Sri Lanka was then called, who worked with Nehru's team to get the country into the global body. Lee's father, LeeKuan Yew, was a young man at Cambridge when he heardNehru's "tryst with destiny" and — like Wickremesinghe— was inspired. When the senior Lee became independent Singapore's first prime minister, he would seek Nehru out for advice, he revealed in a speech in New Delhi in 2005.
That current world leaders remember Nehru also speaks of the Indian leaders continued global relevance. Look no further than India'skey foreign policy approaches. New Delhi may today call non-alignment multi-alignment, but for all practical purposes India's insistence of strategic autonomy and its efforts to balance relations among major powers is an heirloom of Nehru's times.
Some things have changed. At a time when the world is increasingly torn by conflict, other countries are missing Nehru's ability to rally New Delhi's international credibility to seek peace — whether on the Korean peninsula or in Egypt during the Suez crisis.
Nehru shouldn't be above criticism. But to ignore his legacy is to obliterate nearly two decades of collective, post-colonial history in which he was a central character. The world simply won't allow it. 
Charu Sudan Kasturi is a senior journalist who writes on foreign policy and international relation