Larger questions
The hijab row must be seen in a broader context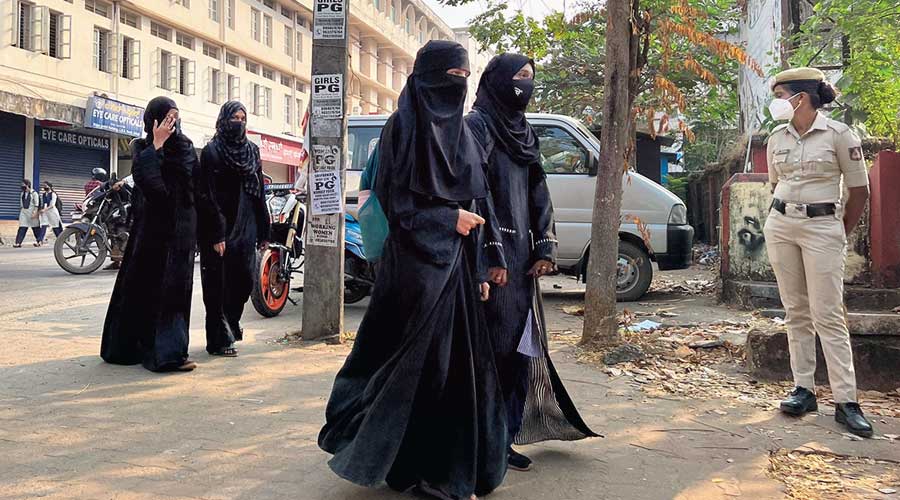 Hijab-wearing students arrive to attend classes as a policewoman stands guard outside a government girls school after the recent hijab ban, in Udupi town in Karnataka
File picture
---
Published 07.04.22, 12:15 AM
|
---
I am neither a lawyer nor do I wish to question the ruling of any court of law. I merely wish to reflect on certain broader issues about uniforms in educational institutions and what constitutes an essential marker of religious identity. I am referring to the controversy regarding the banning of the hijab in Karnataka's educational institutions.
Many educational institutions, usually schools rather than institutions of higher learning, have uniform dress requirements for their students. Uniforms specify outer apparels, including shoes and socks. There are variations allowed for days on which physical education classes take place. In some cold places, winter uniforms are quite common: they include sweaters and jackets. Society deems that older children or young adults outgrow the need for uniforms. Colleges and universities usually do not have uniforms, except when playing some team sport like soccer or basketball. The purpose is identification.
Why are uniforms enforced? I think there are two quite obvious reasons. The first is the need to have a unique institutional identification, the most visible of it being a student's outerwear. One can spot a student and associate him/her with an institution from afar. Very young children might wander off and the teacher always has an easy way of collecting his/her flock. There could be second and even third layers of identification like a school identification card, a badge to be worn when in school, or a school fee-book. These identifications are an insurance against possible complications from a student running away or getting lost. The uniform also creates an identity for the school that is distinct from other schools and organizations, including religious ones.
There is a second reason why uniforms are imposed. This is a social reason and is seldom spoken about openly. It is to ensure that children from affluent backgrounds attending the school do not have an opportunity of flaunting their parents' wealth by wearing expensive and stylish clothes. The rich and the poor are made equal by the uniform. This is of less significance than in the past because now most schools in India have children coming from the same economic background. Uniforms are supposed to be unique, independent of other organizational symbols or other religious identifications. Indeed, a school might have its own unique logo in the form of a monogram that a student has to display on the uniform.
It is evident that neither of these reasons make uniforms essential for education but they are still chosen by schools for operational convenience. I went to a school where there was no uniform during the twelve years I was there. If any student wore excessively fashionable or gaudy clothes, he was sent home to come back in more simple and sober apparel. The sartorial egalitarianism was rarely perturbed by such occurrences. Children in kindergarten had to wear name tags on their shirts, and the school gate was monitored to catch the occasional truant. There were some restrictions regarding personal hygiene like clipped nails, clean shoes, short hair, and washed clothes. It was more important to look after our books: covering them in brown paper and neatly labelling our names and subjects.
Coming back to the controversy regarding girls being disallowed to wear the hijab, the question was raised as to whether the hijab was an essential marker of being a Muslim. Compliance with a school's specified uniform is regarded as a contract the student agrees to when enrolling in the institution. However, there are boundaries to the concept of essentiality; be it when considering uniforms or religious markers. In other words, there are non-essential parts of any uniform or religious marker. For instance, uniforms do not prescribe anything when it comes to items like handkerchiefs, wrist watches and their straps, frames of spectacles, or pieces of simple jewellery, or the make of the car students come to school in, even if all these are visible items of choice. Nobody bothers precisely because variations in these are normally considered unimportant. Consider some other situations where schools could be helpless in enforcing uniformity independent of religious markers. A boy comes to school wearing a turban. He is not a Sikh. Would he be disallowed? A girl comes to school wearing a chain with a crucifix. It is not an essential marker of being a Christian. A boy comes to school with a tilak mark on his forehead. It is not an essential marker of being a Hindu. Again, these are allowed precisely because they are inessential.
If, as was concluded, the hijab was not an essential religious marker, then why should it be a matter of concern for the authorities of the school? Uniforms are a matter of choice for the institution, and a matter of compliance for the student. The imposition of the uniform and the compliance — both have limits. If the choice of uniform is to truly specify a unique identification, then, logically, it should be free from essential markers of all religions. Because, if it is not, part of the uniqueness disappears.
Next, for argument's sake, let us suppose the school chooses a uniform but allows essential religious markers to be exempted as deviations from the rule. The question then arises: what constitutes the essentially religious? Can a school cover all religions and all sects and sub-sects with their own markers? I could start a new religion and claim that dyeing one's hair red and green is an essential marker of the new religion. Would it be allowed? Religious texts may be one source, but religious practice could be another, equally powerful, cultural source that determines the acceptability of symbols. Even in such schools, if an item is deemed to be religiously non-essential, then it could be allowed as a minor item like the colour of a student's handkerchief and easily ignored.

Such controversies in India today are usually part of a conscious design targeted against a particular community. Little wonder then that the state where this controversy began had other educational institutions and colleges, where there were no uniforms specified, reporting harassment of women wearing the hijab. It is also a state where Muslim shopkeepers are being prevented from doing business near Hindu temples and Hindus are being encouraged not to partake of halal meat, according to media reports.
Even the small matter of a school uniform and what it allows as deviations have to be viewed in the larger social context. Hatred is very inclusive. In one moment of paranoia and suspicion, its power can categorize millions of people as being disagreeable, inferior and unwanted. It begins by wiping out all symbols of the community. What might follow is simply too frightening to imagine. This, it might be emphasized, is being played out in a state which contains the technology capital of India, affluent urbanities, educated young professionals, top-class educational institutions, and a generation on the go. But it is also the world of 'I', 'me', 'myself' where everyone who might have been perturbed by the events has put on noise-cancelling earphones.
Anup Sinha is former Professor of Economics, IIM Calcutta