Kudos to Bengal for promoting cycling
Experience in other cities shows this is a step towards green future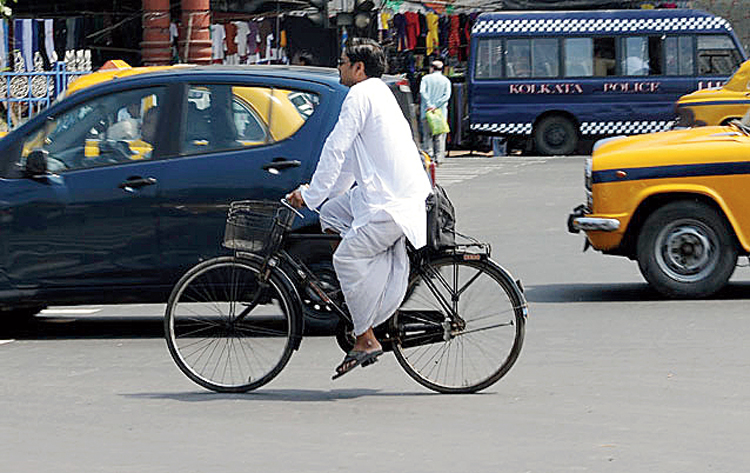 ---
Published 12.12.19, 06:51 PM
|
---
Sir — It is heartening that the West Bengal government wants to promote cycling as a sustainable transport system in Calcutta. To this end, it plans to dedicate bicycle tracks across the city. Given that such a model has been successful in several cities around the world — Amsterdam, Copenhagen and Barcelona, for example — the government's endeavour is certainly a step towards a greener future.
Khokan Das
Calcutta
Right decision
Sir — The former finance minister, P. Chidambaram, finally breathed free air after 106 days of incarceration ("Just clause", Dec 6). The Congress leader himself described his imprisonment as "pre-trial punishment". This goes against the maxim that one is considered innocent until proven guilty.
It is difficult to believe that his incarceration had nothing to with his trenchant criticism of the Narendra Modi-led government on several fronts. Neither is it convincing that the Central agencies did not proceed against him in order to appease their political masters.
The fact that the 74-year-old leader withstood the rigours of investigation and incarceration with equanimity is remarkable. He suffered two bouts of illness in jail. Yet, soon after his release on bail, he attacked the government for the economic slowdown. He also took a potshot at the incumbent finance minister, Nirmala Sitharaman, for her comment that she does not eat onions. Chidambaram has shown that he towers over most political leaders for speaking his mind fearlessly.
G. David Milton
Kanyakumari
Sir — The reasons and norms cited by the Supreme Court for granting bail to P. Chidambaram should guide investigating agencies as well as lower courts of law in the future. They often seem to forget the fact that the denial of bail in certain cases amounts to the denial of the fundamental right to freedom. The apex court also censured the inclination of lower courts to reproduce the contents of documents submitted by agencies in sealed covers as judicial findings, as it works against an open system of justice and is unfairly loaded against the accused.
S.S. Paul
Nadia

Sir — The release of P. Chidambaram from Tihar jail is heartening. That he was incarcerated for 106 days without adequate evidence of his guilt clearly indicates that he is a victim of a political vendetta, and that the law enforcement agencies are but pawns in the hands of the ruling party at the Centre which can be used to target anyone who voices dissent against the government.
Bimlesh Kumar
Calcutta