Stormy weather
SOUTHERN SKIES | Kerala is facing nature's wrath because of human transgressions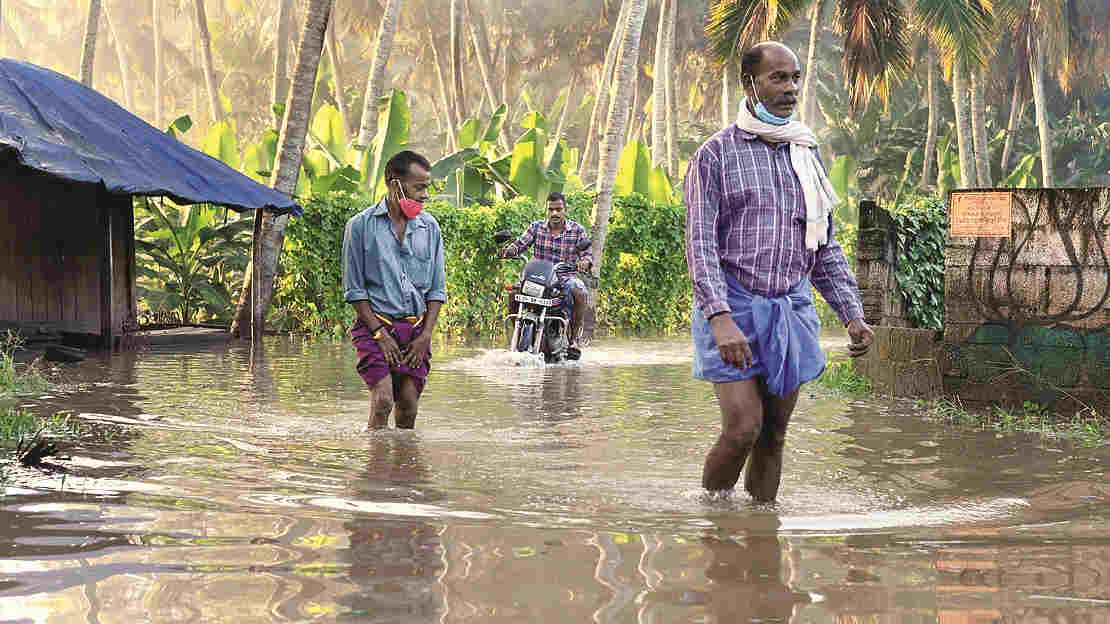 :Commuters wade through a waterlogged street after heavy rain in Thiruvananthapuram, Monday, Oct. 18, 2021.
PTI
---
Published 25.10.21, 12:16 AM
|
---
'God's Own Country' is certainly Kerala's grandiose moniker coined by its vibrant tourism industry. The state's picturesque landscape, salubrious climate, and relative immunity to natural disasters, despite its fragile ecology, have certainly appeared to be providential blessings. Kerala, for long, had remained safe even when other states used to suffer natural disasters regularly. No wonder Kerala's great floods of 1924 were a constant theme in Malayalam literature and cinema for almost a century. According to a historian, old people in Kerala even anchored their memories in relation to that flood.
But this story is undergoing a major transition. Kerala now appears to be slipping out of god's protection, thanks mostly to humans. Kerala is being visited by nature's wrath with stunning regularity, especially since 2017, although the first major calamity to hit the state was the tsunami of 2004.
In the latest round, torrential rains battered the state for four days from October 15, causing floods and landslips that took 50 lives and caused much loss to property. The heavy rains were caused by a low-pressure area over southwestern Arabian Sea.
The first in the devastating series was the Ockhi cyclone of November 2017. The tropical cyclone, classified as 'very severe', made landfall in Lakshadweep, Tamil Nadu and Kerala before spiralling away towards Gujarat. As many as 143 fishermen were killed in Kerala by this most intense cyclonic storm in the Arabian Sea after Cyclone Megh in 2015.
Next year, Kerala suffered the worst floods of the century. Caused by abnormally heavy monsoon rains during June-August, it killed about 500 and caused damages worth Rs 40,000 crore. Heart-rending images of swollen rivers and dams, beautiful landscapes, houses, roads, bridges, temples, churches, and even airports reeling under waters, hills ravaged by landslips, marooned men and women being airlifted by choppers and so on were new to Kerala. The only silver lining was the massive voluntary participation of Kerala's civil society in the rescue and rehabilitation operations led by various official agencies and the government.
But since then, the eerie images have become all too familiar every August. On August 8, 2019, the southwestern monsoon came down, once again, in torrents, triggered by a depression in the Arabian Sea, with its usual attendants — floods, landslips, deaths, devastation. The death toll reached 129 within a week and 80-odd landslides caused most of them. According to a study, the floods were caused primarily by a mesoscale cloudburst event, more common in the north but never reported before in the Kerala region. Kerala reported the first case of Covid-19 in India in January next year.
This year, too, Kerala awaited the monsoon with bated breath amidst fears of an encore. The India Meteorological Department issued red alerts in three districts. With clockwork precision, the heavy downpour triggered floods in various districts on August 7. However, the major havoc was confined to one hill district, Idukki, where a huge landslip at a tea plantation near Munnar killed 52 labourers when their settlements were buried under. The region faced its heaviest rains in four decades.
Misfortune struck Kerala again the same day when the Air India Express Flight 737 from Dubai skidded off the tabletop runway while landing amidst heavy rains at the Calicut international airport, killing 19 passengers and both pilots. The flight had 184 passengers and was repatriating Indians stranded due to the pandemic.
There is now a debate on why Kerala is faced with this regular cycle of disasters and their consequences. A blame game is on as well. The government has slammed the IMD for not forecasting precisely. The IMD and the Opposition blame the government for ignoring warnings and not learning lessons from the past. The inept management of the state's 40-odd large dams accentuated the floods.
Experts cite reasons, ranging from climate change to anthropogenic commissions like stone quarries in ecologically sensitive zones, conversion of paddy fields that used to absorb rains, the mining of river beds, razing hills for indiscriminate construction, mono-crop cultivation and so on. Madhav Gadgil's report (2011) had predicted the possible calamities that would be caused by the destruction of the Western Ghats on account of encroachment, quarrying, and other factors. But political parties of all hues and the Christian churches worked together to reject the report to appease vote banks and religious constituencies. Kerala has nearly 6,000 stone quarries of which only about 1,000 are licensed. Most quarries are located near forests or in ecologically sensitive zones and 78 of the 115 landslides that occurred between 1983 and 2015 were in these zones.
"The state of Kerala has always considered itself a safe place, treating major disasters as those happening to other people. Ever since its formation in 1956, Kerala did not have to face major natural disasters. However, this myth was shattered in 2004 by a tsunami, but even then, people assumed it as a once-in-a-millennium freak incident", said a report on Kerala's 2018 floods authored by a team headed by Muralee Thummarukudy, a UNEP disaster management specialist. In 2016, the State Disaster Management Plan had identified that Kerala was prone to 17 natural and 22 anthropogenic hazards, many of them induced by climate change. Nearly 14.5 per cent of the state's land area is prone to floods.
A valid reason for Kerala's present plight and a grim warning came from studies pointing to a very important, recent shift occurring in the North Indian Ocean consisting of the Arabian Sea and the Bay of Bengal. They show that the once cooler Arabian Sea has been warming in the past two decades much faster than the Bay of Bengal, which was always warmer. The result is the rise in the frequency, intensity, and duration of cyclonic storms originating in the Arabian Sea compared to the Bay of Bengal that is wreaking havoc on the western coast. The past trend of more cyclones originating in the Bay of Bengal than in the Arabian Sea has been reversed.
An international study (2014) led by Pune's Indian Institute of Tropical Meteorology has corroborated this. According to it, the western tropical Indian Ocean has been warming for more than a century at a rate faster than any other region of the tropical oceans and has turned out to be the largest contributor to the overall trend in the global mean sea surface temperature. A 2016 study by Hiroyuki Murakami of the National Oceanic and Atmospheric Administration in the United States of America blamed anthropogenic climate changes for the excessive warming and the resultant cyclones in the Arabian Sea.
According to meteorologists, it was the first time since the beginning of satellite records in 1980 in India that the Arabian Sea had severe pre-monsoon cyclones — Mekanu (2018), Vayu (2019), Nisarga (2020), Tauktae (2021) — in four consecutive years. Similarly, the formation of four cyclones in a single year (2019) over the Arabian Sea was recorded after 117 years. The Arabian Sea and the western coast are perilously in for more.
M.G. Radhakrishnan, a senior journalist based in Thiruvananthapuram, has worked with various print and electronic media organizations