Tunnel visions
THE THIN EDGE | In any sensible democracy there is no fundamental right to 'not' be offended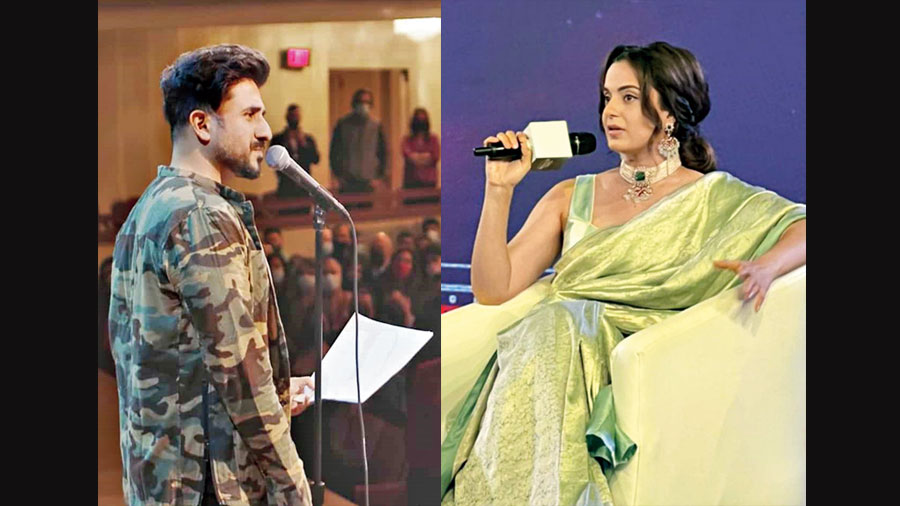 Vir Das and Kangana Ranaut.
YouTube screengrab
---
Published 23.11.21, 02:52 AM
|
---
Both Kangana Ranaut and Vir Das have been in the news for their comments on public platforms on which they recently found themselves — Ranaut at a TV 'summit' organized by a major Indian news organization in Delhi; Das on stage in Washington DC, on his American tour. Ranaut's and Das's nuggets took roughly the same length of time, about seven minutes. Ranaut was in conversation on stage with the TV anchor, Navika Kumar, when Kumar asked her about visiting the Andaman jail to pay her respects to V.D. Savarkar. In reply, Ranaut delivered a passage which mixed unhesitant self-praise and hilariously absurd lies about our recent history. While simpering in admiration of herself — "I'm a very aware person, and I'm a nationalist", "I've studied a lot and I've done a lot of research..." — the actor also laid out her version of India's history from the middle of the 19th century.
According to Ranaut "... what followed after 1857 was more unfortunate than what happened to the Jews also..." where the true heroes, (such as Savarkar and "Neta Bose") who were willing to shed British blood, were cunningly side-lined by the Brits who propped up the Congress. The Independence of 1947 was false: while Pakistan got to form an Islamic nation, India was short-changed into being secular.  "What is secular? Secular is no man's land. Not yours, not mine, everybody's... what British left behind, in the name of Congress, was the extension of the British." At this point, instead of hooting with laughter, the audience of suited-booted-bejewelled worthies begins to applaud. "If you get independence as alms can that be [real] independence?" This goes over well, so Ranaut repeats the dialogue, clearly relishing the moment: "... voh azadi nahi thhi, voh bheekh thhi, aur jo azadi mili hai voh, [she pauses for a beat] 2014 mey mili hai (... that wasn't freedom that was from begging, and the [real] independence was achieved in 2014)." There is now even louder applause from the audience.
Navika Kumar, who knows she's just captured TRP-Gold, comes in over the clapping, "Issi liye sab aapko kehte hai, ki aap bhagwan hain (This is why everyone calls you God)!" Ranaut smirks, "Abhi mujhpey duss case aur hone waaley hain, iske baad (There are going to be ten more cases against me after this)." After a while, she lauds herself some more. "I'm a pure nationalist and my interest is only in being a patriot." A neon outline of the Sardar Patel mega-statue glows in the backdrop, witnessing the whole thing.
In Vir Das's video, the camera is pointed at a packed Kennedy Centre and we see Das mostly from behind. Over the welcoming applause he starts by saying how he fought off the temptation to make a video on himself, because he's reminded that he comes from India. Which India does he come from? He comes from Two Indias. What follows is Das proclaiming a long binary list: an India where the AQI is 9000/but we look up at the stars, where women are worshipped during the day/gang-raped at night, one of the youngest working populations on the planet/still listens to 75-year-old leaders with 150-year-old-ideas, where we take pride in being vegetarians/yet run over the farmers who grow our vegetables, where we have maids and drivers/yet want to come to America to do their job... and so on.
What Ranaut and Das have in common is the smug self-regard that drips from every syllable they pronounce. Second, both are confidently playing to a sympathetic audience, Ranaut with the right-wing hoity-toity in Delhi, Das with a young, well-to-do NRI/NRP (Pakistani) crowd in Washington. Third, while their class backgrounds might be a degree or two different, both Das and Ranaut really only see the 'India' they choose to: when Ranaut speaks of "awakening the dead conscious (sic) of this country which has been (earlier) put to sleep by this fake education system, by the doses of anaesthesia being injected into the soul of this country," she clearly doesn't see the huge irony in the drivel she's spouting in the seventh year of the biggest mass-anaesthetizing project in our history. For all his invocation of the poor, Das can actually define his entire audience as people who would have maids and drivers back home, while sneering at the desis doing menial jobs in the US.
As with Das, the reactions against Ranaut have been calls to register FIRs against her, to put her away for 'sedition', for 'insulting' our freedom movement and freedom fighters. The point is, in the democratic, secular India for everybody that Ranaut does not want and cannot stomach, she should be the object of widespread derision and nothing more, with even greater contempt being reserved for those who applauded her toxic rubbish. As for Das and his banal binaries, no one in the world except for his in-the-know desi audience gave a damn about his act and, in any case, he said nothing that the world does not already know. To see all sorts of parties and politicians, and not just the BJP-RSS, reaching for bans and FIRs is the main thing that is alarming about this. It shows that we have lost sight of the fact that in any sensible democracy there is no fundamental right to not be offended, that the only official response to someone claiming to be offended by political views has to be 'okay, so what?'