It seems as if the selectors don't watch domestic cricket matches
How else would they remain so unaware of rising young players?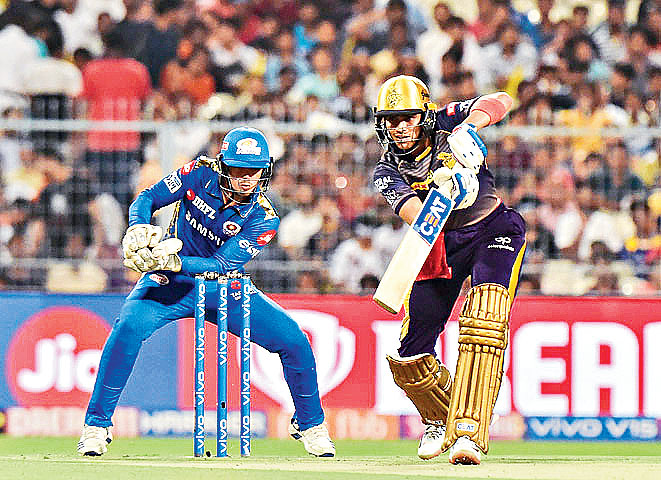 Shubman Gill plays a shot during the Indian Premier League cricket match between Mumbai Indians and Kolkata Knight Riders at Eden Gardens in Calcutta on April 28,2019
(PTI)
---
Published 30.07.19, 01:43 PM
|
---
Sir — After Sourav Ganguly, another former captain of the Indian men's cricket team, Dilip Vengsarkar, who is also a former chairman of the selection committee, has expressed his dissatisfaction with the squad selection for India's tour of the West Indies. Shubman Gill deserved a place in the touring team, but he was not selected. Another player who was not considered, but should have been, is Abhimanyu Easwaran, whose performance in domestic cricket should have led to his inclusion. It seems as though the selectors do not watch domestic cricket matches. How else would they remain so unaware of rising young players?

Ajay Kumar Deb Biswas,
Hooghly
Shared blame
Sir — The suicide of a Class X student in a school in Calcutta last month was deeply saddening. However, from the article, "Lend an ear to your child" (July 25), it seems as though schools think that parents are solely to blame for the pressures that children face. This is not true. Although it cannot be denied that a lot of parents pressurize their children with regard to academic and extracurricular performances, schools and teachers are equally at fault. The school curricula and the current methods of teaching are archaic. The child is burnt out by the time he or she reaches Class IV or V. Many teachers have no idea about the modern ways of teaching and handling students. The amount of homework and project work piled upon children leaves them with absolutely no time for recreational or other activities. I would know, since I have two daughters in junior school.
There is an urgent need for a comprehensive overhaul of the education system after proper research. The changes we read about are superficial, knee-jerk reactions at best. The responsibility to keep children happy and free of stress has to be shared by both the school and the parents.
Viresh Agarwala,
Kurseong Basic need
Sir — The alarming water scarcity in Bangalore might bring down one of the biggest bubbles of our time. One might think it is far-fetched to claim that the real estate sector of the capital of Karnataka might come crashing down on account of water shortage. But the Karnataka groundwater authority has proved to be toothless and ineffective. Bangalore's lakes are almost extinct and the greenery is disappearing rapidly. Now, the presence of too many bore-wells will drain the life out of whatever water is left. Rainwater harvesting is spoken about with gusto in glitzy brochures. However, even if it is successfully implemented, will it ameliorate the acute water shortage?
In the light of this, is investing in property in Bangalore a 'wise' decision? What is the point of penthouses and gated communities if the most basic human need — the need for water — cannot be fulfilled? It will not be surprising if, in the future, water wars are fought not among states of but among people and neighbourhoods within cities.
Anoop Hosmath,
Mysore
Bring them back
Sir — It is heartening that the urban recreation forestry division of the state forest department has put up several earthen pots or handis with a hole on one side on the trees at Bonobitan park in Salt Lake. These are for birds to create their nests in ("Bonobitan birds get earthen pots to nest in", July 26). The project, named 'Kichir Michir', has been taken up across 14 parks in south Bengal on the occasion of Forest Week.
The forestry division should be praised for this wonderful initiative. The step is timely as well, because the number of birds in Calcutta and its suburbs is rapidly decreasing on account of excessive urbanization. The latter leads to deforestation, as a result of which birds lose their natural habitats. The handis will undoubtedly attract many birds, as they will serve as ready-made nesting places. One hopes this project will be greatly successful and spread to more and more parks in our state. It would be a pleasure to have the chirping of birds become a regular feature in our lives again.
Sourish Misra,
Calcutta
Sir — The prospect of bird populations in the city and even the state increasing, on account of the 'Kichir Michir' project, is greatly exciting. When we were young, our grandparents would teach us the names of various birds we saw in our own garden. Now, these beautiful species can rarely be seen anywhere. One hopes that the new project will change that.
Shalini Roy,
Calcutta