Is desire the realm of the young only?
Sex among the grey-haired remains a grey area in India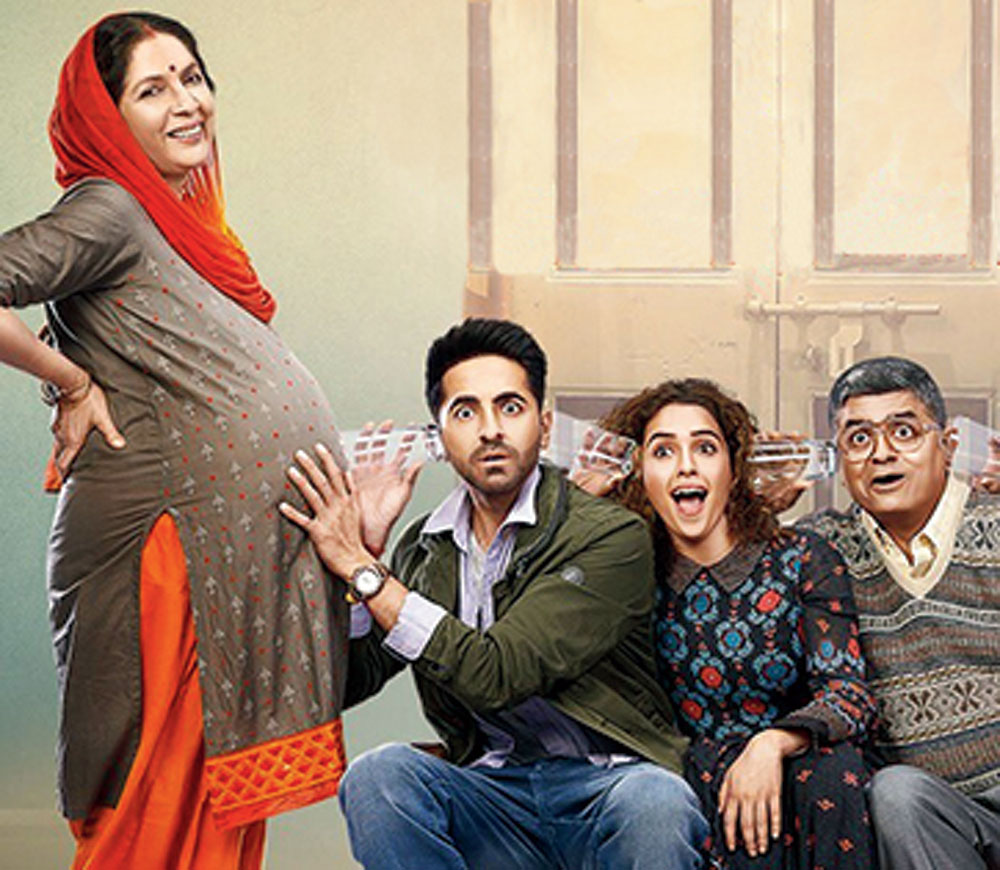 A joke in the film 'Badhaai Ho' relies on the premise that sexuality in middle age is off-putting. But research shows that 72 per cent of respondents between the ages of 50 and 60 were sexually active
Image: 'Badhaai Ho' theatrical release poster
---
Published 05.11.18, 01:45 PM
|
---
Few things are as illuminating as the reaction of the audience in a cinema hall. In a sequence in Badhaai Ho, Ayushmann Khurrana takes a break from the exertion of bedding his partner and asks — as much himself as the audience — "Yeh bhi koi mummy-papa ke karne ki cheez hai kya (Is sex something that parents of an adult should indulge in)?" The mental image of his parents romping, evidently, is enough to douse his ardour. Predictably, his enquiry invited guffaws. But not everyone was laughing; middle-aged men and women were seen sporting sheepish — or was it wistful? — grins, while youngsters sniggered around them.
Is desire, then, the realm of the young only? What about older couples whose adult children no longer depend on their attention? Or men and women who, having risen to prominence, are free, at last, to heed the demand for intimacy? The need to be seen as desirable in middle age, the time of the dreaded mid-life crisis, brings along with it shame, ridicule and humiliation in this culture. Is that why repressive cultures imagine that the not-quite-young-yet-not-so-old veer towards promiscuous technology — pornography? — for gratification?
The young are not the only ones with a jaundiced eye when it comes to older couples being active sexually. In India, sex, overwhelmingly, is thought to be the means to one pious end: procreation. As such, the idea that an older couple — whose biological clock has stopped ticking — might be receptive to sex just for the sake of pleasure seems unpalatable.
But wait. In 2011, a study in the Indian Journal of Psychiatry showed that 72 per cent of respondents between the ages of 50 and 60 were sexually active. The figure, significantly, was 57 per cent for both men and women above the age of 60. Researchers also found that while the aged still view sex as an expression of passion and loyalty, for many of them sexual activity is a way of affirming their physical vigour, sense of identity and self-confidence. If these facts seem surprising, it is only because amorous oldies are looked upon as an anomaly.
Yet, there exists a body of evidence to show that changes — physical and psychological — brought on by age can make the pursuit of an active sex life difficult. Then, there are cultural barriers that influence sexual behaviour of the elderly. For instance, most women who have lost their partner admitted to a loss of sexual appetite. But the study showed that the male participants were not affected in a similar way. Revealingly, sexual experiences of older people are layered. Women with long conjugal histories of forced and/or unsatisfactory sexual experiences — the possibility of rape within a marriage, much like sex in old age, is ruled out — used their age as an excuse to find reprieve. For women, seeking sexual satisfaction outside marriage, as data indicate, is almost inconceivable.
Libido can be a victim of other constraints too. Seventy-four million families, the last census found, lived in one room, while six million families lacked even this basic amenity. Shortage of space necessitates the rationing of privacy, which can be afforded only for extending the family line and not mere pleasure. The de-sexualizing of the aged has further restricted the access of old, but sexually active, couples to the requisite spatial privacy.
Back to Badhaai Ho. Ayushmann's revulsion to his middle-aged parents having sex prompts his girlfriend to enquire whether he would not be interested in burning the sheets with her in ripe old age. The question leaves our man stumped. Could there be a more obvious sign to suggest that sex among the grey-haired remains a grey area in India?