Linguistic challenges: Learning to tell the tale in India
Saving communities can only save their languages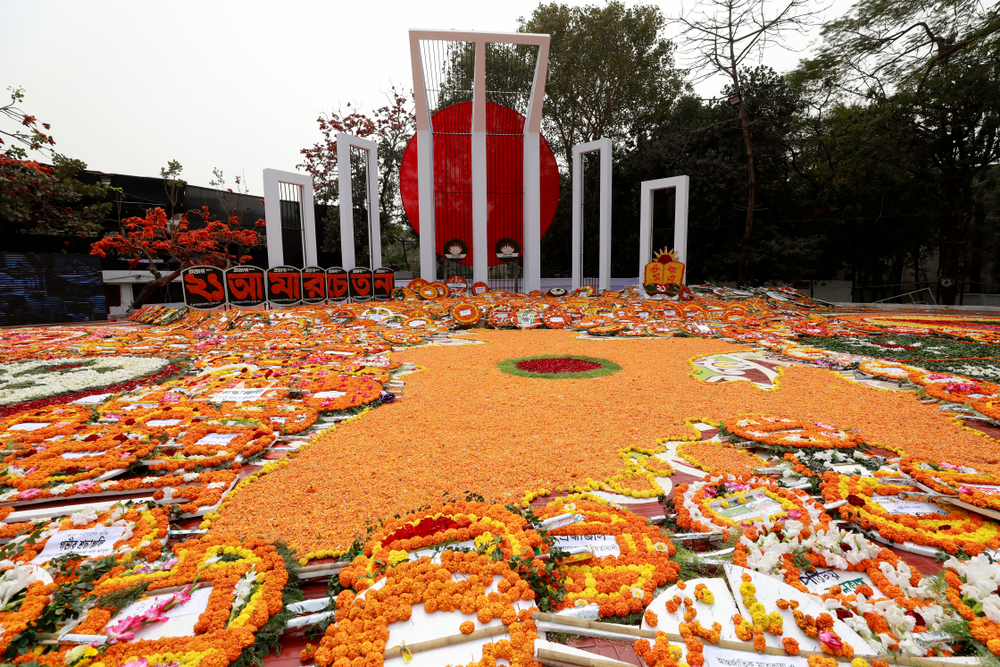 The central Shaheed Minar is covered with flowers placed by thousands of people as homage of International Mother Language day in Dhaka, Bangladesh.
Shutterstock
---
Kolkata
|
Published 20.02.20, 12:14 PM
|
---
The last People's Linguistic Survey conducted in 2013 by the Vadodara based Bhasha Research and Publication Centre populated a list of 780 languages which still exist in India. The survey findings were later compared with the 1961 Census that listed a total of 1,652 mother language labels. But not all of these were languages, and after verification by linguists, a total of 1,100 languages were officially identified. This exercise in comparison revealed that around 250 languages, about 20 per cent of the count in 1961, had disappeared over a period of five decades.
Friday is International Mother Language Day. UNESCO's declaration came in 1999. February 21 is the day that marked the killing of protesting students by police at Dhaka University in present day Bangladesh during the state language agitations of 1952.
These students were resisting the imposition of Urdu as the state language in the then East Pakistan. The students wanted Bengali to remain the official language and refused to let go of their own argot. The day is celebrated every year in Bangladesh as 'Ekushey', where millions of people congregate at the martyrs' memorial erected at the Dhaka University campus, to pay tribute to the language martyrs.
The UNESCO declaration entailed ideas of the promotion of multilingualism and the preservation of a vast, though intangible, oral heritage. It, therefore, becomes necessary to review the present state of native languages of India.
Professor Ganesh Devy of the Bhasha Research and Publication centre observed, 'The survey that we conducted has definitely pointed towards the extinction of a vast number of languages in this country, but if one is to make a comparison, a rather uneasy one, with other countries, we are still at better footing. Out of the 1,100 languages known in Papua New Guinea, only 400 survive now. In Indonesia, a total of 180-190 languages survive out the know 800. Having said that the survey is dated, it is time again that we take stock of the present situation'
India perhaps embodies the largest living language diversity in the world today. Dialectical differences set aside, if one looks at the sheer number of languages in the country, one would not be greeted by a modest figure. Yet languages have been steadily disappearing, pushed towards extinction, primarily as a result of displacement of communities.
Devy further confirmed that bulk of the languages which have disappeared belong to the coastal areas. With restrictions on deep sea fishing, dependent communities have lost much of their access to the sea and hence have either migrated or been displaced to non-coastal areas in search of new livelihoods. This mass exodus has resulted in the slow loss of their spoken languages.
Then there are other reasons — reasons far more complex and deeply entrenched in our colonial past. Censuses have revealed that individuals conceal their mother tongues from a sense of inferiority and the fear of social persecution that has been perpetrated upon them historically. The de-notified tribes, communities which were identified as criminal tribes by the British, form a large part of this category.
Though the tribal languages of the Northeast are seriously endangered, Devy feels that slowly there is an upward growth in the revitalisation of tribal languages.
Citing Bhasha's own work with the Bhili language, Devy said, 'A language can only be preserved if a community's interest and well-being is safeguarded. Unequal distribution of economic development, the lack and loss of livelihoods, displacement and migration contribute heavily towards the extinction of languages. Our community work with the Bhills has resulted in a 90 per cent growth in the registration of Bhilli as a mother tongue in the census over ten years.'
Surprisingly, these factors are far more debilitating than those formally cited as being inimical to the preservation of a language. A lot of nomadic and tribal languages don't have a written form or script. But that does not mean they can't survive. The most glaring example of this is English, which does not have a script and is written in the Roman one.
As a country, we have also experienced a thriving domain of linguistic politics. Sumathi Ramamsawamy writes in Passions of the Tongue, 'While my multilinguality is quite the norm for a person of my class, caste, and educational background in India, what is perhaps less usual is the intellectual turn I made towards studying Tamil, a language which, its official status as my 'mother tongue' notwithstanding, was after all on the margins of the linguistic economy in which I functioned.' This idea of a linguistic economy helps us to understand how, as language speakers, we need to realise that the recourse to one's mother tongue is not only recourse to one's identity, but also to one's lived experience.
Devy feels that there has to be micro-economic planning with language as one of its parameters. But until the system checks the extinction of communities, the extinction of tongues can never be stopped.