Against caution: The case for Rishabh Pant
He doesn't have an ODI record to speak of, but we know that he is a freakishly talented attacking batsman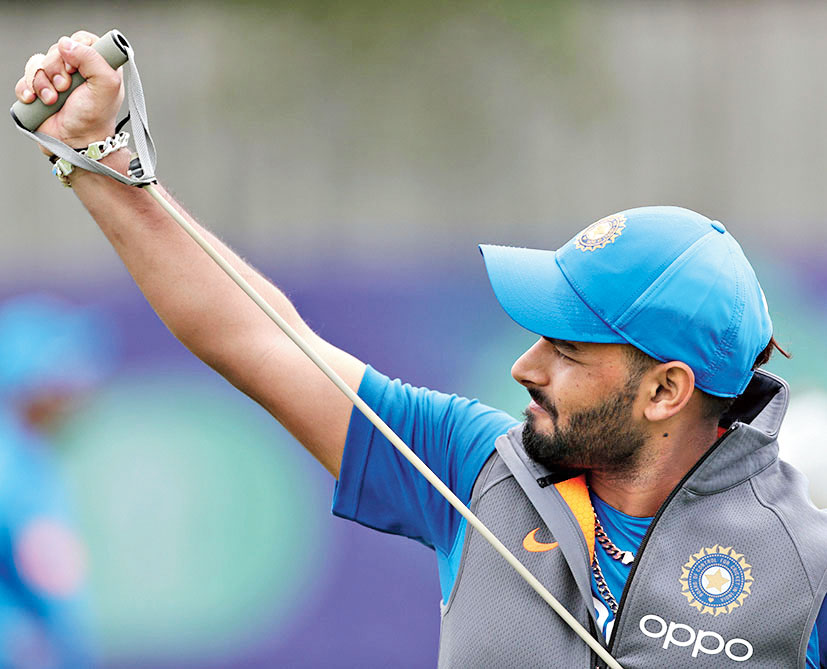 Rishabh Pant performs stretching exercises ahead of India's Cricket World Cup match against Afghanistan at the Hampshire Bowl in Southampton, England, on Thursday, June 20, 2019.
(AP)
---
Published 30.06.19, 04:09 AM
|
---
Going into the match against England on Sunday, the verdict on the Indian team's performance in this World Cup has to be an unequivocal 'excellent'. It's hard to remember an Indian side that controlled match situations as masterfully as this one has. Even the batting failure against Afghanistan was redeemed by the team's nerveless defence of a small total. Everyone has contributed, even the bit players; Vijay Shankar took two wickets against Pakistan and Kedar Jadhav contributed an invaluable fifty to India's stunted score against Afghanistan.
That said, India's middle order remains curiously underpowered. Its batting line up resembles a car that can reliably and rapidly get from 0 to 60 but having got there, can't go any faster. Even cruising at sixty is something of a struggle and there's a niggling worry that if a chase were to go the distance, the team might run out of gas.
In its five matches, India has chased a score once, against South Africa. South Africa managed a modest 227, easy pickings for India's top order given Rohit Sharma's heroic form. While batting first, India has posted over three hundred runs twice, against Australia and Pakistan, thanks again to the scary form of its top order troika: Dhawan, Sharma and Kohli. Dhawan's injury and subsequent exclusion from the squad have resulted in a middle order that consists of two batsmen who make it to the team because they can bowl a little and a wicketkeeper who has been promoted to the middle order because he isn't the lower order finisher that he once was.
Any team that has Dhoni coming in at number five (as he has done in every match save one in this tournament) has a problem with its middle order. His initial tenure at the crease invariably leads to a slowing of the run rate as he adapts his singular methods to the needs of the moment. In his prime, Dhoni's French Cricket defence was a way of taking stock till he decided it was time to let his inner caveman bludgeon the run-rate into submission. Of late, the crease-bound lunging that characterizes the early part of his innings owes less to calculation and more to a simple inability to get the ball away. Occasionally he redeems this opening sluggishness with a rousing final flourish as he did in the last over against the West Indies, smashing two sixes and a four to drag the score to respectability. As often, though, Dhoni falls trying to heave his way out of stagnation as he did against Afghanistan and very nearly did against the West Indies. Kohli has spoken glowingly of Dhoni's maturity, his ability to get the team to successfully target a realistic score instead of collapsing in a heap chasing a fantasy total. We must defer to the captain's judgment in this matter, but it's hard not to feel that this new realism, this downward revision of possible totals, has Dhoni's prolonged nurdling factored into it.
But there isn't much point fretting about Dhoni's decline as a batsman because his other strengths make him indispensable. He is, despite the occasional missed stumping, a safe keeper and the team's senior pro, elder statesman and fielding regent all rolled into one. It's not unusual for a former captain to co-exist amiably with his successor; it is unique, though, to have the two of them work together seamlessly as team leaders, without friction or resentment. So the murmurings about Dhoni keeping better men out of the team are beside the point. If the middle order is to be strengthened, the changes must be made elsewhere.
Till such time as K.L. Rahul walked in at the fall of the second wicket, India's middle order didn't seem as makeshift as it does now. Once he was elevated to open, there was a hole at No. 4. There had been some talk of playing Dhoni in that position but better counsel clearly prevailed. Dhoni at No. 4 in his current avatar would be like driving with the hand brake on from early in the innings. In the team as presently constituted, that leaves Kedar Jadhav and Vijay Shankar as candidates for that position.
Jadhav's bowling credentials at this level are best ignored: he has bowled all of six overs in five matches for no wickets. But his claim to a middle order slot are stronger than Shankar's both in terms of his career record and his performance in the tournament. He has been not out twice, has failed once, and his fifty against Afghanistan was the unacknowledged difference between victory and defeat. The perceived need to play Dhoni at No. 5 to give him longer to get going has meant Jadhav coming in at No. 6 more often than not, but given Jadhav's versatility, his ability to switch from defence to attack, he should precede Dhoni to the crease.
It's unfair to judge Vijay Shankar on the strength of three matches, but given the pressure-cooker context of an impending World Cup knockout round, it's reasonable to ask if he is capable of playing a decisive innings. Little in his international record suggests the ability to play either the long, rallying innings or the sort of explosive knock that might boost a run chase or bat the opposition out of the match. If it wasn't for the second string to his bow, the ability to bowl some makeweight medium pace, he probably wouldn't be in the team. In his first outing in the tournament, his all-round ability stood him in good stead when he took two top order wickets but he wasn't called upon to bowl against Afghanistan or the West Indies. It's worth asking if his usefulness as an occasional bowler makes up for his lack of batting presence in a pivotal position.
The question the Indian team has to ask itself is this: if it were set 300-plus runs to win (which is entirely possible in a tournament that has seen several scores over 300), does it have the batsmen to chase down that target? If Rohit Sharma continues to play like God and scores another big hundred, if Rahul contributes a forty and Kohli motors to another seventy- odd runs, the answer is a decisive yes. But if India finds itself at 60 for 2, Rohit and Rahul gone, what then? The odds are that despite Kohli's relentless industry, the asking rate will rise as Shankar tries to play himself in. If then, heaven forbid, Kohli is dismissed for around fifty at the 130 mark, who has the game to keep the asking rate from ballooning out of control? On current form, Shankar, Dhoni and Jadhav aren't batsmen who make the running. They can bat around others, but in a long chase the onus is almost wholly on the top order.
One way of fixing this, given India's squad, is to play Rishabh Pant as a specialist batsman against England in place of Shankar. India is virtually assured of a place in the semi-finals so this would be a good time to try him out. Pant doesn't have an ODI record to speak of, but we know that he is a freakishly talented attacking batsman. He has a Test century in England to his credit, he is a southpaw in a side full of right-hand batsmen and he's capable of turning a match or galvanizing a chase in a way that the present middle order seemingly can't. Given Shankar's contribution with the bat in the three matches he has played — 58 runs in three innings — there's no great risk being taken. The potential pay-off is that India might find a middle order batsman capable of intimidating the opposition in the middle overs. In a batting order that seems to tail off into book-keeping caution at the fall of the second wicket (with the exception of Hardik Pandya lower down), it's time to induct a cavalier.