Ideas at war: France attacks
There is a case for pluralist societies to examine the reasons for the persistent alienation suffered by minorities and the antagonism that results from such distancing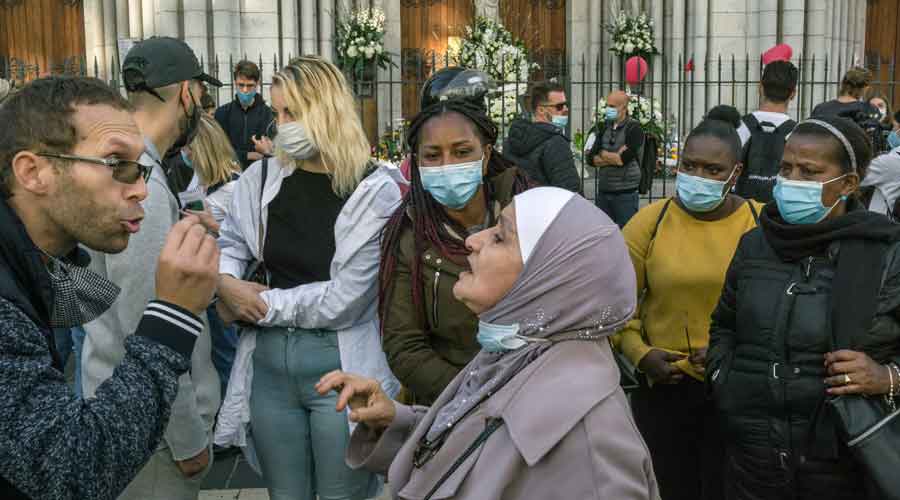 A spirited discussion about religion and politics in front of the Notre Dame basilica in Nice, France.
NYTNS
---
Published 03.11.20, 02:06 AM
|
---
Ideas are civilization's survival kit. But the clash of ideas can also imperil civilizations. It is possible to look at the recent gruesome attacks in France — the decapitation of a school-teacher by a radicalized immigrant was followed by the slaying of three civilians by a Tunisian in a cathedral in Nice — as instances of the simmering conflict between the principle of liberalism and a dangerous kind of orthodoxy. These shocking depredations have been attributed to the dissemination of cartoons of the Prophet — a practice that has been defended by France as an element integral to free speech. The debate between religious sensibility and secular free speech is not limited to France: it is a global discourse, albeit with regional variations. But there is, arguably, a common element. Both contestants have committed errors in judgment. The orthodox — not just radical Islam but doctrinaire strains in other faiths, including Hinduism — seem to believe that violent reprisal is a legitimate form of protest against what it argues are the licences taken by free speech. This is unacceptable. Difference of opinion in any civilized society is resolved through debate — not decapitation. The law of the land must act swiftly and fairly against this kind of malevolence.
This is not to suggest that the West's secular edifice is free of warts. Assimilation is a leitmotif of the liberal project but the peaceful co-existence of contrarian ideas cannot be enforced. There is a case for pluralist societies to examine the reasons for the persistent alienation suffered by minorities and the antagonism that results from such distancing. The chasm need not be a reflection of religious differences: France, just like any secular polity, is committed to uphold the equality of all faiths in the eyes of the law. But historical, economic and social conditions are vital to the integration of communities, and there is evidence to suggest that France's 'Muslim problem' could well be the result of soaring unemployment, racial discrimination as well as the Republic's unwillingness to acknowledge the crimes of the Empire — the 'Rights of Man' seem not to have been applied to North African Muslims. Retaliation from the margins is then held out as justification for conflating the radicalized lumpen with Islam in entirety. If the laïcité has to work in letter or spirit in France or elsewhere, it must be reimagined as a platform to resuscitate dialogue among cultures. But the success of such a conversation rests on France — and India's? — ability to recognize that it is a conversation among equals.