Hunger pangs: Editorial on the demon called malnutrition
According to Unicef, almost eight million children under the age of five are at risk of dying from severe malnutrition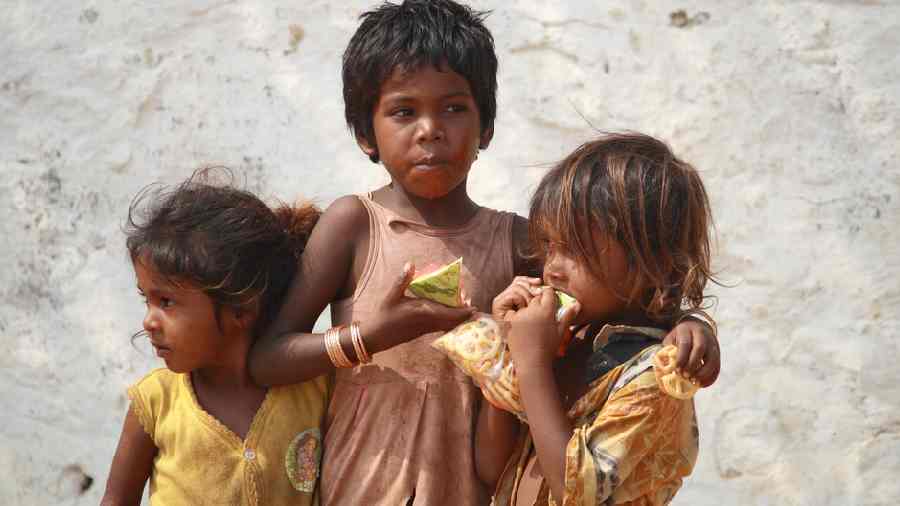 India must pay attention to the Unicef's findings even though the country does not feature in its latest list of high-risk zones.
File picture
---
Published 28.06.22, 02:31 AM
|
---
The Unicef has brought to focus an old problem that has taken calamitous proportions in recent times — malnutrition. It has estimated that almost eight million children under the age of five are at risk of dying from severe malnutrition on account of the disruption in supply chains because of the Covid-19 pandemic, persistent drought due to climate change, and the sharp rise in food prices as a result of the ongoing war in Ukraine. According to the United Nations humanitarian agency, most of these children are in 15 countries that are suffering from an acute shortage of food and medical aid. The Unicef has urged world leaders to wake up to the crisis and put together an aid package of $1.2 billion. Therapeutic food — designed for specific nutritional needs as a form of dietary supplement — and care, the Unicef says, must be included in an acceleration plan to help avert an explosion of child deaths and alleviate the long-term damages of severe wasting. Worryingly, a recent uptick in the cost of raw material, leading to an increase in the price of therapeutic food by 16 per cent, has left up to 600,000 additional children without access to life-saving treatment and at risk of death. The uneven distribution of the food security apparatus — countries in sub-Saharan Africa like Yemen, Sudan and Ethiopia are among the most affected — has also led to the aggravation of the crisis.
India must pay attention to the Unicef's findings even though the country does not feature in its latest list of high-risk zones. This is because of India's dubious distinction of having the most number of children below five years affected by severe wasting. The National Family Health Survey-5 revealed that one out of every three children below the age of five continues to suffer from stunting. If implemented well, programmes such as Integrated Child Development Services and Poshan Abhiyaan could be crucial in addressing the challenge and achieving food security and improved nutrition. Experts have also prioritised the need to strengthen Nutrition Rehabilitation Centres but studies indicate that their performance has been less than satisfactory because of the lack of resources. The continued prevalence of malnutrition, in large part, can be attributed to inadequate political focus on budgetary allocation. In spite of the rise in the number of children suffering from malnutrition, the Union government continues to relegate this crisis to the sidelines. There is an urgent need for a complete overhaul of India's policy attitude to malnutrition. Piecemeal approach with respect to welfare policies would be crucial in tackling regional and constituency-wise variation.