Huge gap between the Gandhian era and present-day India
Today we need to ask ourselves whether savagery and violence have become the norm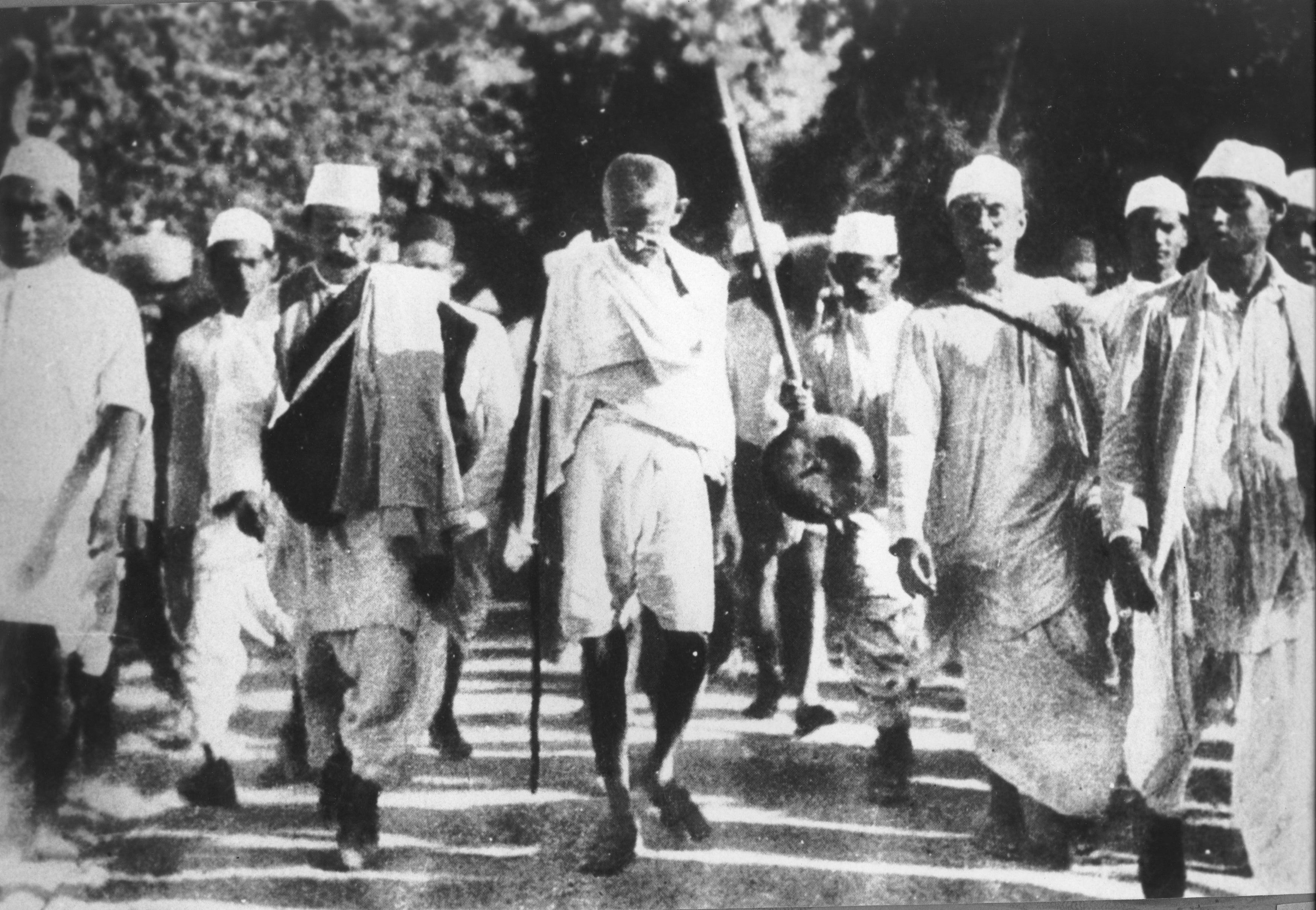 Mahatma Gandhi during the Salt March, 1930.
(Image: Wikipedia)
---
Published 07.10.19, 08:04 PM
|
---
Sir — India recently celebrated the 150th birth anniversary of Mahatma Gandhi, who was not only a revered icon of India's struggle for freedom but also a towering figure of the 20th century. Even today, Gandhi continues to be symbolic of India's struggle against imperial domination in the world. His contributions were arguably greater than those of his contemporaries. Gandhi's devotion to non-violence as a method of resistance was exemplary.
The Gandhian mode of resistance has become an example for many others struggling against unfair regimes for independence, justice and equality. His devotion to the cause of the freedom struggle was acknowledged even by the British. M.K Gandhi's contribution to Indian society and history is unparalleled. We must follow in his footsteps and stand united in rooting out hatred and intolerance.
Ramesh G. Jethwani,
Bangalore
Sir — While we celebrate the 150th birth anniversary of M.K. Gandhi we must ask ourselves if we are truly following his principles and ideology of unity, peace and prosperity in our nation. The answer, unfortunately, is no.
One can say that Gandhi was another such individual after Gautam Buddha who had stressed on man's potential for fostering a rich inner life and attainment of self-transformation. He taught the country the importance of tolerance, non-violence and belief in one's own faith. His pivotal contributions led to the independence of India.
However, there is a huge gap between the Gandhian era and present-day India. We have forgotten the very essence of tolerance that he preached. The trust that the people of India had placed in political leaders at the time of the freedom struggle has since been eroded.
The present generation of decision-makers must adopt Gandhian principles if India is to compete on a global platform. If we are to create a brighter future for the country, then we must not lose sight of his vision in all our religious and political fervour. Henry David Thoreau, who influenced Mahatma Gandhi, had said, "[I]f one advances confidently in the direction of his dreams, and endeavours to live the life which he has imagined, he will meet with a success unexpected in common hours." That stands true for Gandhi.
Ranganathan Sivakumar,
Chennai
Sir — In spite of the dig taken by the Congress president, Sonia Gandhi, at the Bharatiya Janata Party, that it is easy to take Mahatma Gandhi's name but difficult to follow in his footsteps, it must be acknowledged that no political party in India has been able to emulate the man. Had Congress leaders followed Gandhi's principles and preachings, the nation would have developed differently in the decades of their dominance. Nor did they follow Gandhi's emphasis on truth as can be seen in their interactions with voters. The latter realized that they were being fooled, and thus removed these leaders from power.
N. Viswanathan,
Coimbatore
Sir — Sankarshan Thakur's article, "Enduring stain" (Oct 2), dispels the fallacious notion of a 'swachh Bharat' in terms of the larger connotations of cleanliness, which include both physical and mental spaces. It is regrettable that India continues to witness unabashed discrimination on the basis of caste and religion.
The country has seen a rise in violence including lynching, abuse of minors, Dalits and minorities, and the continued practice of manual scavenging. All of these acts, some of which are perpetrated in the name of nationalism, stand in contradiction to the ideals and teachings of Mahatma Gandhi.
Laksmisree Banerjee,
Jamshedpur
Sir — Sankarshan Thakur's article about the nation and its 'practitioners of unspeakable things' compels readers to ask themselves whether savagery and violence have become the norm.
One wonders if champions of peace and non-violence were indeed born and nurtured in this country. On the occasion of 150 years of Mahatma Gandhi's birth, it is imperative that we introspect in this regard.
Asit Kumar Mitra,
Calcutta
Sir — A.P.J. Abdul Kalam, who served as the 11th president of India, had reportedly said that instead of declaring a holiday on the anniversary of his death, the people of India should work an extra day. In our country, too many days are declared holidays to celebrate or mourn the birth and death anniversaries of political leaders, including that of B.R. Ambedkar, Jawaharlal Nehru and M.K. Gandhi.
Every great leader has always called upon the people to work hard. Thus, the best way to honour them is by working harder than usual rather than by declaring a holiday. If one were to implement this step, it is unlikely that there would be political opposition to it.
S.C. Agrawal,
Delhi
Sir — More than 70 years after his assasination, the memory of Mahatma Gandhi received immense reverence this year, not only from his admirers but also from his detractors. Although there are several criticisms levelled against him, he was and continues to be recognized and respected as a great leader.
He was a noble soul. Gandhi is still revered for his message of tolerance, peace and accommodation, and the courage he showed in the face of the brutalities unleashed by the British government continues to inspire people around the world.
A quote attributed to a famous personality, about Mahatma Gandhi on the occasion of his 70th birthday, stands true: "Generations to come, it may well be, will scarce believe that such a man as this one ever in flesh and blood walked upon this Earth."
K.A. Solaman,
Kerala
Keep fighting
Sir — Hong Kong has a new, unofficial 'national anthem' and it is uniting the pro-democracy dissenters under its banner. While thousands sang "Glory to Hong Kong", a four-verse Cantonese song written by a local musician under the pseudonym, "Thomas dgx yhl", people also booed the Chinese national anthem during a football match between Hong Kong and Iran.
Nearly four months of civil unrest have transformed Hong Kong from just an economic hub to a symbol of resistance against authoritarian regimes. In an increasingly intolerant world run by right-wing governments, Hong Kong's unrelenting battle against unfair governmental diktats has become inspirational to people globally.
Ahana Roy,
Mumbai