Higher message
A monument to Bengal's hero is not an offering to Bengal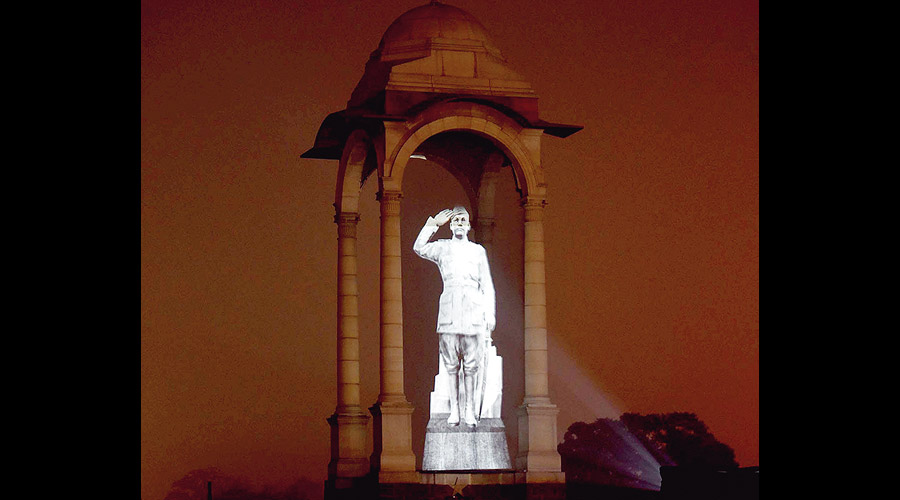 Hologram of the statue of Netaji Subhas Chandra Bose unveiled by the PM, on the occasion of the Parakram Diwas celebrations, at India Gate in New Delhi on Sunday, Jan. 23, 2022.
(PTI Photo)
---
Published 05.02.22, 12:03 AM
|
---
The Parakram Diwas celebrations recalled for me an encounter with two octogenarian Indian National Army veterans at the then newly-built memorial at Singapore's Esplanade. "I belong to history not politics," was Gurbaksh Singh Dhillon's breezy dismissal of rumours about the trip's funding and organization before plunging into an exotic version of the national anthem ending with "Jaya ho!" instead of "Jaya he!" A still winsome Lakshmi Sahgal was more forthright without shedding an iota of her charm. "I know sponsorship is suspect," she told me. "I know we are being used. But it's the only way to keep alive Netaji and the INA. Otherwise, our message would be forgotten."
Little can she have known then that in their desperate search for heroes, India's rulers would one day hoist Subhas Chandra Bose onto the lofty pedestal created for the imperial personage who was (some say) Tagore's original "Bharata Bhagya Vidhataa". There, Bose might glow among a galaxy of gurus like M.S. Golwalkar, 'Veer' Savarkar, possibly Shyamaprasad Mookerjee and — who knows? — even the infamous Nathuram Godse, with no murmur of the message Sahgal hoped to preserve for posterity. Exalting the singer is not the same as honouring the song. As the Calcutta thespian, Rudraprasad Sengupta, says in one of his plays, people worship Rabindranath Tagore, they don't read him. Bose's new-found admirers are probably less impressed by his message than by the implications of a 'generalissimo' title, khaki uniform, jaunty salute and chumminess with what Swaminathan S. Anklesaria Aiyar recently called "Hitler's Nazis and Japan's imperial thugs". They cannot care that Arthur Moore, editor of The Statesman, thought Bose's The Indian Struggle a "more modest and cultured … less vulgar" Mein Kampf. 
Sahgal was focused in 1994 on how the past in which she had played a distinguished part could serve the future. Perhaps an intuition of the perils on the road ahead influenced her decision only eight years later to stand as the Left Front's candidate for the position of India's president. She must have remembered that famous episode when Bose, supreme commander of her Rani of Jhansi Regiment, refused to attend a ceremony at the Chettiar temple in Singapore's Tank Road, where the Thaipusam procession ends every year, until the priests had agreed to accommodate all castes and communities. Having earlier cooperated with the Muslim League in Calcutta Corporation, and recommended coalition governments for Bengal, Punjab and Sind, Bose drew no distinction between Hindus and Muslims. They were all Indians. He himself was the ultimate Indian.
K.S. Sandhu and A. Mani claim in their monumental work on the diaspora that "it was the only time in the history of Indians in Singapore (and Malaya)" that linguistic differences were buried and "a unified identity prevailed." The INA's newspaper, Azad Hind Times, was published in Hindustani using the Roman script so that Hindus, Muslims and Sikhs were all literally on the same page. The Unknown Warrior monument, whose foundation stone Bose laid on July 8 1945, was inscribed with the three Urdu words, Ittehad (Faith), Ittemad (Unity) and Kurbani (Sacrifice), that were the INA's motto. That sense of oneness survived after all else failed. Sugata Bose recounts in His Majesty's Opponent how INA prisoners in the Red Fort told Gandhi they had never felt any distinctions in the force. "But here we are faced with 'Hindu tea' and 'Muslim tea,'" they complained. "Why do you suffer it?" Gandhi asked. "We don't," they said. "We mix 'Hindu tea' and 'Muslim tea' half and half, and then serve. The same with food." The Haridwar Dharma Sansad and Allahabad Sant Sammelan organizers would be entirely justified in denouncing the INA's message as an outright rejection of their 'Hindu rashtra' demand.
Sadly, this non-denominational enlightenment may not ever have been the legend's principal attraction. Ian Stephens, Moore's successor, says that a British acquaintance "known for his Indian friendships" remarked in 1943 that "if a Japanese plane parachuted Subhas on to the Maidan next morning, 90 per cent of the city's Bengali inhabitants would rush forth to join him." The love of spectacle was one reason. Yearning for a lost leader another. Bose had improved on Bonnie Prince Charlie romanticism by achieving the heaven-born service and then renouncing it like a sanyasi. Almost alone among nationalists he espoused a stirring military solution that invoked the mystic derring-do of the Fakir-Sanyasi warriors. Only he promised Bengal a place in the sun, which is probably why most readers of this newspaper revere his memory, although they try to rationalize their faith.
Others too succumbed to that appeal. Male Tamil babies were still being named 'Chandra Bose' when I lived in Singapore. But the only Indian to be honoured there with a statue was General Thimayya, one of the officers who accepted Japan's surrender. Working for the Japanese in the Cathay Building where the INA made history, Lee Kuan Yew viewed Bose with some misgiving. Trying to be fair when we were working on my book, Looking East to Look West; Lee Kuan Yew's Mission India, Lee drew a significant distinction between the leader and 'Jiffs', a derogatory British term meaning Japanese-Indian or Japanese-inspired fifth columnists used for INA soldiers. "I never doubted that Bose was a patriot, but what could he do?" Lee asked, comparing him to General de Gaulle "under British and American patronage." But at least "the Americans wisely allowed him (De Gaulle) to enter Paris." As for the soldiers, "The Japanese maltreated them as prisoners of war! If you joined the INA, then you got all the rations and everything, you were part of the Greater East Asia Co-Prosperity Sphere."
Hitler was far more insultingly scornful about the Indian Legion Bose formed in Berlin in 1941. According to Leonard Mosley's The Last Days of the British Raj, even Nehru "expressed nothing but contempt for the renegades in private" although "he quickly jumped on the bandwagon" to defend them for political reasons. Earlier in Singapore's Jalan Besar Stadium Nehru had rebuked a crowd of 100,000 people for raising the old INA chant of "Blood! Blood! Blood!" He warned that "provocative and unwise" slogans should give way to peaceful, disciplined and constructive work. The INA may not have been either a model army or the decisive instrument for gaining independence but Bose's pan-Indian eclecticism could be a powerful force in shaping the new republic. Will the Delhi statue also celebrate this pan-Indian eclecticism?
Bose has not been lucky with memorials. Indian portrayists are not very good at representation. The British sculptor's escape into classicism is not open to them. Perhaps a plump, bespectacled, middle-aged Bengali isn't the most aesthetic of models either. A monument at Tikri Kalan near Delhi was an exercise in fantasy. The equestrian statue at Calcutta's Shyambazar five-point crossing glistened brassily, the horse's tail pointing unbecomingly out, when I last saw it. If his 'Delhi Chalo' figure in the Maidan came to life, it would stomp clumsily into the Laccadive Sea. Far from being martial, the pose, with right arm and leg outstretched simultaneously and a greatcoat dangling precariously from one shoulder, isn't even physically plausible. There are not many Devi Prasad Roy Choudhurys among our artists.
However, a government that reportedly squandered Rs 2,063 crore on the Sardar Patel project might commission something truly striking. It might even import a magnificent work of art. But will it tolerate — leave alone propagate — the message Lakshmi Sahgal tried to save? Politicians who need the singer for their own image have little appetite for his song. Similarly, a monument to Bengal's hero may not be an offering to Bengal at all. While most Indians, Bengalis especially, will welcome the statue, it would not do to misread the purpose of its erection.