Harsh summer
Heatwaves and inflation exhausting the working class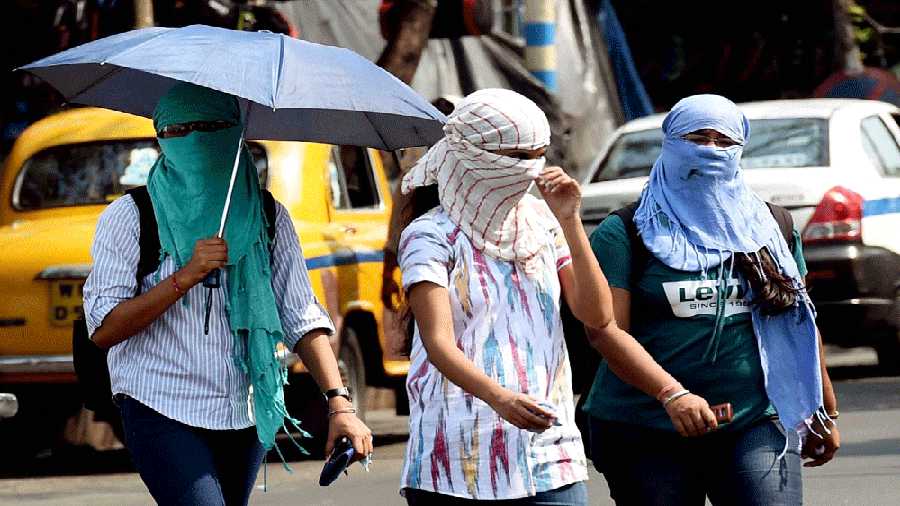 This March was the hottest one in 122 years, according to the India Meteorological Department.
File picture
---
Published 20.05.22, 02:34 AM
|
---
For the average Indian, this has been a harsh summer. Heatwaves are exhausting the working class — vast stretches of the country have seen exceptionally high temperatures since March, tormenting the toiling masses.
This March was the hottest one in 122 years, according to the India Meteorological Department. April and May recorded multiple heatwaves and as if the soaring mercury wasn't enough, inflation has been throwing the family budgets awry. Petrol and diesel prices are through the roof — they have long breached the hundred-rupee mark and are eyeing a new high by the end of 2022.
Prices of edible oils — the basic ingredient of common man's daily tadka — are surging too. Spend an hour at any grocery shop and you will see consumers explode over the ever-rising grocery bills.
Domestic gas prices are inching up. Consumers are left wondering if they ever get the cylinder subsidy in their bank accounts or if it has been done away with without their approval. Retail prices of perishables — vegetables, milk, fruits — are like helium balloons let loose.
Across rural India, MGNREGA jobs are in high demand because livelihood sources of the poor are yet to be fully restored after the two tumultuous years of Covid-19. But even that work is hard to come by. Long-distance, rural-urban migration is rising, with small farmers and landless labourers leaving their villages in search of work because in many places rural employment has simply perished.
Even a casual enquiry will reveal that the poor are rationing their daily needs. "Modi hai to mumkin hai" — the slogan has become a joke now. But jokes apart, the common man's life is in turmoil and everything, including tempers, is going up.
The countryside saw load-sheddings after a long time. Coal shortages, both artificial and real, crippled power stations even as the electricity demand shot up mercurially owing to the heatwaves, forcing many state governments to buy expensive power to tide over the crisis. As a result, in many states, power bills have spiralled. Now the spectre of wheat prices going up looms over our heads.
Over the next few months, the retail price of wheat is speculated to surge by at least 50 per cent. Global wheat prices have soared owing to disruptions in wheat supplies due to the Russia-Ukraine war.
Ukraine is among the largest suppliers of wheat. Our domestic wheat production had plummeted last season because of multiple factors. The Centre, thus, banned wheat exports shortly after saying that everything is under control — a decision that enraged the growers. This lack of preparedness on the part of the Central government means that the chapati would cost more a few months from now than it did six months ago.
In spite of bilateral or multilateral treaties, many countries are banning exports to protect domestic markets and demand, like Indonesia did with palm oil, causing cooking oil prices to go up globally, or India did with wheat, angering the big nations that say such protective measures distort markets and demand-supply chains. But the bottom line is that the common man will bear the brunt of all these decisions.
What is the Central government doing apart from coining catchy slogans? The prime minister, Narendra Modi, dominates news channels and newspaper space like none else with his carefully crafted public relations strategy. But on the ground, his government does not provide for even temporary relief to the masses reeling from the challenges of volatile markets, shrinking livelihoods and a moody climate. Modi tells us to stay united in facing these crises, while his party's supporters chant the "Hanuman Chalisa" on the streets, raid small-town masjids and bulldoze houses of Muslims built under government schemes.