Fine print: The National Education Policy
At the level of higher education, the NEP wants to introduce an undergraduate programme with multiple exit points with certificates of competency after the completion of each year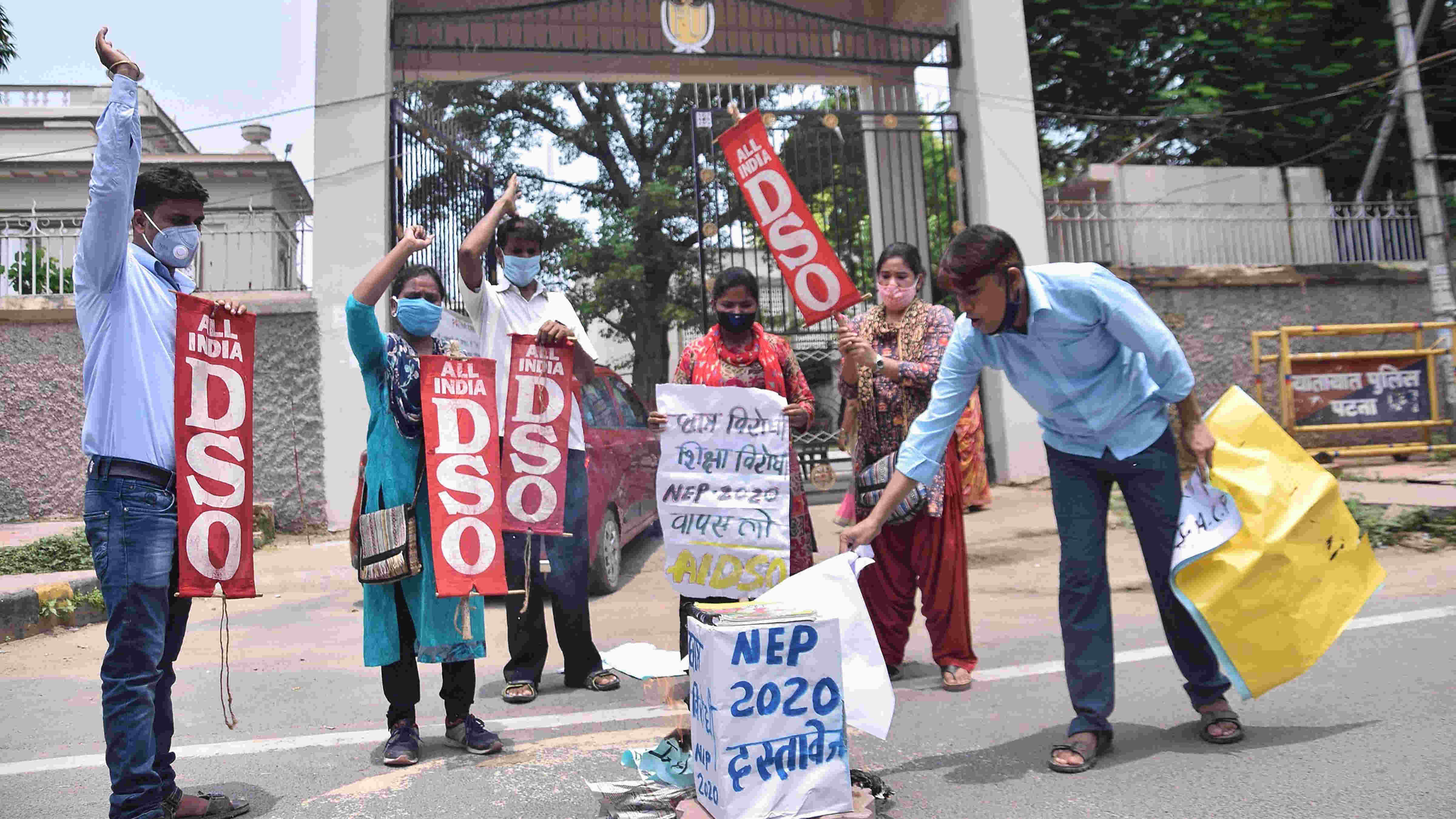 AIDSO activists burn copies of the new National Education Policy 2020 outside Patna University, in Patna, Friday, July 31, 2020.
PTI
---
Published 03.08.20, 02:19 AM
|
---
Radical changes were needed to shake up India's moribund education system. The National Education Policy, which has now received cabinet approval, claims to have done exactly that. It proposes to change substantial parts of school education: unregulated anganwadi/pre-schooling years would now be inducted into the ambit of formal education. It also intends to do away with annual examinations and, instead, hold exams in modular form at five different levels to test students' conceptual knowledge. It is being argued that such an intervention would not only strengthen the base of the education system but also discourage rote-learning that had blighted the pursuit of knowledge. Vocational subjects like coding will be taught from the sixth grade itself. This is perhaps consistent with the prime minister's priorities: Narendra Modi has stated that the focus of the NEP is on generating "job creators". This, unfortunately, is an instrumental approach to education where pedagogy and the dissemination of knowledge remain secondary concerns. At the level of higher education, the NEP wants to introduce an undergraduate programme with multiple exit points with certificates of competency after the completion of each year. This may bring down drop-out rates as suggested but what will it do to the quality of education? Graduates with poor skills in conversational English, often a pre-requisite in employment, are not uncommon.
The NEP has pegged investment in education at 6 per cent of the GDP. This is heartening, but not quite original. This had been the stated goal since the Kothari Commission's report in the 1960s, but has never been implemented. It remains to be seen whether a parsimonious government would buck the trend. The NEP's emphasis on making online infrastructure inclusive is important in the time of the pandemic that has completely altered the challenges and needs of education. The pledge to make the recruitment of teachers a transparent process and prioritizing teacher training are encouraging. The intrusion of politics in decision-making processes — teacher recruitment, postings and so on — has always undermined the autonomy of educational institutions; will this be checked?
The NEP is also plagued with discernible asymmetries. Secularism has given way to nishkam karma. The push for Sanskrit education — do the 21 other scheduled languages not merit attention? — also exposes an ideological thrust that should have been avoided. The spirit of decentralizing education has been snuffed. There is one apex commission for the entire education sector — the Rashtriya Shiksha Aayog — headed by the prime minister. A political sovereign as the apex point of reference in education is unlikely to free Indian education from the scourge of thought control. A clean break in this respect would have made the NEP truly visionary.