Rough edges on the red carpet
If the farmer protests continue through January, they could cast a shadow of uneasiness over Johnson's visit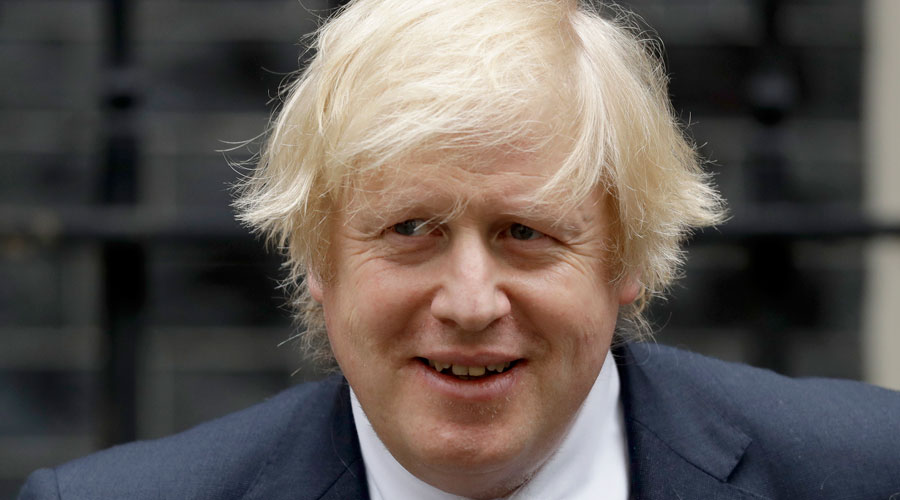 ---
Published 23.12.20, 01:48 AM
|
---
When Donald Trump turned down India's invitation to be chief guest on Republic Day in 2019, some of us wondered if New Delhi was having a bad hair day — or if it had escaped one, given the strange orange plume the American leader wears.
Trump eventually visited in February this year and, now, the bad hair jokes have returned. The British prime minister, Boris Johnson, Trump's hair twin, has accepted India's invitation to attend the January 26 celebrations next year as chief guest. But the Narendra Modi government will be thrilled if that's the substance of any tough questions it faces over its choice of Johnson as chief guest.
Johnson will be the first British prime minister to oversee Republic Day since John Major in 1993. But unlike Major, who visited early in his term as prime minister at a time the West was still celebrating the demise of the Soviet Union, Johnson will arrive days after the United Kingdom would have left the European Union in less than ideal circumstances, after rushed negotiations that might or might not yield a deal. Back in 1993, it was India that was on the defensive: it was facing global criticism after the demolition of the Babri Masjid in December 1992, and Mumbai (then Bombay) was burning in the communal clashes that followed. This time, the roles are reversed.
That means India might have a chance of resetting the relationship with the UK on terms that are more favourable to it than has been possible for several years. For starters, Britain will be looking to show that it still has economic friends and will be keen to demonstrate progress on a trade deal with India. New Delhi, too, would love a quick trade bargain with the UK — or at least public messaging that suggests that such a deal is on the anvil. It would enable the Modi government to put pressure on the EU, soon after the latter's divorce with Britain, to agree to some of India's demands on the trade pact that Brussels and New Delhi have been discussing for more than a decade.
All good then, right? Hold on.
Last week, we got a taste of how things could unravel when the British foreign secretary, Dominic Raab, met the foreign minister, S. Jaishankar, to discuss plans for the Johnson-Modi summit that'll be held on the sidelines of Republic Day. Raab cited the large and influential Indian diaspora in Britain to raise London's concerns over the ongoing farmers' protests in India. Johnson's Conservative Party benefited from enhanced support from the Indian community in the UK in the last general elections in 2019. It was a thinly veiled secret that outfits and individuals associated with Modi's Bharatiya Janata Party worked to rally support for the Tories and against the Labour Party after leaders of the latter criticized New Delhi's actions in Kashmir.
Yet whipping up pro-New Delhi sentiment on Kashmir is one thing; turning that into anti-farmer views among the diaspora is a far tougher — if not impossible — challenge, given the significant family ties many in Britain have with Punjab in particular.
If the farmer protests continue through January, they could cast a shadow of uneasiness over Johnson's visit. So far, the government has done everything in its power to alienate the protesting farmers, and nothing to genuinely resolve the crisis.
But the protests are only one potential headache that could upend the thinking behind inviting Johnson. India wants the UK to restore its earlier approach of welcoming working immigrants. But that will not be easy for a Johnson government to justify at a time anti-immigrant sentiment is among the bedrocks of the opinion backing Brexit.
The biggest challenge for India, though, might be more long-term. The British prime minister's popularity ratings, which spiked in April after he suffered from Covid-19 and recovered, have crashed in recent months, according to polling group, YouGov. That's hardly surprising given the Johnson government's bumbling negotiations with the EU over a potential Brexit deal. Johnson and his team have met EU leaders, including the European Commission president, Ursula von der Leyen, multiple times in recent days to try and hammer out an agreement. So far, they've had no meaningful breakthrough and while Johnson has tried to prepare the British public for the possibility of no deal, European leaders such as the French president, Emmanuel Macron, have also taken increasingly tough postures against London's demands.
In the event that Britain leaves the EU without any deal at the end of this year, public sentiment in the UK against Johnson might grow further. Though he won a comfortable victory in the general elections of 2019, questions will grow over his political future. And if Johnson stands politically weakened, his ability to move forward with any deal struck with India would diminish substantially.
Much as governments like to convince people that they've got everything under control, luck often deals its own cards. Trump's loss in the US election is a reminder that investing too heavily in individuals with an insecure future — as Modi did with the US president in the months leading up to the November vote — can be dangerous. New Delhi will hope its second Republic Day gamble in as many years pays off. We might know as soon as January 1.