Deeper impact
Far from being a leveller, Covid-19 may exacerbate inequalities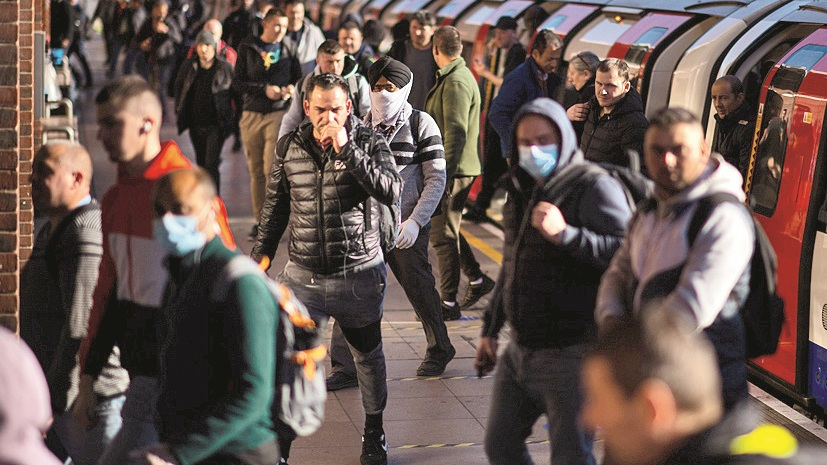 Representational image.
Justin Setterfield/Getty Images
---
Published 06.03.21, 12:32 AM
|
---
A middle-ranking American diplomat who was posted in Calcutta in the early 1980s after serving in Dhaka had a disarming way of avoiding the risk of infection in the subcontinent. Declining ice or water in his drink, he would say, "Sadly, I don't have your advantage of hundreds of years of immunization!"
That excuse might explain the riddle of Indians in India appearing to have escaped initial grim predictions of mass slaughter while British South Asians (and blacks) suffered grievously from the coronavirus. I say "appearing" because not all the evidence from India can be relied on. At the same time, a wealth of statistics about the British situation seems to project an impression of race-based discrimination. That alone justifies revisiting a subject that this column discussed a month ago. However, if racism still lingers in Britain, it is not overt but 'structural racism', meaning that substantial numbers of people from minority backgrounds are unable to benefit fully from social institutions and facilities.
Boris Johnson's well-founded boast of heading the most racially inclusive government in British history offers little protection against this exclusion, the resentment it provokes or its fatal impact. Rishi Sunak's budget did not address the peril directly. It did not do much for the hard-pressed National Health Service on which the future depends, and even less specifically for black and minority ethnic (Bame) communities whose medical plight is rooted in inequality. "It's the economy, stupid" is as true of Britain today as it was of the United States of America in 1992. Well-designed and well-funded social welfare measures to raise Afro-Asian living standards would be more effective than the culture minister's exhortation "to defend our culture and history from the noisy minority of activists constantly trying to do Britain down".
Their exuberance explodes from time to time in the vandalization of statues of national heroes and a clamour to 'decolonize' school and university curriculums. Widespread 'taking the knee' demonstrations express solidarity with the African-American whom the Minneapolis police killed last year. A huge Black Lives Matter hoarding flashes on and off down the road from where I am writing this in the heart of London's Kensington. Only the intervention of the vaccines minister, Nadhim Zahawi, prevented the London-born ethnic Nigerian, Samuel Kasumu, quitting in a huff as the government's adviser on ethnic minorities.
Not that the revolution is lurking round the corner. Many Bame Britons might dismiss the pandemic as conspiracy but others are fully compliant. Rich tributes were paid to Ameta Rooplal, a nurse from Trinidad and Tobago who died recently of Covid-19 in Birmingham. Zara Mohammed, the Muslim Council of Britain's new 29-year-old secretary-general, is busily rallying the community to meet the challenge. Farzana Hussain, a British-Bangladeshi general practitioner, has vowed to telephone every patient who had been offered but not accepted vaccination.
There's no concerted resistance. As Guddi Singh, an eminent paediatrician of Indian descent, pointed out, there are more genetic differences within the group than between it and whites. Disparities have improved for Black Africans, Black Caribbean, Chinese and Indians but have worsened for Pakistanis and Bangladeshis. The complaint that many of the thousand or so Afro-Caribbean settlers who arrived in 1948 are still in the same lowly slots hardly applies to Indians. Leave aside the brilliant examples of Sunak and Priti Patel, the three Indian news agents in Kensington High Street disappeared some years ago when their children won university places and they moved up the social ladder.
To some extent, however, relative deprivation still links most Bame groups. It results in obesity which affects 36 per cent of people in poor areas against 21 per cent among the more affluent. It reduces life expectancy by eight years at lower income levels.
A recent television exploration of colour and coronavirus claimed that a black person is 70 per cent more likely than a white person to live in a deprived area, implying pollution, congestion, poor housing and limited access to education and employment. The figures for Bangladeshis and Pakistanis were 114 and 246 per cent, respectively. People of colour are not more likely to get the coronavirus, but they are more likely to die if they get it because many of them already suffer from chronic ailments. They are all also more prone to infection.
The programme's author, David Harewood, himself suffers from asthma, hypertension and chronic kidney disease. As a 55-year-old black man, he is three times more likely to die from Covid-19 than his white friends of the same age. "This virus seems to have my name on it, which is worrying," he says. Some affinities defy income, bearing out Harewood's finding that 63 per cent of the health workers and a dizzying 95 per cent of the doctors who died of Covid-19 were coloured even though "doctors aren't poor". But — and here lies the rub — he says these front-line workers are less likely to be listened to on issues of protective equipment and personal safety because although Asians and Afro-Caribbeans make up 21 per cent of NHS employees, the management is white-dominated. Last year's scandal of contracts for personal protective equipment worth billions of pounds — over 8,600 valued at £18 billion were awarded by July 31 — going to suppliers with high political contacts but no proven track record reflected on the Johnson government's integrity. It had no automatic bearing on either the pandemic or race relations, but could affect both.
It would be wrong to suggest no corrective action has been taken. As Kemi Badenoch, the ethnic Nigerian equalities minister, puts it, "this is not a one-size-fits-all situation". The official multi-pronged approach involves working with more than 50 minority groups in 10 languages through 43 TV channels. Since the languages include Sylheti, I was curious to see what script was used. Although that pleasure was denied to me, the repertoire includes plenty of imaginative innovations like 'Community Champions' to act as trusted voices in their communities and a cross-government unit to "mythbust" (officialese!) false information about the virus and vaccine.
Appealing though these steps might be, they can hardly be adequate now that South Asians in exile have lost the traditional immunity the American diplomat mentioned. Doctors speak of the pallid English sun being of little use in compensating for vitamin D deficiency in dark-skinned people. The novel challenges they face in a new environment include mental pressures and a sense of being needed but not wanted. With 10 per cent lopped off the economy and many shops, restaurants and bars forced to close, 2.2 million people (6.5 per cent of the workforce) are expected to be unemployed by year-end. The dismal long-term prospect is that instead of being a great leveller, the pandemic may exacerbate existing inequalities. Structural racism will aggravate differences unless substantive measures are taken to create a more level society.
Sunak won brownie points last year by proposing that British coins commemorate Commonwealth achievers like Khudadad Khan, the first Indian Army recipient of the Victoria Cross, Noor Inayat Khan, a World War II spy, and even Mohandas Karamchand Gandhi. He may have lost them this week by rejecting pleas for a pay rise for NHS staff — at least 230 front-line workers died in the pandemic — which would have benefited a large number of Bame workers. Kailash Chand, the first Asian to be elected deputy chair of the British Medical Association, and decorated for his services to the NHS, was especially scathing about fobbing off the service with "clapping and badges" instead of funding. With fears of the Kent variant of the virus, said to be 70 per cent faster than others and 30 per cent more deadly, running rampant, society's most vulnerable potential transmitters need special attention to preserve society as a whole.