Fairy tale on field
The significance of Mohammed Siraj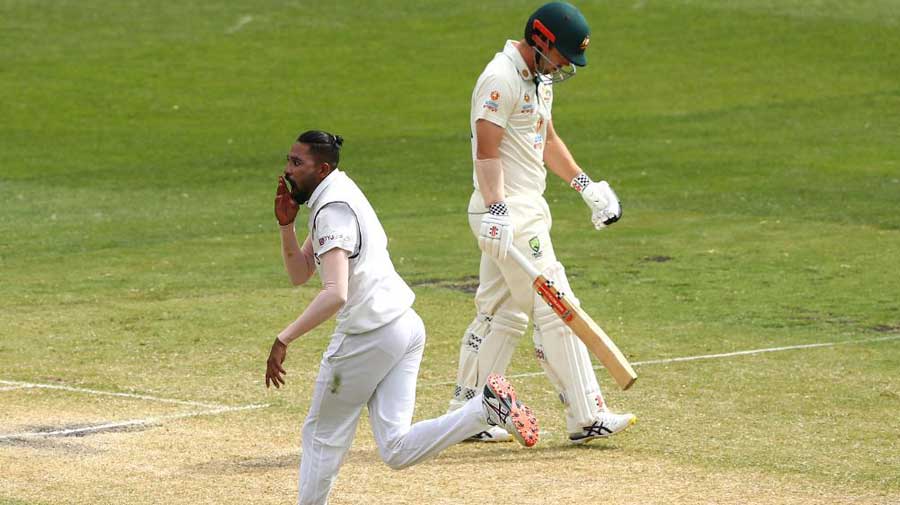 Mohammed Siraj of India celebrates getting the wicket of Travis Head.
Twitter/@ICC
---
Published 03.01.21, 12:21 AM
|
---
The cricket in Australia was a grace note at the end of this dirge-like year. The telecast of the Test before Christmas and the Boxing Day match soon afterwards was a window into normalcy. Even when the Indians were thrashed for 36 at Adelaide, the fact that they lost before flesh-and-blood spectators in a familiar cricket ground made it a welcome vision from a world we had lost. 
The rousing turnaround in Melbourne supplied a fairy-tale send-off to 2020. Fairy tales generally make no difference to the real world, but the match at the MCG provided such an unlikely climax to one particular life story that it left hard-boiled hacks muttering about miracles. 
Mohammed Siraj made his Test debut as a like-for-like replacement for Mohammed Shami who had his arm broken by a short ball in Adelaide. These were big boots to fill. After struggles with injury and inconsistency, Shami, along with Jasprit Bumrah and Umesh Yadav, had become an indispensable member of India's pace attack. His loss left India's fast-bowling trident with a missing prong.
Enter Siraj. Purely in terms of cricketing pedigree, Siraj's rise to the top was unreal in its improbability. Here was a 26-year-old debutant seam bowler who had only begun using a leather ball with a seam at the age of 21! Having made this bizarrely late transition from tennis ball cricket, Siraj made his first-class debut in 2015, was bought at the IPL auction in 2017, became Hyderabad's main wicket taker with the red ball and performed so well for India A that he made it to the Test squad to Australia. His life in the last five years has been lived in fast-forward.
When you overlay this prodigious cricket career with his personal backstory, his Australian debut begins to resemble a fairy tale scripted by a filmi screenwriter with a gift for melodrama. Oddly enough, Siraj's cricketing career was foretold in fiction by Nagesh Kukunoor. In 2005, Kukunoor made a feature film, Iqbal, which told the story of a Muslim boy who made the Andhra Pradesh Ranji Trophy team as a fast bowler without any experience in competitive cricket, thanks to an inspirational coach. The climax of the film has Iqbal going on to play for India.
Since this is a Bombay film, and its hero must transcend overwhelming odds, Iqbal is also deaf, but deafness apart, the similarities between the film and Siraj's life are uncanny. A young Muslim lad from Andhra Pradesh (remember, this is 2005 and there is no Telangana state) with a talent for fast bowling and no league experience is helped by an inspirational coach (Naseeruddin Shah in the movie, Karthik Udupa in real life) to make it to the provincial first class side (Andhra Pradesh for Iqbal, Hyderabad for Siraj), and from there on he is fast-tracked into the Indian team thanks to the talent spotting genius of a former India international (Kapil Dev playing himself in the film and Rahul Dravid in his role as the India A coach and mentor). 
Iqbal is the ultimate feel-good film and it works. When its hero finally takes the field for India in an ODI, there were people sniffling in every section of the cinema hall. Siraj's story is, if anything, even more moving. We all know by now that his father, an auto-rickshaw driver, died during the early part of the Australian tour and Siraj, encouraged by his mother, stayed on the tour because his dream of playing for India had been shared by his father. He made that decision when he had no real prospect of making the team because the fast bowling places were taken. It was only Shami's injury that gave him his shot at glory.
He seized it with both hands. He ran in hard, bowled an economical and disciplined line and length, moved the ball both ways and took five wickets for very few runs. His captain, Ajinkya Rahane, went out of his way to praise his commitment and ability. It was a dream debut.
Iqbal is the only Hindi film I can think of where the central character is a Muslim in a matter-of-fact way. He just happens to be a Muslim in the same way that he happens to be deaf. There is a nice taken-for-granted air about Iqbal's Muslim-ness. It's almost as if Kukunoor is making the point that just as your nominally Hindu protagonist in the run-of-the-mill Bombay film doesn't have to be self-conscious about his religious identity, neither does Iqbal. It is, if you like, a dream of innocence.
It's the kind of dream all of us want to believe can come true. Shoaib Akhtar, the eccentric and fearsomely fast Pakistani bowler, was widely reported in the Indian press when he said that Siraj's selection showed that anyone, regardless of caste or class or creed, could make the Indian cricket team. And Siraj's compressed and magical career shows that he's right. It's to the credit of Indian cricket that Siraj rose to the top despite his obvious disadvantages.
Should Siraj consolidate his place in the team, it's more than likely that in the near future, there will be new ball spells when a Mohammed will be steaming in from either end to bowl for India. And in that moment, thanks to the magical communion that sport creates between teams and their fans, Siraj's faith, and Shami's, will be irrelevant.
But Iqbal's dream of innocence can't be dreamt in Narendra Modi's India because cricket isn't a bubble in which a cricketer can live out his entire life. He must return to a country, a state, a city, a neighbourhood where public men devote their careers to stigmatizing his co-religionists, policing their diets, attacking their livelihoods, criminalizing their romances, subverting their citizenship, confining them to ghettoes, even lynching them with impunity.
Republican India was never a perfectly pluralist democracy, but there was a time when its politicians paid lip service to the ideal of a secular State. A film like Iqbal is plausible only in a world where the broader public sphere is committed to the ideal of even-handedness. It can have no purchase on the national imagination of a country where the ruling party at the Centre and many of its states are committed to excluding Muslims from political representation, where the chief minister of Uttar Pradesh has effectively declared open season on Muslims, where love-jihad-obsessed legislators in BJP-ruled states spend their time writing lunatic bigotry into law.
'No normal sport in an abnormal society' was the slogan coined by the South African Council on Sport in its campaign against apartheid in South Africa. It was both a powerful slogan and a simple truth. India doesn't formally discriminate against Muslims on the same scale as apartheid South Africa did, but the Citizenship (Amendment) Act, the National Register of Citizens and the love jihad laws suggest that institutionalized discrimination is on the near horizon.
When majoritarianism distorts a country's democratic institutions and forces them to diverge from the basic fairness that sustains the meritocratic structures of sport, the minority sportsman in a national team finds himself representing a nation that treats his co-religionists as second-class citizens. As citizen-spectators, we are then forced to reckon with the tension between glorying in Siraj's achievements on 'our' behalf and reconciling that pride with the increasingly brazen persecution of Muslims in India. To look at the cricket and look away from the rest is one option. To look at the cricket and then hold politics accountable to the same standards of fairness that we expect of sport is the other.