How to fake an altruism
Facebook, its delights notwithstanding, was created with the express purpose of networking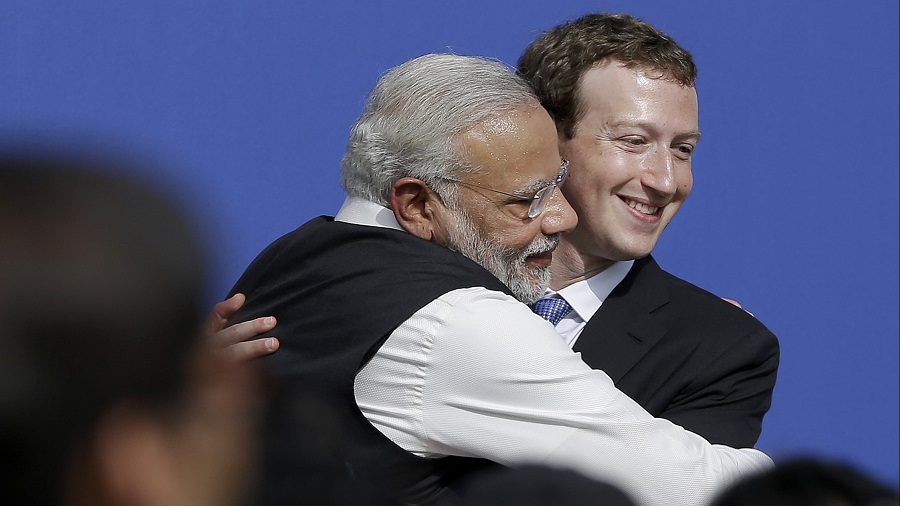 PM Narendra Modi with Mark Zuckerberg at the Facebook office in Menlo Park, US, in 2015
AP
---
Published 23.08.20, 12:11 AM
|
---
When a corporate house fakes an altruism it sounds like this --- "...an open, transparent and non-partisan platform... we denounce hate and bigotry in any form." Facebook India vice-president and managing director Ajit Mohan's comment from last week follows a Wall Street Journal report alleging public policy director of Facebook India, Ankhi Das, opposed applying hate-speech rules to the BJP even after the matter was flagged internally. In May, soon after George Floyd's murder, Trump posted on Twitter and Facebook "when the looting starts, the shooting starts". While Twitter restricted the post, Facebook left it there. Furious Facebook employees staged a protest and there were a couple of resignations too. When Zuckerberg did a video conference with employees, and stumbled on being asked if the VP–Integrity had been part of the decision, one employee reportedly said, "How can we trust Facebook leadership if you show us a lack of transparency?"
For privacy's sake!
Facebook, its delights notwithstanding, was created with the express purpose of networking. A decade and a half on, there is no doubt it has made the leap from dorm to dominion in terms of ambition, scope and influence. But can the same be said for its mission, vision and sense of responsibility? Content is one part of the concern and another part is privacy. For a platform whose founder is "humbilically" attached to his hoodie, from the start Facebook has grappled with privacy issues. In 2006, users complained its news feed was too intrusive, then there was the time when companies could track purchases of Facebook users and intimate their friends. In 2011, there was a bug that revealed private contact info of users. That same year, Zuckerberg himself joined Google+, gained a following and then turned invisible using to the hilt the privacy settings. In 2013, Zuckerberg paid $30 million to buy four houses in the neighbourhood where he lived. For privacy's sake, why else?
Romancing the platform
But in 2018, when it came to be known that truckloads of personal data of Facebook users had been harvested and sold to Cambridge Analytica, Zuckerberg's reflex was to go missing for close to a week. It is now known that employees had alerted the company about the goings-on as early as 2015. Facebook claims it took silent steps, but it parted ways with the data firm only after the Observer expose. Not long ago, when pushed to a corner about Facebook's responsibility in influencing the 2016 US presidential polls, Zuckerberg said, "We can defend as best as we can, but our government is the one that has the tools to apply pressure to Russia, not us... That's something that is a little bit above our pay grade." Crass-sounding, it might be, and disappointing; but it is closer to reality than any platitude.