Success story: Ratings for BBC's 'A Suitable Boy'
Eye on England: Captain Tom Moore turns 100; the Savoy Hotel is the subject for Olivia Williams's new book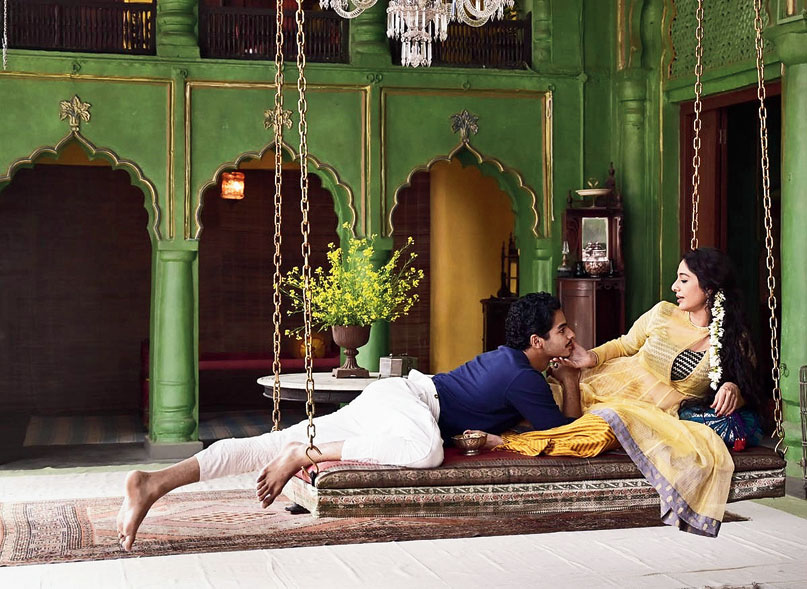 ---
---
BBC TV's six-part adaptation of Vikram Seth's A Suitable Boy ended last week, with Lata Mehra picking the man her mother, Rupa Mehra, has wanted for her all along — the shoemaker, Haresh Khanna — over her friend from college, the dashing cricketer, Kabir Durrani, or the Calcutta poet, Amit Chatterji. Tanya Maniktala was luminescent as Lata but for me the standout performance was that of Tabu, who played the courtesan, Saeeda Bai. She was understated, dignified and has shown herself, I think, to be the finest Bollywood actress of her generation. I also loved the Chatterjis, especially Meenakshi (Shahana Goswami), with their rhyming couplets.
BBC took a huge risk in putting on a Sunday prime-time drama with only Indian characters. Andrew Davies was skilful in compressing Seth's 1,366-page novel and ensuring it was accessible to the broad mass of British viewers. The director, Mira Nair, and the author helped 'Indianize' the dialogue to add authenticity. The drama reflects the communal tension in 1950s India but also deep friendships that cut across religious lines.
A big test will come when Netflix shows the series in India, but in the United Kingdom, judging by the reviews and audience reaction, the response to A Suitable Boy has largely been positive (even though some people were disappointed that Lata did not pick Kabir). "Best TV drama I've seen in ages!" was a typical tweet from an English viewer. "An enchanting adaptation of such a wonderful novel." Another said: "Never would have guessed the ending. Great stuff!"
Lata is now 20. Next time we see her, she will be 80 and looking for a suitable match for her grandson in the India of the year 2012. That is assuming Seth completes his sequel, A Suitable Girl.
Queenly beauty
Salman Rushdie is said to have invented the phrase, "naughty but nice", as a young copywriter. I would adapt it to "haughty but nice" to describe Gayatri Devi, the erstwhile Maharani of Jaipur, whom I got to know a tiny bit as she would spend summers in London. She told me she did not think much of her ghost-written autobiography, A Princess Remembers, so I wonder what she would have made of John Zubrzycki's fascinating The House of Jaipur: The Inside Story of India's Most Glamorous Royal Family.
I think I took the last photograph of her at an arts event at the British Museum, shortly before she fell ill and insisted on being flown back from a London hospital to Jaipur where she passed away, aged 90, on July 29, 2009. In June the following year, I attended an affectionate service of thanksgiving for "Ayesha" at the picturesque Church of St Michael & All Angels, Sunninghill, Berkshire, which was packed with British aristocracy.
Lords and ladies filed out on a perfect English summer's day to three of the Maharani's choices when she had appeared on the BBC Radio 4 programme, Desert Island Discs, in 1984 — "Moon River", "A Nightingale Sang in Berkeley Square" and "My Way". Afterwards, there was a polo match to remember her and her beloved "Jai", Maharaja Sawai Man Singh II. She was seen as the last Queen of India, her beauty captured forever by Cecil Beaton.

Love blooms
Captain Tom Moore, who has turned 100, captured the imagination of people everywhere by raising over £30 million for the National Health Service by repeatedly circling his garden with the help of a walking frame. His autobiography, Tomorrow Will Be A Good Day, reveals that our war hero, who was a motorcycle despatch rider initially based in Poona before moving to Calcutta and then Burma, spent his spare hours in the pursuit of romance. "I must confess to having an ulterior motive for my repeated trips to Bombay," he admits. "Her name was Sylvia. She was half-Indian, half-French and the pretty younger sister of the girlfriend of a pal of mine. After I met Sylvia, I knew I had to get back to her arms as often as I could.
"She was delightful, so lovely that I started rushing the men through their training just so I could get to her every weekend. Sylvia and I would go to a bar for a drink and then out for a meal before returning to the house where she lived."
In July 1944, "I was promoted to Captain... I was owed some leave, so I decided to take a 2,000-mile train and road trip to Gulmarg... On my first night, sitting in the hotel bar, I met a pretty Anglo-Indian lady who reminded me of the lovely Sylvia. Her husband, she told me, was a prisoner of the Japanese and she'd gone to Kashmir to wait for news of him. We started chatting and became friendly. I hadn't expected to find romance in the mountains, but there it was."
Memorable place
The Hotel Shahjahan is a character in Sankar's memorable 1962 novel, Chowringhee. In London, the Savoy has such status. It is the subject of a new book by Olivia Williams, The Secret Life of the Savoy and the D'Oyly Carte Family. One name that deserves inclusion among its famous past patrons is Jawaharlal Nehru, who treated it as a home away from home. Its American Bar is where editors once plied journalists with Kir Royale in an effort to entice them away from other papers.
Footnote
It is hoped that William and Harry, who fell out over the former's alleged disapproval of Meghan Markle, will be reconciled when they attend the unveiling of a statue of their mother, Diana, Princess of Wales, at Kensington Palace on what would have been her 60th birthday on July 1, 2021. The boys were 15 and 12 when she died in 1997. The sculptor, Ian Bank-Broadley, has been working with the princes who want visitors to "reflect on her life and her legacy... our mother touched so many lives".