Electric touch
Nine states account for 82% of all EVs registered in the country, with West Bengal accounting for 4%. In 2021, it accounted for about 2% of all EVs registered in India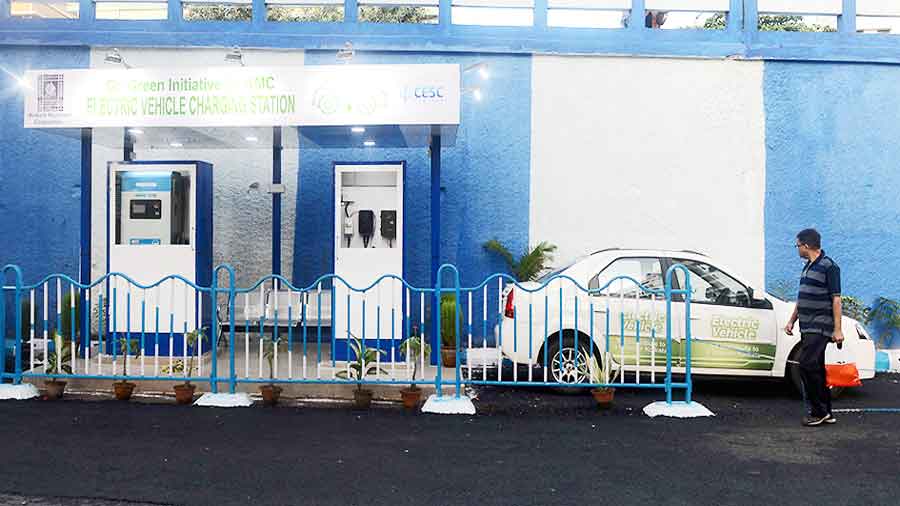 ---
Published 10.08.22, 03:35 AM
|
---
India has been bitten by the electric vehicle bug. As per government data, over 12 lakh EVs have been registered in India as of May 31. A closer look at the data also reveals that the bug hasn't caught on proportionately across the country. Nine states account for 82% of all EVs registered in the country, with West Bengal accounting for 4%. In 2021, it accounted for about 2% of all EVs registered in India. Compare that with 8.42% in 2020 and it becomes evident that the pace has been falling. Contrastingly, neighbouring states like Bihar and Assam have held consistently high numbers with comparatively higher EV penetration.
Bengal's EV policy,  released in June, 2021, envisioned it as a "model state" in the electric mobility sector. It seeks to be among the top three states in terms of EV penetration by the end of 2022. The data show that Bengal is far from achieving this goal. Despite the state government's efforts and awareness campaigns, EV penetration among consumers has been slow. Of the 1.4 crore vehicles registered since 2013, only 50,442 are EVs, which is about 0.35%: the national figure is 0.44%. A closer look at the district-level data is even more revelatory. North 24 Parganas seems to lead the wave of EV adoption in Bengal, accounting for over 25% of the EVs registered, followed by Malda at over 13%. Calcutta, however, trails far behind with a little over 1.53%.
This adoption spree of EVs is largely driven by electric 3-wheelers, which account for over 95% of all EVs registered in Bengal. Nationally too, e 3-wheelers have been leading the charge with over 65% registrations followed by 2-wheelers at over 30%. There is also a large number of inexpensive e-rickshaws — 'totos' — with easy-charging capabilities that have come to dominate commuter transport, often replacing regular 3-wheelers. This is reflected in the numbers as well:  40% of 3-wheelers registered in Bengal in 2021 were EVs. In North 24 Parganas, close to 24% of all registered 3-wheelers since 2013 are EVs; the figures for Hooghly and Howrah are 25% and 14%, respectively. Calcutta's numbers are a dismal 0.032%, although it accounts for 14% of e 2-wheelers and 71% of electric passenger vehicles in the state. Despite the large number of 3-wheelers in the city and its suburbs representing an attractive market for e 3-wheelers, they have been slow to penetrate notwithstanding the attractive subsidies on offer. In 2021, for instance, only 1% of the 3-wheelers registered in Calcutta were EVs, compared to North 24 Parganas where it was 30%.
This non-uniform uptake of EVs is prevalent throughout the state, with some districts witnessing higher adoption while others lag behind. Subsidies are abundant but the benefits seem to have been localised, and this trend varies across vehicle categories. While the government has focused on heavy EVs, such as electric buses, and has been pushing passenger EVs, it needs to turn its focus on e 3-wheelers, which serve as a means of inexpensive transport for many. Despite the rapid adoption of e 3-wheelers in some districts, large swathes remain impervious to them. Calcutta is one such sector, with 3-wheelers serving as last-mile and first-mile means of transportation on various routes in the city and its suburbs. Collaboration with the stakeholders, like auto unions and drivers, for installation of necessary infrastructure along with dissemination of information of subsidies can accelerate the adoption of e 3-wheelers. The numbers, too, justify such an approach.
The need is for a more region-specific execution of the government's EV policies with a focus on EVs for transportation. Identifying regions of 'EV deserts' in the state and formulating and executing campaigns for accelerated EV adoption in association with appropriate stakeholders in these areas are necessary if West Bengal is to achieve its goal of being the leading state in electric mobility by 2030.
(Soumyadeep Kundu is a PhD candidate at IIM Kozhikode)