Editorial: Still unequal
The Union Budget reveals glaring gaps in allocations for education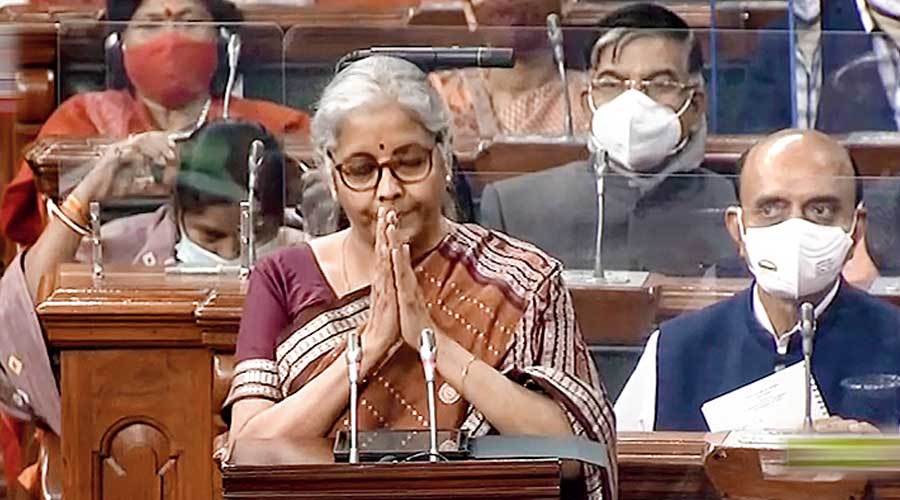 Union Finance Minister Nirmala Sitharaman gestures as she presents the Union Budget 2022-23 in the Lok Sabha, at Parliament, in New Delhi, Tuesday, Feb. 1, 2022.
File picture
---
Published 04.02.22, 12:10 AM
|
---
Appearances can be deceptive. On the face of it, education has been allotted Rs 1,04,278 crore — a rise of Rs 11,054 crore from 2021-2022 — in this year's budget. However, this still amounts to just above 3 per cent of the gross domestic product, falling far short of the 6 per cent public investment recommended by the National Education Policy, 2020. Even more glaring are the gaps in allocation within the education budget. The Economic Survey released a day before the budget revealed a dire need for increasing investment in primary, upper primary and secondary levels in government schools as the pandemic has led to an influx of students who could no longer afford private schooling. This will tax an already rickety public school infrastructure even further. Yet, budget allocations to the primary sector and to the Samagra Shiksha Abhiyan — India's biggest school education scheme — had been slashed last year. Consequently, it has failed to reach even the pre-pandemic levels this year. Equally worrying has been the decision to drop the National Scheme of Incentive to Girls for Secondary Education at a time when the closure of schools because of Covid-19 has led to a spike in child marriages and human trafficking — by 27 per cent and 34 per cent, respectively. The NSIGSE had been conceived to encourage enrolment among girls from scheduled castes and scheduled tribes — marginalized segments that have already been disproportionately disadvantaged by the institutional thrust towards online education. The budgetary allocation for the mid-day meal scheme has been cut too, with children now entitled to a cooked meal only on the days when school is open. This will undoubtedly lead to more dropouts and intensify child hunger.
The pandemic exposed several gaps in the education sector, the most worrying of which was the lack of access to learning resources for large sections of the population. The budget made a big deal about investing in digitization to ensure that these gaps are filled. In reality, many of these interventions are cosmetic in nature. Consider the proposal to instal television channels as an alternative to physical classes. Technology can be a tool to facilitate learning; it cannot be seen as a substitute to classroom teaching itself in a country plagued by mediocre infrastructure and a paucity in teachers. In any case, how will these TV channels benefit the 17 per cent of schools in the country that still do not have electricity? Investment in public education was thus the need of the hour.
The apathy, admittedly, has not been selective: it affects primary as well as higher education. Funding for government-funded colleges, universities and research programmes have seen a decline in allocation as well in this year's budget. Taken together, the loss in learning is thus uniform and will adversely affect students across the social spectrum and across educational tiers.