Editorial: All for love
'Love jihad' law a shameless attempt to keep communal cauldron burning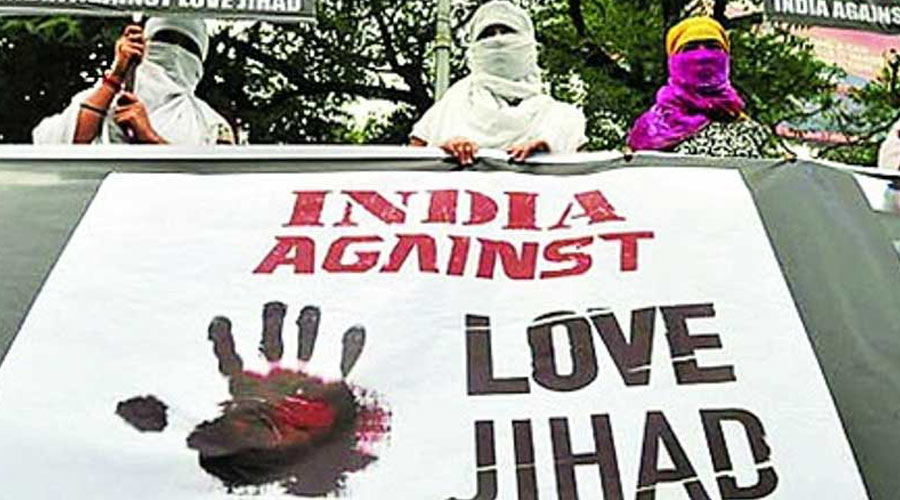 Representational image.
File picture
---
Published 11.02.22, 01:51 AM
|
---
It is not easy to distinguish between shamelessness and determination. One of the promises in the Bharatiya Janata Party's pre-election sankalp patra for Uttar Pradesh displays this ambiguity, ensuring 10 years' imprisonment and a fine of one lakh rupees for the elusive phenomenon called 'love jihad'. The term, love jihad, was invented by the BJP-patronized Hindu Right for interfaith marriages between men from India's largest minority community and Hindu women. The intention was to nurture the paranoia that the men, after 'enticing' the women into marriage, would convert them, gradually changing the religious balance in the country through their offspring. Since the department of the Union home minister, who announced the manifesto this time, had admitted in Parliament that there was no law against love jihad and no such cases had been proven anywhere, the enhancement of penalty for this non-existent 'crime' seems shameless. Besides, the Supreme Court ruled against the Kerala High Court when it restored the marriage of Akhila or Hadiya — she had converted of her own free will — in 2018, and ruled in another case that once a woman attains majority she can marry whomsoever she wishes. The Allahabad High Court, too, reportedly criticized the UP government for harassing 17 interfaith couples who had sought refuge in court.
When a law against something that does not exist is made more rigorous, perhaps it is not just a shameless attempt to consolidate the Hindu vote through hatred and fear. It might well indicate an unflagging determination to keep communal hostilities simmering in everyday life through harassment and intimidation. This injection of hatred into personal space may win higher political rewards in the long run than big, but occasional, communal conflict. Daily surveillance and threats need not take heed of what courts say about freedom of choice, the right to privacy or women's autonomy, and what the Constitution says about equality or freedom of religion. Over and above all else, the BJP's focus is on other faiths. The love jihad law is first cousin to anti-conversion laws, which UP and some other states have formulated. Neither of these is legitimate within the constitutional framework, but states are free to evolve their own laws. The BJP understands federalism on its own terms alone.