Eating dust in paradise
The risks of mining in Goa far outweigh 'developmental gains'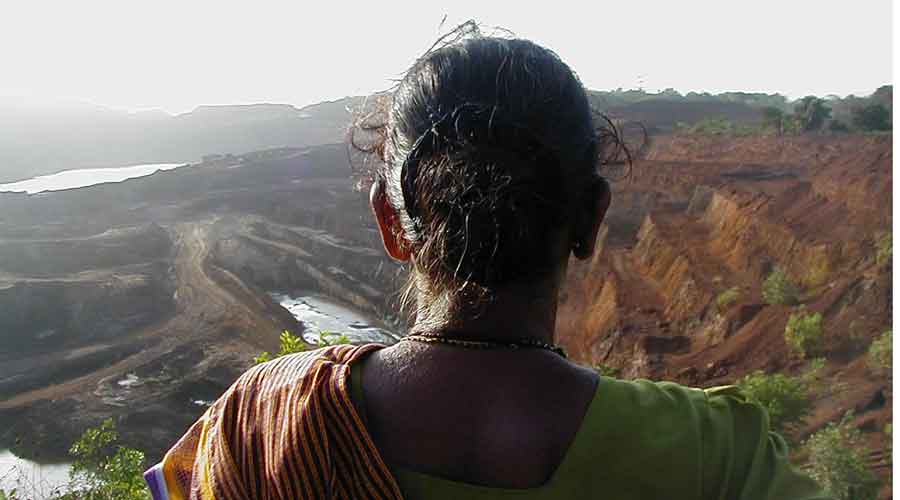 A villager looks at mining devastated areas in Goa.
Wikimedia Commons
---
Published 14.02.22, 12:55 AM
|
---
Over five years ago, Hartman de Souza, a Goan, wrote a very angry book, Eat Dust: Mining and Greed in Goa, about the political economy of mining, giving a harrowing account of the mining racket orchestrated by those with political power, money and influence during the Age of Greed (2008-2011).
 This year, four national political parties are fighting the Goa elections that takes place today. The political discourse, however, has failed to address the most fundamental problem: the climate catastrophe. Will politicians halt mining? If it continues, Goa will no longer be a home for Goans, nor a retreat for the affluent urban middle class. This is a year of reckoning for everyone involved.
 The nexus of greed had disregarded environmental concerns and the living standards and practices of Goans. That was until a Supreme Court order halted mining activities in October 2012, only because a report by the Justice M.B. Shah Commission revealed that nearly Rs 35,000 crore had been siphoned off by mining companies.
One abandoned site near Maina, a village in south Goa rich in iron ore, is owned by Minescape Earth Movers, a mining company allegedly supported by a former chief minister. The mine reduced an entire side of a mountain to burnt-orange scab, with remains of blue tarpaulin sheets visible. On the other side of this site is an even larger mine, barricaded by large iron gates, a boundary wall, and a guard.
With habitats lost and food chains disrupted due to excavations, wild bison and monkeys finish off fruits and vegetables that the villagers grow, upturning local farming systems and creating scarcity where there was none. During the Covid-19 lockdowns between March-April 2020, all of this made life extremely difficult — no one had a steady livelihood, farms didn't reap harvests, there was no money or even fuel to drive down to Quepem to buy food.
 Extreme weather events have started to seem normal. The year, 2021, saw an exceptionally wet summer, a cyclone-filled monsoon and, then, monsoon-like rains for the first time in November. Villages in South Goa face severe scarcity of drinking water. People who had freshwater springs flowing before their houses earlier now store water in large drums because aquifers were lost when they blasted the hills.
 Despite the climate catastrophe, thoughts on fighting this Goliath are yet to enter Goan politics. This election season, the core discourse remains on whether or not to restart mining. The Aam Aadmi Party wants to double-up mining capacity while playing greenwashing tactics even as the Trinamul Congress, the Congress and the Bharatiya Janata Party play their usual notes. Meanwhile, the wheels of this industry have begun to turn, with leases being given to the same companies that, the word is, looted Goa.
 The proposed projects (in 2019) in Mollem, an ecological hotspot, require cutting almost 40,000 trees and shifting 1.8 million tonnes of mud. Mollem has already begun exhibiting symptoms of the 'development disease'. Roads connecting Sanvordem to Karnataka flanked by dense forests on both sides are peppered with trucks and stone crushers raising dust, signboards pointing to mines, and migrant labourers, predominantly from Bihar, walking on foot.
The plea to stop mining does not arise out of idealistic naivete. The risks of mining outweigh 'developmental gains'. Ending mining will benefit wildlife and farmers — the mining corridor could return to active cultivation and be adapted with the help of profit-sharing market structures.
When will those eating up this land realize that there can be no winners in a wasteland? Perhaps when the last hill is dug up and the last aquifer drained.
(Hindolee Datta is an independent researcher)