Dude, who's the food pseud?
A casting ouch is when you pair the ilish with begun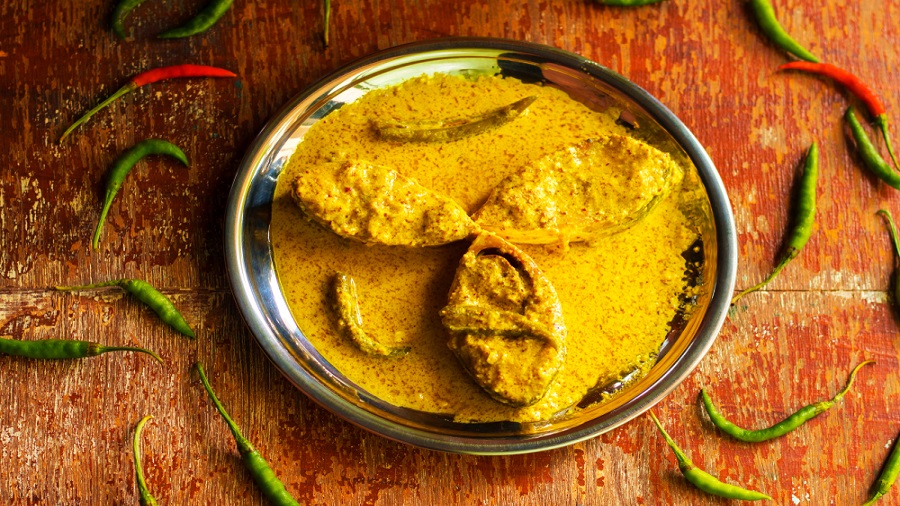 ---
Published 27.09.20, 12:24 AM
|
---
I don't cook. Sometimes a truant wish to do as much gets away, floats up to the surface, but no sooner than the first tomato has dimpled under the blade, the wish evaporates.
I do not know recipes. I do not ask for recipes. I do not take kindly to conversations involving recipes. I am happy to run to the grocer's and the bajaar ad nauseam, but I am eternally grateful to have someone else plan my next meal.
You will appreciate that I will never ask you if the rogan josh you planned to cook last night turned out fine or if the tilapia you had home-delivered was worth the price. I struggle to find emojis when locked-down friends routinely send me photographs of tawa naan, whole wheat bread, oats uttapam and suji ajwain puris. And unlike H, I never say, "Oh, you didn't sweat the onion enough" or "I think you put that in the kadhai before the oil was hot enough."
But please note — all these things do not add up to disinterest in food.
In the last few months, as Swiggy is my witness, I have sampled the spicy mahlak chicken served with sesame oil and mushroom, adrak halwa, aam phirni, khoya mewa kofta, a crispy duck and whatnot. But those are food philanderings and have nothing to do with the set menu in my head. There, like most philanderers, I maintain strict double standards with very definite notions of purity.
Really small potato cubes with luchi. Semolina halwa always plain and always brown, never white, never garnished with anything. No skin on my chicken. No liver, no marrow, no globules — chana, chhola, matar — on my plate, ever.
I cannot lie, I sneer at anyone who has a different set of rules from mine — but that is only in my head. If at all I want to call out anyone, out and loud, for breaking food protocol, it is when that ilish talk happens.
No, I don't enter any debate with those who toe the hilsa-is-so-overrated line. There are some things that don't translate — Uttam Kumar's sex appeal, Tagore's compositions and ilish. I don't feel very kindly towards those who brandish the I-am-a-Bengali-but-I-think-Rohu-trumps-Ilish number, but I have taught myself to back off. The Padma ilish vs Ganga ilish debate doesn't move me either.  
But my nerves jangle every time someone yokes ilish and begun, the Bengali word for aubergine.
There is a saying in these parts that goes, "Jar gun nei shei begun." Gun means virtue and be- means to be bereft of. Basically, that which is bereft of any virtue is the aubergine.
To my mind, there are three perfectly divine ways of cooking the very virtuous ilish and none involve the aubergine.
Way 1. Fried and served with the oil on the side and crisp deem or roe. I like how the rice turns golden when I drizzle the oil onto it and the aroma of the fish mixed with the crushed kancha lonka (green chilli) on my plate. Way 2. As a follow-up dish, the ilish curry cooked with turmeric, kalo jeere (nigella seeds) and kancha lonka works just fine. It is light, allows the goodness of the fish to sing arias. Way 3. Bhapa or steamed ilish  smothered in shorshe or ground mustard. I prefer it when the mustard does not overpower the fish and is not too cheery a yellow.
And yet anytime ilish talk happens, you can be sure there will be a heretic in the room who will bring up the ilish curry cooked with aubergine.
Don't be fooled if the discussion begins with just a listing of innocent pairings — ilish with khichuri, ilish with whiskey. Don't let your guard down if they discuss abominations such as ilish tok cooked with tamarind paste or aamra (hog plum). When they bring up "ilish shukto with fenugreek" — I am catatonic. And then someone inevitably drops the B word.
"Hmm. I understand your problem. The textures contradict," said someone to me in a very patronising tone. It irritated me right and proper.
It is not about texture. It is about character. It is about differences. In a film starring Uttam Kumar, would you need a second hero? Even if you did, would you cast Ranveer Singh? But what do the ilish-begun brigade know of such nuances.
Someone will say, "Throw in potatoes with the aubergine." They won't even specify what cut. (Shudder, shudder.) Another will post a photograph and there'll be potol or pointed gourd in it. Someone else will quote unverified in-laws and suggest adding pumpkin and cucumber. And before you know it, Uttam Kumar is in the middle of the floating vegetable mart of Patuli.
What do I tell them? Nothing. I am a purist, not a TV square. But in my mind I am wailing, "Nahiiiiiiin."