Do the math: Contesting migrant numbers
The Centre must immediately prepare a data set with the help of credible institutions that could inform policymakers about not just the number of workers but also their needs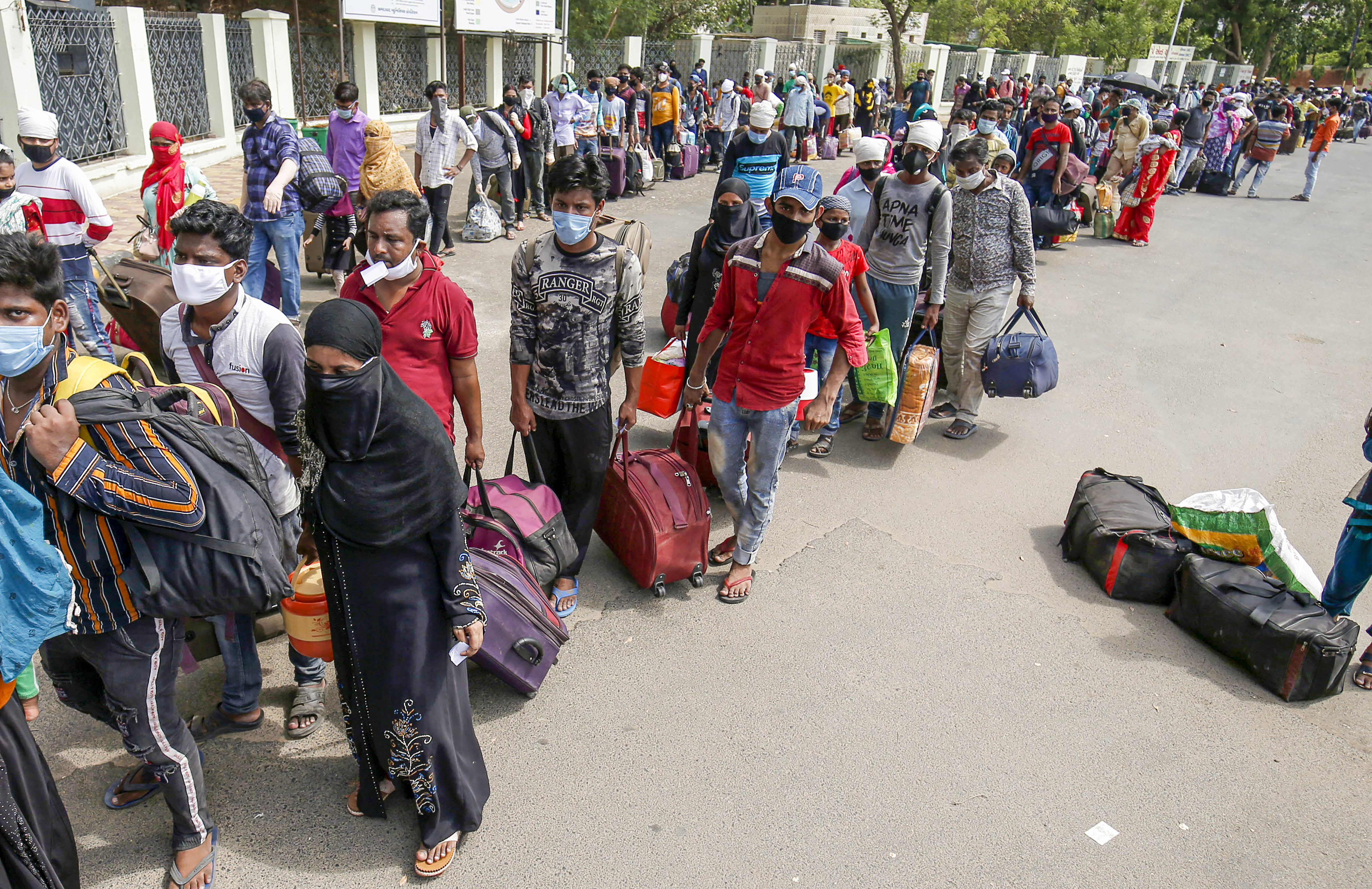 Migrants stand in queues as they wait to get on a bus for a railway station, where they will board a train to West Bengal, during the fifth phase of Covid-19 lockdown, in Ahmedabad, Friday, June 5, 2020.
PTI
---
Published 09.06.20, 08:00 PM
|
---
It is an alarming sign when the right arm of the government does not quite know what its left arm is up to. The shocking lack of coordination between two arms of the Central government has come to light, once again, as it went about providing an estimate of the number of migrant workers either stranded in different parts of the country or being taken care of. The labour ministry mustered up a figure of a little over 26 lakh migrant workers in April; what has raised eyebrows is the fact that the Union government had informed the Supreme Court, a little before the submission of the labour ministry, that as many as 99 lakh migrant workers were being fed free of cost by the Central and state governments along with philanthropic organizations. The figures cited in the context of the Shramik Specials have muddied the waters further. The railways reportedly ran over 4,000 such trains to ferry nearly 60 lakh migrants home. Some of the other figures uploaded by the central chief labour commissioner are equally mysterious. It spotted only 2 lakh migrants in Maharashtra — the state is a magnet to informal labourers — while in Chhattisgarh, a much smaller state predominantly agrarian in nature, the CLC counted, in an astonishing feat, as many as 10.5 lakh stranded migrants.

Of course, math is not known to be a strong point of Narendra Modi's government. That perhaps explains why conflicting data are given out periodically for public consumption. The confusion, Mr Modi's critics allege, makes the fudging of figures easier. But this smokescreen is unwarranted in the realm of public welfare. The Centre must immediately prepare a data set with the help of credible institutions that could inform policymakers about not just the number of migrant workers but also their needs, employment status, and the cycles of migration. Recent, reliable data hold the key to devising policies that can mitigate the sufferings of this constituency. Any delay in this regard would be a testimony to Mr Modi's apathy for the people who are architects of the nation.