Dark history of a kidnapping and killing
EYE ON ENGLAND: Why Wisden 2020 leaves out Rohit Sharma, the story of a Bombay Parsi girl, and chicken biryani for nurses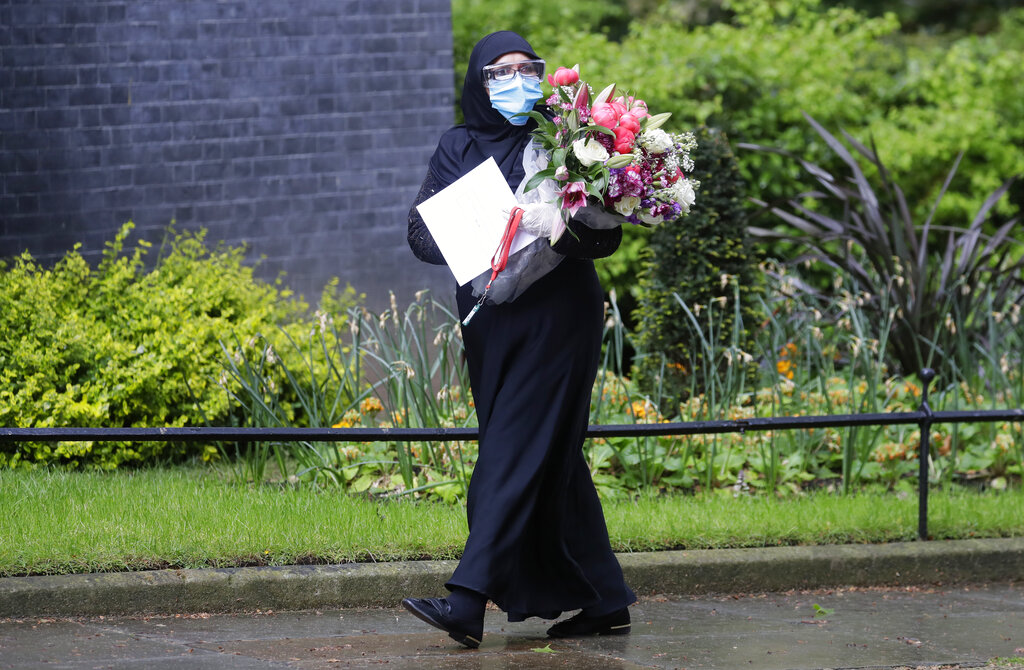 A woman wearing a mask and safety glasses to protect from coronavirus walks in Downing Street to deliver flowers from Imran Khan, the Prime Minister of Pakistan to 10 Downing Street in London, Thursday, April 30, 2020, after British Prime Minister Boris Johnson's partner Carrie Symonds gave birth.
(AP Photo/Kirsty Wigglesworth)
---
Published 01.05.20, 09:51 PM
|
---
Britain's law-abiding Pakistani population, one million strong, has nevertheless had to contend with the spectre of terrorism and its perpetrators in its midst. Among them, the most notorious — certainly the best educated, having studied at the Forest School and the London School of Economics — is Omar Sheikh. There has been a suggestion lately that Omar, the mastermind behind the 2002 kidnapping of Daniel Pearl, the Mumbai-based South Asia bureau chief of The Wall Street Journal — a video of Daniel's beheading was posted online — might be freed after 18 years in prison in Pakistan.

From his home in California, where I had once interviewed him, Daniel's father, Judea Pearl, a professor of computer science, tells me, "It is a mockery of justice." Asra Nomani, Daniel's colleague who had shared a rented house in Karachi with him and his pregnant wife, Mariane, is equally appalled: "He should not see the light of freedom."
Asra reminds me that back in 2002, when Omar surrendered as the net closed in, it was "to a former ISI official, retired Brigadier-General Ijaz Shah, then the Home Secretary of Punjab" and now Pakistan's interior minister. This was also the information given to me when I had interviewed senior officials of the Central Intelligence Agency and the Federal Bureau of Investigation in Washington. With two directors, Ahmed Jamal in London and Ramesh Sharma in Delhi, I had been involved in making a documentary for HBO, The Journalist and the Jihadi, about how the lives of Daniel and Omar had intersected with tragic consequences.
Asra was the one who spotted that "when Omar trapped Danny, he used the email ID 'nobadmashi'." Earlier this week, Asra emphasized: "We want to educate people who have forgotten how bad Omar Sheikh is."
Left out
Page 66 of Wisden 2020 provides an insight into the thinking of its editor, Lawrence Booth, who did not include Rohit Sharma among his 'five cricketers of the year', in spite of the Indian opener's five centuries in the 2019 ICC World Cup. VVS Laxman, who was "surprised and shocked" by Sharma's exclusion, had argued that the latter's first hundred (122 not out) "was on a tough wicket in Southampton against South Africa" and that he "played another important knock [140] against Pakistan".
Lawrence, who instead picked Joffra Archer, Pat Cummins, Ellyse Perry, Simon Harmer and Marnus Labuschagne as his five, has revealed it was "the trickiest of selections". "Apologies, then, to Josh Hazlewood, Jack Leach, Jason Roy, Rohit Sharma and Mitchell Starc. In another year, they might have made a compelling Five," he writes. "But the summer of 2019 — World Cup, Ashes and all — was always likely to throw up a crowded list of candidates; not every drop of cream could rise to the top."
This may not satisfy Laxman but here is Lawrence's explanation: "Sharma hit a record five World Cup hundreds, which in any other year would have guaranteed a place at high table. But India lost their semi-final to New Zealand (Sharma c Latham b Henry 1), and he was not the only opener to make hay."
He adds: "The Five Cricketers have never claimed to represent the five best players of the previous summer; there are plenty of awards for that. Instead, they represent a one-off invitation to a hall of fame that now includes over 600 members. It's possible no set of Five has set such high standards."
Star studded
Gulshan Ewing, who died, at the age of 92, from Covid-19 at a care home in London, was the glamorous editor of Star & Style and, simultaneously, of Eve's Weekly from 1966 to 1989 in the old cosmopolitan Bombay. At her home in London, her daughter, Anjali, has been looking at evocative black and white photographs of her mother with the likes of Cary Grant, Gregory Peck, Alfred Hitchcock, Danny Kaye, Ava Gardner and Roger Moore, as well as with Roberto Rossellini and Prince Charles. An important figure in Bombay society, Gulshan met them all when they came to India.
After her retirement, Gulshan settled in London in 1990 with her husband, Guy Ewing, a Scotsman who was born in Paris and had grown up in Manchester. Guy was 17 when his father, Joseph Dennis Ewing, went — shortly after Independence — from Manchester to Calcutta to take up a job as a sort of financial editor at The Statesman. Guy moved to Bombay, spotted Gulshan, a striking Parsi girl, outside the Strand Cinema, contrived a meeting with her and married her in 1955. The couple settled in Bombay where Guy became editor of Onlooker, says Anjali. In April 1975, weeks before the declaration of the Emergency, Indira Gandhi gave an "18-minute interview about women in India" to Gulshan. That was apparently one of the former's longest interviews.
Big influence
Sir Eric Anderson, who died of natural causes recently, aged 83, influenced three British prime ministers — David Cameron and Boris Johnson when he was headmaster of Eton College, and Tony Blair when he was a teacher at Fettes College in Edinburgh. As a master at Gordonstoun, also in Scotland, he gave Prince Charles a love of Shakespeare.
Eton's official portrait of Anderson bore a Latin quotation from Quintilian: Virtus preceptoris est ingeniorum notare discrimina ("The skill of the teacher lies in discerning the different talents of pupils"). To me, Anderson sounds a bit like Father Gordon Edward Murphy at St Xavier's School in Patna.