Cyclone Yaas: After the storm
The logistical challenge of rehabilitation would undoubtedly be amplified by the raging pandemic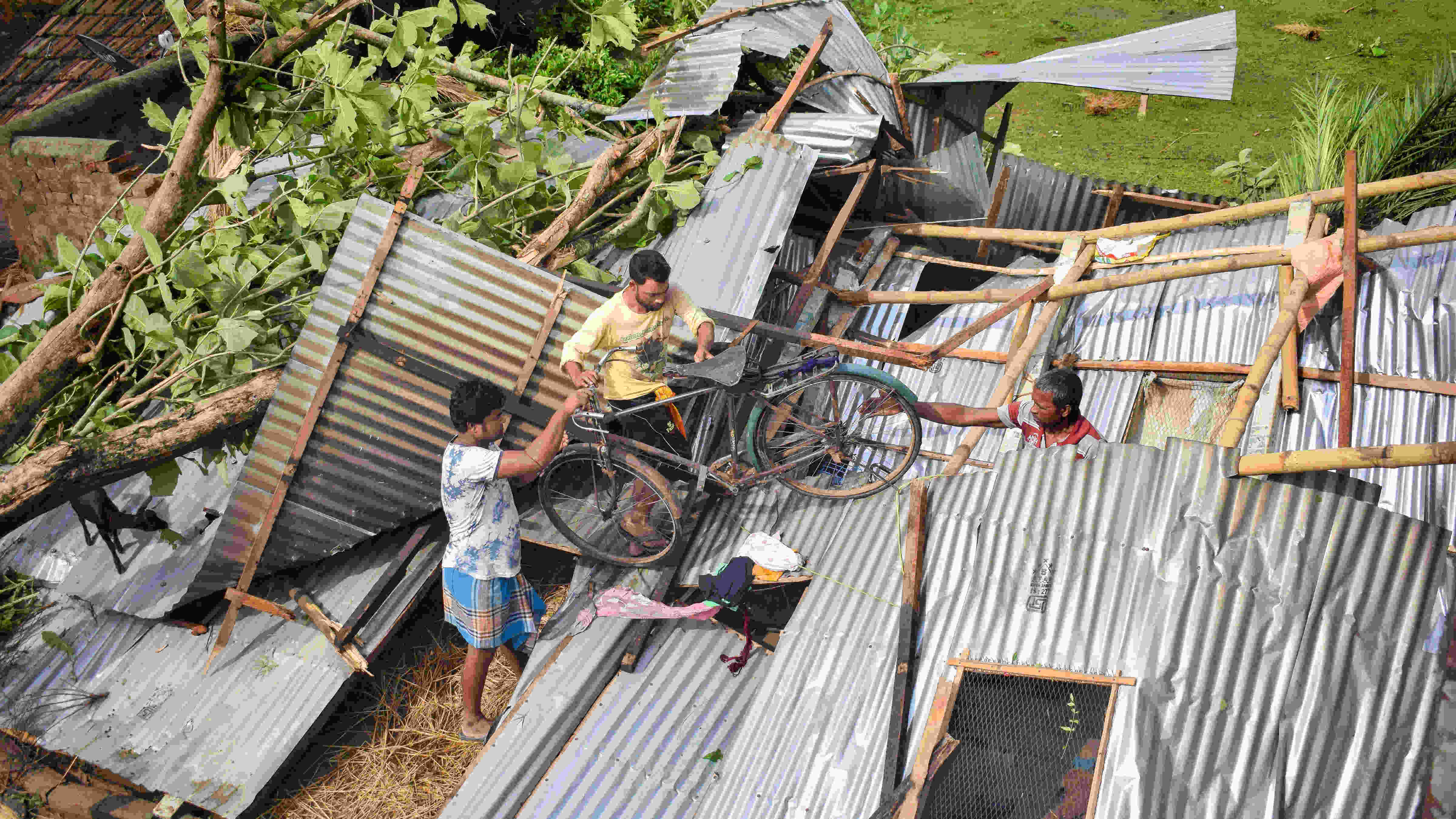 A view of an uprooted tree and damaged house after cyclone Yaas, at Santipur in Nadia district, Thursday, May 27, 2021.
PTI
---
Published 28.05.21, 01:24 AM
|
---
Data suggest that there has been a 26 per cent increase in severe cyclonic storms in the Bay of Bengal in over a century. Given the rise in their frequency, the management of extreme-weather-related disasters — cyclonic storms, tidal surges, floods and so on — could soon emerge as the proverbial Tebbit test for political dispensations. This may not be a bad thing in itself. After all, administrative ineptitude, combined with institutional indifference to sustained ecological degradation, has played a role in turning natural disasters frequent as well as far more devastating. The anxiety regarding the political fallout of such events on the people could spur the administration into action. That seems to have been the case with the Mamata Banerjee government's response to the threat posed by Cyclone Yaas. Last year, the devastation caused by Cyclone Amphan and the allegations of corruption concerning relief and rehabilitation had become an electoral issue in the recently concluded Bengal elections. Ms Banerjee and her administration seem to have learnt important lessons from that sorry chapter. The standard protocol that administrations adopt to tackle calamities was, on this occasion, accompanied by energy and preparedness that made a perceptible difference. The credit for this must go to the chief minister. Her decision to micro-manage containment strategies enabled the state machinery to be fleet-footed. As a result, nearly 15 lakh people could be evacuated on short notice and the death toll kept to a minimum; stretches of embankments were strengthened and steps taken to safeguard agricultural produce.
Even though Yaas spared Bengal's capital, the preventive steps taken by the government could not mitigate the extensive damage in a number of places in the districts of East Midnapore, North and South 24 Parganas and Howrah. According to some estimates, one crore people are expected to have been adversely affected with three lakh houses being damaged; there have been several breaches in the wobbly embankments as well. Ms Banerjee must ensure that relief measures reach the victims at the earliest. The logistical challenge of rehabilitation would undoubtedly be amplified by the raging pandemic. The announcement of a meeting between the prime minister and Ms Banerjee to assess the damage and discuss compensation is welcome. Narendra Modi's regime, which is known to be tight-fisted when it comes to bailing out Opposition-ruled states, must extend full cooperation to Ms Banerjee's dispensation. This is because the political fortunes of both rivals may be decided by their ability to assuage the suffering of the people. Natural disasters can be great political levellers.