Steve Smith: the sorcerer with a willow
He is the greatest Test match batsman playing today and arguably the greatest of the 21st century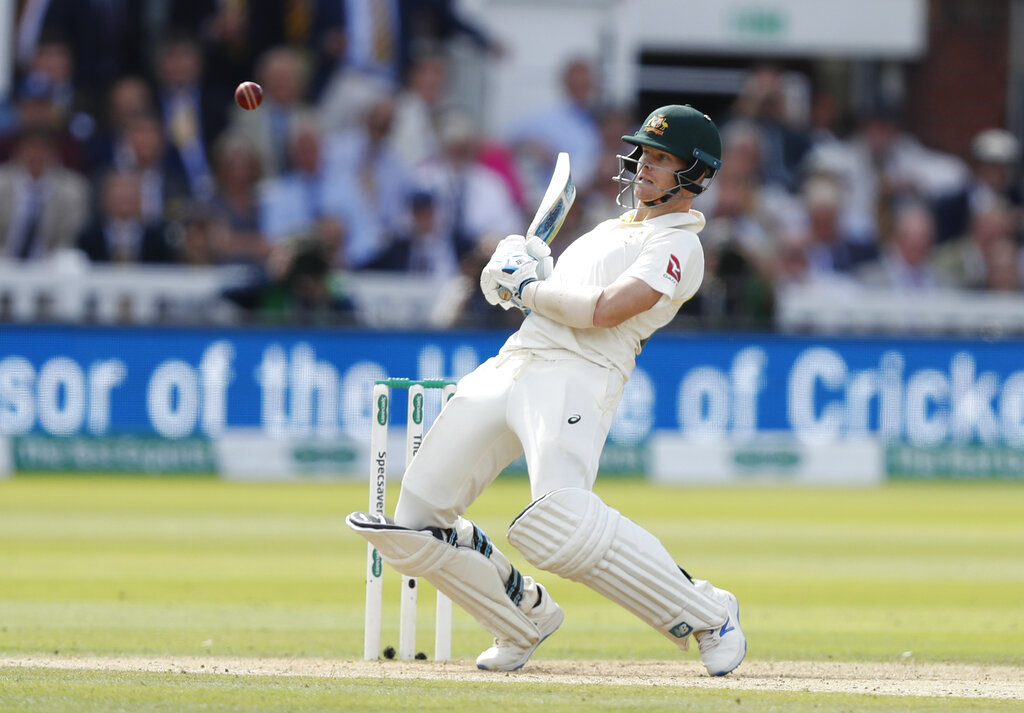 ---
---
Steve Smith is the greatest batsman in the world.
In another time, there wouldn't have been the need to qualify this. But given the centrality of limited overs cricket to the revenues of contemporary cricket, we should content ourselves with saying that Smith is the greatest Test match batsman playing today and arguably the greatest of the 21st century.
Sachin Tendulkar and Brian Lara played into this century, so this is a large claim to make but the statistical measures used to establish batting greatness — centuries, fifties, average runs per innings — seem to bear this judgment out. No one in modern cricket has got past sixty Tests with a batting average above 60. Smith averages just under 63. The two contemporaries most often bracketed with him as the top batsmen in the world, Virat Kohli and Kane Williamson, have a batting average nearly ten runs lower than his. Kartikeya Date, the prince of cricket's data-literate analysts, recently reckoned that Smith would have to score 18 ducks in succession to drop to their level which is unlikely to happen since Smith had scored all of four ducks in his 65-Test career.
He has scored as many centuries as Kohli has in a dozen fewer Tests and if his recent god-like run against England is a sign, that comparison will continue to improve in Smith's favour. His last six innings against England have produced a double century, three centuries and two fifties with a lowest score of 76. There would be no need to rehearse these figures, freely available in ESPNCricinfo's magnificent database, Statsguru, if it weren't for the fact that in the past year distinguished judges of the game, amongst them Mike Brearley and Steve Waugh, have been willing to nominate Virat Kohli as the greatest batsman in the world.
Given the disparity in Smith's and Kohli's career figures, there are three possible explanations for this. The most reasonable explanation is that it was Kohli's all-round excellence as a batsman in every form of the game —T20s, ODIs and Tests — that prompted this assessment. In modern cricket, accomplishment across formats is increasingly used as a measure of greatness. This started with Tendulkar, when the prospect of Tendulkar scoring a hundred 'international' hundreds (combining his Test and ODI centuries) became a talking point. This had more to do with marketing Tendulkar than establishing a new standard but as Test cricket became more and more marginal to the economics of cricket, assessments of 'greatness' had to abandon Test cricket's purist silo and acknowledge the weight of versatility.
When Brearley commended Kohli as the best batsman in the world in November last year, he went on to say that "...[Kohli] forms a bridge between these different forms of batting and brings classic batsmanship to T20 cricket." It was almost as if Kohli was being embraced by Test cricket's champions as its ambassador: the archetypal modern, multi-format batsman keeping Test cricket's orthodoxies alive in the limited-overs game.
The second possible reason why Waugh, Brearley and others chose Kohli was that their assessments were made in 2018 when Smith was serving a ban for being complicit in the conspiracy to cheat in the series against South Africa. In Smith's absence, Kohli was the best Test batsman in cricket. He had had a golden series against England in England and overtaken the banned Smith to top the ICC's Test match rankings, so not only was he cricket's best all-round batsman, he was also, at the time, its highest-ranked Test batsman. It was also the case that Smith's disgrace was so absolute and the revulsion against his actions so strong that moral judgment might have affected cricketing judgment. It's revealing, for example, that Steve Waugh, commenting on batsmanship in August 2018, said of Smith that he was the "hungriest" batsman in the world and not the best despite Smith's extraordinary Test match record.
But the most interesting reason that Smith mightn't sometimes get his due has to do with the way he bats. In that interview with cricket.com.au, Waugh named Kohli and A.B. de Villiers as the two batsmen with the best techniques and since de Villiers had retired from Test cricket by then, Waugh named Kohli as the "stand-out" player. It isn't hard to see why Waugh admires Kohli for his technique. He plays all round the wicket, generally keeps the ball on the ground, and is a great practitioner of the bottom-handed style that's become cricket's new orthodoxy.
It's less clear why Waugh rates de Villiers's technique ahead of Smith's since both batsmen were famous for the unorthodoxy of their shot making. De Villiers, by general consensus, was a marvellous all-round sportsman with great hands. He kept wickets, was a brilliant fielder and, like Kohli, was at home in every format of cricket. I think the reason Waugh and others rated his technique so highly despite his adventurous shot-making was that de Villiers's genius was based on a comprehensible athleticism whereas Smith's manner at the crease and the way he addresses the ball are so idiosyncratic that it's impossible to assimilate them to any form of cricketing rationality.
Cricketing punditry cleaves to the idea that sound batting is based on first principles. When confronted with raging unorthodoxy, it does its best to assimilate it to these first principles by arguing that the unorthodox flourishes conceal a fidelity to batting's golden rules. So it used to be said of the grossly two-eyed Chanderpaul that by the time he struck the ball he was side on. Of some other maverick it will be said that despite everything he played the ball late or very close to his body. Of a restless fidgeting batsmen it will be said (in extenuation) that when he did hit the ball, 'his head was perfectly still'.
It's impossible to claim Smith for cricket's batting templates in this way. He doesn't just move in his stance, he twitches, shuffles, steps across the crease, windmills his arms and spasms like a damaged zombie in a budget film. The idea that his tics and twitches can be explained away by claiming that his head is still when he hits the ball is laughable. The English bowlers thought he was an lbw candidate and bowled straight at him for the whole of the first Test at Edgbaston. And they were right. By all the canons of batsmanship, Smith's movement across the stumps and his chest-on address when he whips the ball to leg leave him horribly vulnerable to be being caught in front. But he never is because he never misses the ball.
Indians are used to wristy players but Smith's onside play is so implausible in the angles he creates with those elastic arms and rubber wrists that it's hard to know how he gets away with those shots. His ability to consistently improvise last-second scoop-deflections behind point or towards third man while on the move and far, far from still, is beyond cricket's ken.
Steven Smith isn't just Test cricket's greatest batsman, he is the strangest master batsman that the long game has ever seen. England's Derek Randall came close to matching him in the weirdness of his physical manner but in terms of accomplishment he was a candle to Smith's sun. It's a pity that Smith is (or was) a cheat, but Test cricket's public (including the idiots who ritually boo him) is lucky to be able to watch him in his pomp. His isn't a rational talent that can be broken down into component pieces with touch screens and pointers. Smith's an adept, a sorcerer, an alien who should be watched as pure spectacle.