Memories lost
Inferences from the past could have helped tackle the second wave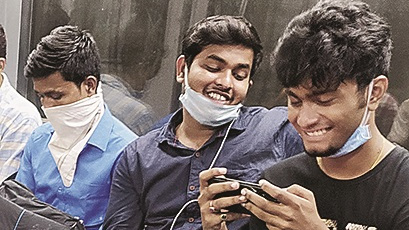 ---
Published 07.06.21, 12:56 AM
|
---
Perception (pratyaksha) and inference (anumana), two essential parts of Indian epistemology, can be used, with a little tweaking, to understand the pandemic. Inferences from memories of previous pandemics could guide our perception or experience and help formulate systematic methods to deal with the first wave. Subsequently, our experience of the first wave can help us draw inferences about the second wave and equip us to circumvent further suffering and tragedy; just as T-cells with memories of the viral antigen have a better chance of producing antibodies to fight the virus, societies with memories of previous pandemics are better prepared to deal with future occurrences.
Social memories, like T-cells, can equip people to quickly recognize new attacks and take the necessary steps to protect themselves. However, modern societies that privilege the first-person experience are not strong when it comes to memories and therefore fail to draw inferences and learn from experience. Recounting such memories does not figure in today's storytelling or history books. An existing foundation of knowledge gleaned from past public health crises can considerably decrease the burden of research and development and increase the efficiency and efficacy of our response. But like cells without memories, we too have to start afresh, after the virus has already entered inside.
Now let me discuss how the experiences of the first wave could have helped avert the impending dangers of the second wave. Economic stress, suffering due to job loss and the excruciating pain of the migrant workers notwithstanding, India managed to survive the first wave without the extensive damage predicted by experts. On the contrary, developed countries like Italy and the United States of America fared quite badly in spite of superior health facilities.
India enforced a strict lockdown on all activities except essential services. Even private medical practice, which forms more than 80 per cent of the Indian health infrastructure, was mostly shut down. Simultaneously, the government started reviving existing government hospitals, scaling up pharmaceutical production, and producing masks, sanitizers, testing and PPE kits, and ventilators. India scaled up its testing capacity from a few labs to thousands across the country. Both medical and non-medical personnel — including doctors, nurses, other healthcare staff and frontline workers, sanitation workers, police, and government servants — have worked tirelessly and efficiently. This helped save and protect lives and averted a major catastrophe.
Behind this achievement also lie consistency and clarity of messaging and action, which provided moral strength to the mammoth programme. The direct experience of the first wave should have equipped India with the proper inferences to prepare for the second wave. Instead, India found itself in the middle of an immense tragedy. There was a sudden surge in the number of cases, not sparing the villages this time. Many died and continue to die of respiratory problems and owing to the non-availability of oxygen. If the experience of the first wave had been effectively utilized by both the government and society to make proper inferences, we could have avoided the disastrous outcome of the second wave.
Although there was clarity regarding essential services and non-essential activities during the initial lockdown, this started waning subsequently. We saw varying reactions post lockdown. While some seemed overly cautious and remained at home, others slowly started on the path to normalcy, like recovering patients, still adhering to strict protection protocol. There was, however, a considerable section that went back to leading life as it was pre-pandemic, with a reckless disregard for any safety guidelines. It is this last group that failed to distinguish between normal life and an emergency. They displayed courage when the need of the hour is to be careful. They treated the lockdown like a weekend break and the post-lockdown period like a return to work and regular life as they would have done on a normal Monday in pre-pandemic times. However, while they thought they were playing a one-day cricket match, the virus soon reminded everyone that it was a much longer Test match with a cruel second innings.
Once lockdown restrictions eased, people needed to get back to work, especially those in the informal sector, as their livelihood had been severely affected. Other activities, including elections, religious congregations like the Kumbh Mela, film shoots, IPL matches, functions, parties and so on, should have been considered non-essential and either been cancelled or postponed. On the contrary, these created a deceptive notion of normalcy. Developing vaccines furthered this feeling and people let down their guard.
This sudden move from emergency mode to regular life set a dangerous precedent and kick-started a long chain of events. Once this process began, it was difficult to stop or reverse it even when one realized the impending danger. Therefore, instead of retracing one's steps, one continued. Politicians justified holding elections and campaigning at mass rallies, arguing that states that had not had elections showed a significant spike in cases. The same reasoning was cited by others who held large events.
Both government and civil society could have made inferences about the impending second wave. The government should have undertaken measures to vaccinate everyone. This is in spite of both the tricky and the risky nature of vaccinating the entire population in a short period of a few months or years. Politicians, religious leaders, and celebrities should have imposed self-lockdowns with the following message: "I/We will not participate if it results in crowding." This gesture would have had a powerful symbolic impact, set an example, and reduced a lot of suffering and tragedy.
Both birth and death elude the first-person experience. We hear about our birth from others, and we are not present after death to relate the experience. However, witnessing the intense suffering of people before they succumbed gave us, in varying degrees, an unforgettable experience, as close to a first-person encounter as possible. Although there is little we can do about the metaphysics of mortality, studying the epistemological and moral aspects can surely help reduce avoidable suffering.
Without extending and regulating social welfare schemes, numerous people would have starved during the pandemic. Along the same lines, it is time to make concerted efforts to attend to health facilities, especially in the villages, thus ensuring a healthy India.
 A. Raghuramaraju teaches philosophy at the Indian Institute of Technology,Tirupati