Covid: Go to war armed with data
During both the waves, cities have been the epicentres of the pandemic, and cities are also the sites of high comorbidities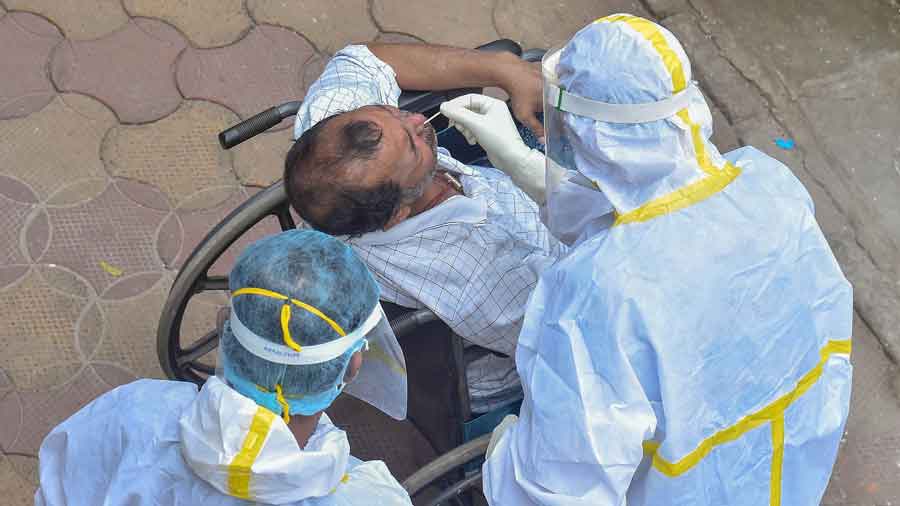 ---
Published 16.07.21, 01:16 AM
|
---
The death toll in the second wave of the Covid crisis in India has garnered international attention because of its sheer number. In spite of the paucity of Covid-19-related data in India, even a cursory look at the death data shows that people who contracted Covid-19 with comorbidities are more likely to die. The health statistics clearly indicate that India is a country of comorbidities and thus sitting on the volcano of an epidemic.
One in six people with diabetes in the world is from India. According to International Diabetes Federation's Diabetes Atlas, 2019 — a document that provides and projects data on the prevalence of diabetes — about 10.4 per cent of Indians aged between 20 and 79 years are diabetic. The prevalence of diabetes is 11.8 per cent in people aged above 50 years according to a survey released by the ministry of health and family welfare in India. The recent round of National Sample Survey data on health, too, indicates a disturbing trend: about 11.6 per cent people in rural areas and 20.8 per cent in urban areas are ailing with endocrine or metabolic diseases.
During both the waves, cities have been the epicentres of the pandemic, and cities are also the sites of high comorbidities. According to the National Family Health Survey-5, about 24.3 per cent of men aged 15 or above in Calcutta have high or very high blood sugar levels; the rate is only slightly less for females. High levels of hypertension inflate the Covid-induced mortality rate; about 23 per cent of men in Mumbai and Calcutta suffer from hypertension; again, women fare a little better than men.
With 135 million people, the prevalence of obesity and being overweight have reached alarming proportions. This is inextricably linked to cardiovascular and respiratory diseases. In these broad categories of ailments, according to NSS data, cardiovascular diseases afflict 13.8 per cent people in rural areas and about 21.9 per cent people in urban areas. Similarly, the rate for respiratory diseases hovers at around 10 per cent in both urban and rural areas. These are the deep-rooted causes that led to the extreme death toll in India.
If one considers the figures of the first wave of the pandemic in West Bengal, data show that till August at least 2,851 people who had tested positive for Covid-19 died. Comorbidities were present in 2,483 patients, that is around 87 per cent of those who died. With comorbidities accounting for nearly 90 per cent of Covid-19-related deaths in West Bengal, the state government conducted a survey of people with comorbidities such as hypertension, diabetes and cardiac diseases so that the death rate could be reduced with appropriate interventions. Yet, the trend continued during the deadly second wave: of the total deaths till the first week of June 2021, about 70.5 per cent patients had comorbidities.
Data further reveal that hypertension tops the list of the most fatal comorbidities, followed by diabetes and cardiac diseases. Almost three out of ten patients had suffered from hypertension, and almost one-fourth were diabetic, with women being ahead of men in both ailments. About one in 10 of those deceased owing to Covid-19 had cardiac diseases; the rate for women was 7.87 per cent in this case. A door-to-door survey by Asha workers on the status of comorbidities in rural areas was conducted across the state; similar work was done in urban areas by health workers. The exercise was useful in identifying the most vulnerable people; real-time data helped reduce the mortality rates. The more or less similar mortality rates in both waves in spite of the data could be explained by the prolonged elections in the state.
But the data could be utilized for health interventions in the immediate future as well as to enhance preparedness to thwart the third wave. This approach can also be nationally emulated to chart out public health interventions.