Soldiers together
This is the time for the army to help civil powers combat the crisis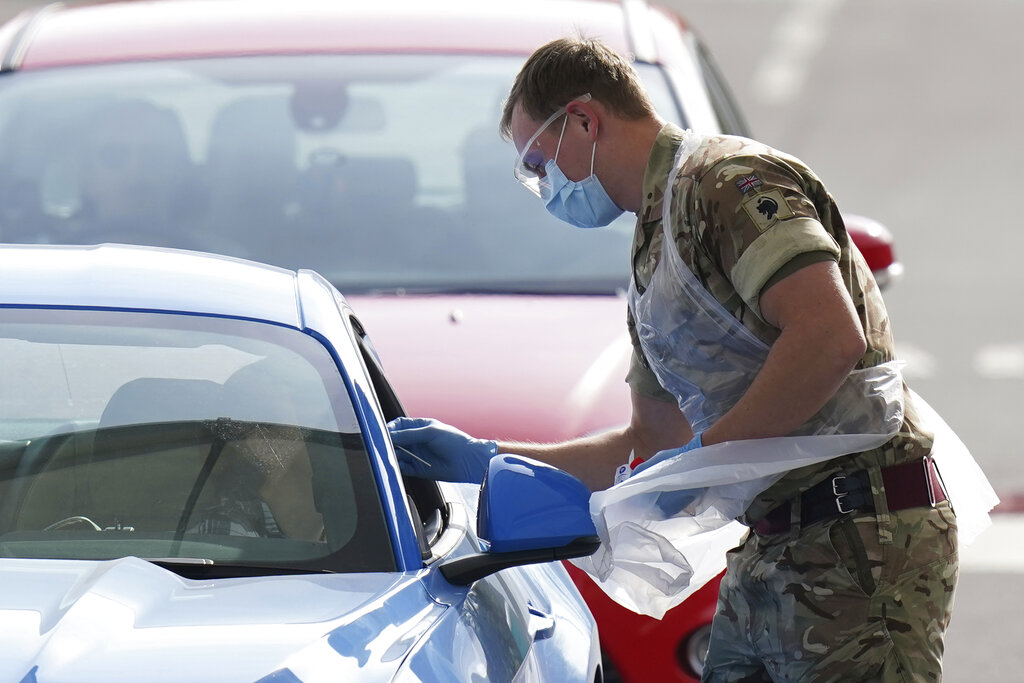 A NHS (National Health Service) worker is tested for Covid-19 by a soldier at a drive-through testing centre, in Manchester, northern England, Thursday, April 9, 2020.
(AP Photo/Jon Super)
---
Published 17.04.20, 07:45 PM
|
---
Hard on the heels of Narendra Modi's last address to the nation came Amit Shah's assurance that people needn't worry because "there is enough stock of food, medicines and other commodities in the country". Then, Jaggi Vasudev, known as "Sadhguru", commented that no one knows for certain what India's population is. Both assertions contradict the public narrative and raise serious questions about what exactly can be believed.
If damp and rats have spared so much food, why are Indians — presumably the category includes migrant labourers — starving? Why are prices knocking the ceiling? If even a 'godman' who flaunts the Bharatiya Janata Party regime's Padma Vibhushan is sceptical about our 1.3 crore population, how sure can we be of the figures for existing cases, new infections and fatalities? An Indian doctor told the BBC on condition of anonymity that six recent deaths were probably from Covid-19 but neither the dead nor their relatives were tested. There may be lakhs more among people who live in congestion that mocks social-distancing. Similarly, the absence of clean running water mocks Amitabh Bachchan's 20-second hand-washing ritual. We are groping in the dark without the precision and discipline needed for targeted treatment.
So many third-world democracies would not have succumbed to military coups if these qualities were not more readily associated with khaki than khadi... or its lavish substitutes. One need not admire the army to recognize it as India's most efficient institution of State and the least contaminated by politics. The public interest would benefit from both. The army can pitch tent and set up camps for stranded labourers. Military trucks and lorries can facilitate their repatriation. Experience of langars would enable kitchens to serve wholesome inexpensive food. The military can even police slums that house 24 per cent of the population to ensure social-distancing and hygiene in general to avoid a second wave.
China isn't a welcome ideal; yet, having received 6,50,000 Chinese rapid testing kits, we might reflect that the more than 10,000 military personnel Beijing has sent to Hubei are probably busy with similar tasks. The People's Liberation Army worked at breakneck speed to complete a hospital for Xi Jinping's triumphal visit to Wuhan where it has been entrusted with sole control of medical and essential supplies.
In the more acceptable example of Britain, 200 soldiers toiled alongside National Health Service staff and contractors to demonstrate, quoting Prince Charles, "how the impossible could be made possible". He meant the conversion in nine days of a massive exhibition centre in London's Docklands into the Nightingale hospital for up to 4,000 coronavirus patients. It is the first of six new temporary hospitals across Britain to cope with the outbreak and counter fears that the police and NHS, both already fully stretched, are not up to managing a crisis of this magnitude. Britain, whose military has already been delivering protective and other medical equipment to front-line staff and driving oxygen tankers, has earmarked 20,000 troops for Covid-19 support duties as Military Aid to the Civil Authorities. That includes deploying military planners to regional councils to identify and resolve bottlenecks in providing medical care for the most vulnerable.
India is familiar with the military as aid to civil power. Bihar's 2008 Kosi flood is remembered as a major occasion when the army saved thousands of lives and helped to rehabilitate thousands of others. There are also security duties that the police are incapable of handling, and not only because India's average of just 125 police officers for every 100,000 of population (it's only 60 per 100,000 in Bihar) lags far behind the United Nations's norm of 220. Moreover, policemen are regularly deployed on VIP duty. Individual acts of help and heroism by the police have rightly been reported and deserve to be remembered with respect but their orientation limits the capacity of the general run of state forces.
Television coverage of the lockdown suggests that the north-eastern Delhi riots and protests against the Citizenship (Amendment) Act and National Register of Citizens still shape attitudes. Circulating videos show police officers upturning carts full of vegetables, hitting vendors, striking delivery boys, flogging ambulance drivers, and forcing migrants to do push-ups and worse on roads and pavements. The spraying down of migrants in Uttar Pradesh with bleach, arrests in Kashmir for curfew violation and the ferocity with which uniformed men with upraised lathis chase individuals suggest they were waiting for this chance to flex their muscles. It's Ferari Fauj without the nationalist provocation: as the son of a daroga who was made (if I am not mistaken) a Rai Sahib, Utpal Dutt knew the dark side of his subject. As for the paramilitary forces, I cannot forget an occasion many years ago when, needing to cut across a field in Birbhum, I asked a small peasant lad if it was safe, "Oh yes," he replied, "the CRP have gone!"
India's need is desperate. We have one hospital bed for every 2,000 persons and a dwindling number of properly trained healthcare professionals. Many of the better trained go abroad. There is not enough basic equipment. Medicines are in short supply. Above all, there is the callousness so vividly described in this newspaper by a middle-aged nurse suffering from Covid-19 in a Calcutta hospital ("Nurse, now a Covid-19 patient, lists problems", April 11, 2020). Anecdotal evidence can describe equally grim conditions in our most expensive private nursing homes which are run entirely for profit.
Swords are not easily beaten into ploughshares. But reports suggest troops are laying aside their guns to help out peacefully also in Israel, France, Mexico and Switzerland. Being typically young and fit although not immune, military personnel are better able to shake off the effects of the virus. Military medics are trained to operate amid chaos with insufficient infrastructure and resources. With large stockpiles of vital medical kit, they are well placed to relieve overloaded healthcare systems while wartime experience yields useful insights: mechanical ventilators to ease acute respiratory distress syndrome — a potentially fatal Covid-19 condition — emerged during World War II. The Russian army has been sending disinfectants, testing kits, virologists and epidemiologists to stricken Italy in planes and lorries bearing the slogan, "From Russia with Love". In contrast, Thailand, Cambodia and the Philippines have exploited the crisis to grab more powers for their governments.
They are not the examples for India, with 139 million migrant workers, more than a million of them languishing in relief camps. Inhumane journeys have killed several; some have perished in road accidents. The lockdown has robbed 90 per cent of their only source of income. Despite Shah's boast and Nirmala Sitharaman's promise of a free kilogram of dal, a survey showed that four out of 10 labourers did not have even a day's rations left. Estimates of the informal sector range from 85 to 93 per cent of the total workforce. Does anyone know the actual percentage? Does anyone know the total? That brings me back to the ignorance mentioned earlier. We are groping in the dark. The only certainty is the relief that the military alone can arrange in all non-medical fields.
The pandemic has popularized military metaphors. We are front-line soldiers fighting an unseen enemy. Even Donald Trump called himself a "war-time president" as he tried to prevent 3M, the world's largest manufacturers of protective medical gear, from sending masks to Canada. Appeals to make sacrifices in the national cause heighten the analogy. Since Covid-19 is being fought on a war footing, let not political arrogance deprive the real soldiers of their rightful combatant role. The wretched of the earth will benefit most from their participation.