Covid-19 throws open three options
A medical emergency and the need to help the underprivileged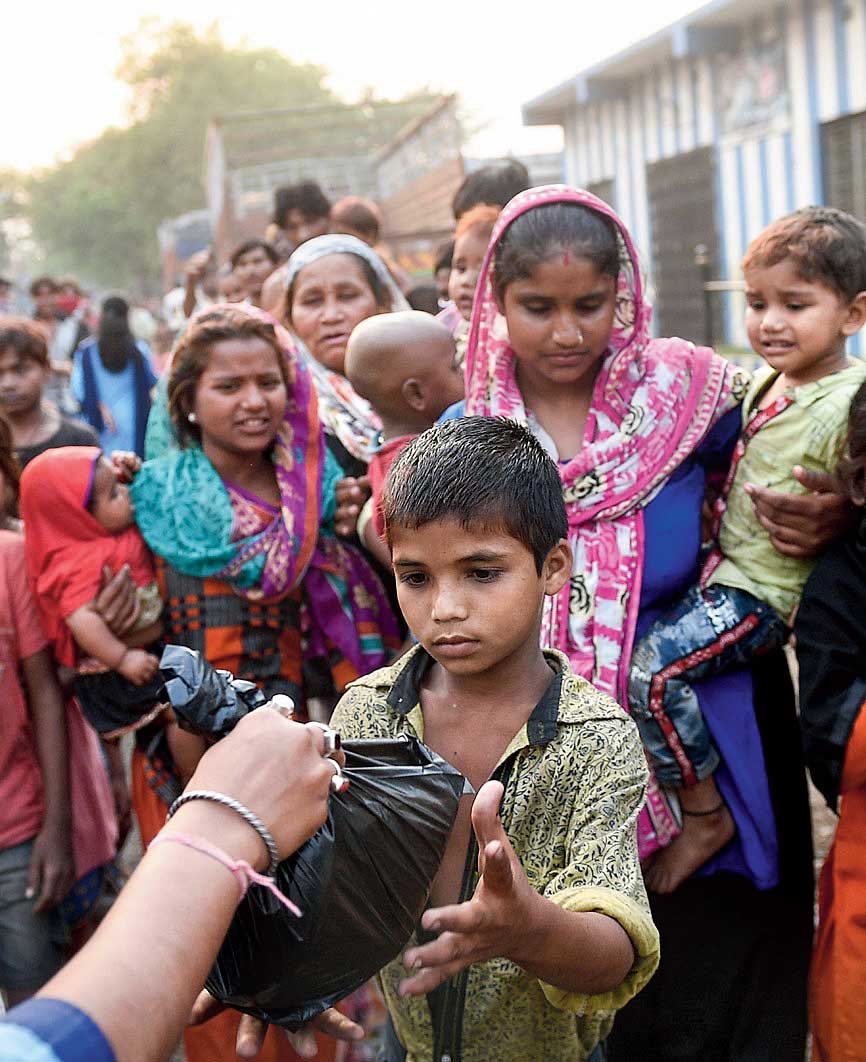 Volunteers distribute food during the nationwide lockdown in Howrah on Saturday.
(PTI)
---
Published 05.04.20, 06:38 PM
|
---
The rapid spread of Covid-19 worldwide from its original epicentre in Wuhan, China, has exposed the limits and vulnerability of State suppression. While violent political measures — such as the 1989 state action in Tiananmen Square — can be used to subdue people, it is not very effective in controlling nature. This pandemic is, therefore, an opportunity to reconsider our often unreflective exaggeration of national and political boundaries and our efforts to protect them.
The viral attack has forced countries like India to urgently protect a border of another kind, very different from the border that is protected by the military. The duty of protection against this new virus can be discharged not by the army but by soldiers in a white uniform — doctors, nurses and healthcare personnel. While most nations are equipped to defend their political borders, no country was equipped to meet this enemy. The world was taken completely by surprise.
Communist countries like China were able to scale up their production of life-saving equipment and infrastructure at a remarkable speed, making people forget, or even forgive, their human rights violations. Italy, France, Spain and America, however, seem to be buckling under the pressure. India, too, finds itself helpless as its medical resources prove to be outdated, ill-equipped and unevenly distributed. In order to fight the new enemy, health should be treated at par with defence. It is imperative to equip the army in white with enough of an appropriate medical arsenal so they can protect themselves and the people. This will be a more encouraging and effective demonstration of our support and gratitude, much more so than clapping. The latter may seem like a mere token gesture if not followed up by rigorous action.
The government was finally forced to declare a national lockdown. This decision was governed by professional rather than political or economic considerations and can have either of two consequences. One, it can partially or totally circumvent the pandemic. Two, it can still lead to catastrophe, despite our optimism. This virus follows its own timeline and is unpredictable. We do not know much about it nor do we have a proven treatment. The drugs or vaccines that may be useful are still being tested.
The preparation to combat this menace cannot be like rehearsing for a play where one performs a prepared script in a pre-planned manner, avoiding any deviations that can disturb other performers. Getting ready to deal with the virus is somewhat similar to preparing to teach a class or play a match — one needs to be flexible enough to make immediate changes, adapting to altering situations or contexts. This requires a different level of thorough preparation to emerge successfully.
Three models can be considered here — those propounded by Adam Smith, Karl Marx and Mahatma Gandhi. The first is the liberal model of non-interference between demand and supply proposed by Adam Smith. The invisible hand in the form of the market will moderate the supply and demand. Applied to the present context, the government should allow the production of masks, sanitizers, medicines, ventilators, beds and other required items. These will be purchased as long as there is a demand. This capitalist-centric model does little to promote the welfare of people, particularly the disadvantaged. Amartya Sen, one of its many critics, questioned a major assumption of this model — that the sufficient production of goods will ensure their availability to all — which is not always true. He demonstrated with extensive fieldwork and data that during the Bengal famine, millions were left to starve to death even though there were plenty of food grains in reserve. This he attributed to inefficient distribution, thus shifting the focus from production to distribution.
The importance of distribution to remove inequality and economic exploitation was first emphasized by Karl Marx. This shifting of gaze brought in a remarkable change in our understanding of society. While liberals focused on production, with emphasis on non-interference, the Marxist model introduced the distribution dimension, exposing the exploitation of workers. Both models, however, express similar views on the use and exploitation of nature. Thus, non-exploitative economic production was largely acceptable to Marx. In the present context, this means that there needs to be an increased production of medical supplies which should then be distributed equally and properly to combat the virus.
Many in the Opposition in India today are suddenly voicing the vocabulary of Marx, especially on economic inequality and the poverty of the working class. They insist that the victims of the lockdown in India are the poor — the agricultural, construction and migrant labourers. While this is true, one also cannot conveniently develop selective amnesia and forget that the poor in India are not new, unlike the novel coronavirus. In the present context, the decision of the government to lock down for three weeks was preceded by a rehearsal in the form of a 'janata curfew'.
The subsequent developments, however, have created a dent in the plan to contain the virus. Desperate migrant labourers, finding themselves stranded and devoid of a living, resorted to travelling on foot or thronged the bus terminals to try and return to their native places. This consequence should make us think. One way to approach this is to realize that there is always a variance between the ideal and the real. The decision to lock down is the ideal one from the medical emergency point of view. While most in the country are indeed following it, the deviations are not merely because of lack of planning or implementation but also due to the nature of the people who are players in this unusual situation.
These players are not equipped to implement the right decision. This situation is somewhat like taking Indian cricketers to Lord's during winter without proper warm clothes and expecting peak performance. While these are highly trained players, they are not used to the harsh cold at Lord's and will need appropriate gear to help them perform. Similarly, there is a need to appropriately equip the poor, the most vulnerable section of our population, so they are able to contribute to the success of these decisions, instead of becoming an impediment. These are the people who have a lot of stamina in spite of meagre resources. These are the potential warriors of the country. However, until they are equipped, the government is forced to balance managing a medical emergency of an insurmountable magnitude along with ensuring the basic survival of the large distressed population below the poverty line. Thus, there is indeed a grave problem with regard to distribution, which needs long-term consideration and planning, given the size of the Indian population.
This brings us to the Gandhian model that emphasizes consumption. Economic inequality is removed not only through distribution but also by limiting consumption and sharing resources with others as one is only a trustee of what one has and not strictly its legal owner. This approach, if implemented sincerely, can work well with the unorganized sector. The grammar of this model falls outside economics and belongs to the moral realm. Judicious use of this moral realm in conjunction with economic models of production and distribution will give India a scheme tailored to its specific needs and different from that of production-obsessed America and distribution-conscious China.