The longest hour
Undertrials are the underdogs of the criminal justice system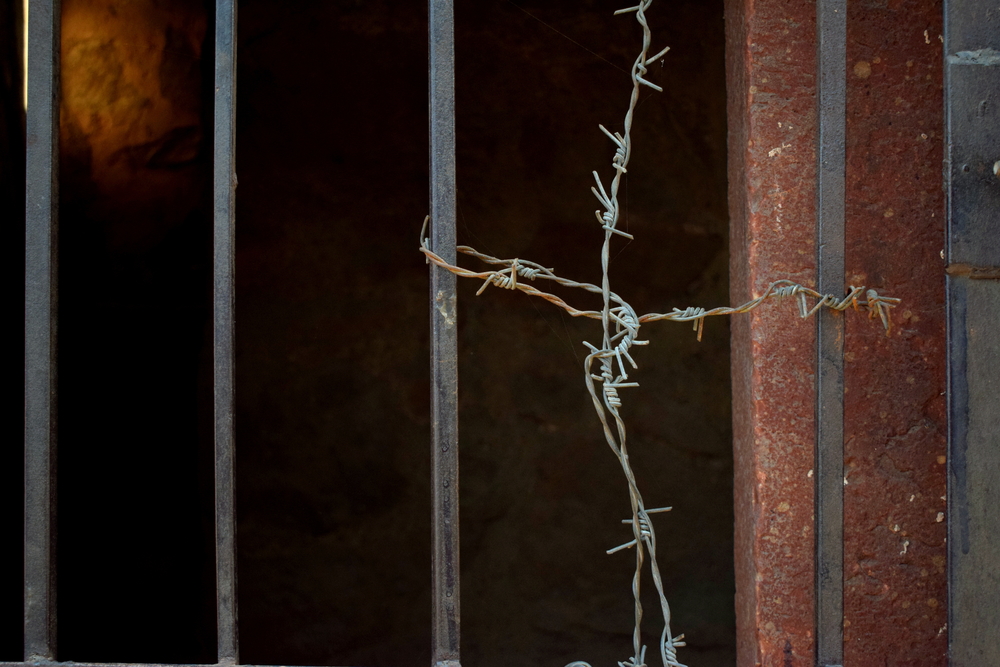 ---
---
"The cell door was locked at 6 o'clock." Gandhi recalled, about his first ever imprisonment. This was in Johannesburg, South Africa, in 1908. The satyagraha of Indian South Africans had just begun.

"The door was not made of bars but was quite solid, there being high up in the wall a small aperture for ventilation so that we felt we had been locked up in a safe. Galvanised iron sheets served for walls with glazed apertures at three places, half an inch in diameter, through which the gaolers could watch the prisoners while remaining unobserved themselves. There was electric light in the cell but the only light in it was not strong enough to do any reading with any degree of comfort. There was no provision for privacy in the bath or latrine. It often happened therefore that two or three prisoners sat down in a row. The arrangements for bathing were similar. The gaol had a library which lends books to prisoners. I borrowed some of Carlyle's works and the Bible. From a Chinese interpreter who used to visit the place I borrowed a copy of the Koran in English, Huxley's lectures, Carlyle's biographies of Burns, Johnson and Scott, and Bacon's essays on civil and moral counsel. I also had some books of my own; these included an edition of the Gita with a commentary by Manilal Nabhubhai, some Tamil books, an Urdu book presented by Maulvi Saheb, the writings of Tolstoy, Ruskin and Socrates. Most of these books I either read for the first time or re-read during my stay in gaol. I used to study Tamil regularly. In the morning I read the Gita and in the afternoon portions of the Koran."
More than a hundred years on, South Africa and India, both are free from the colonial and imperial yokes. But their prisons are not free — either of convicts of the 'petty, moderately serious or serious crime' type or of political prisoners. And what are their prison conditions like? They are decidedly better than they were prior to Independence. They are, in fact, not called 'prisons' any more. They are called Correctional Homes. But how safe is the Indian citizen from unfair arrest, unjust incarceration and prolonged waiting in custody so injurious to the mind and the body?
And as for books to read while in custody, is the scholar, Anand Teltumbde (69), currently in prison, allowed to get and read the books he may want to? Does he have paper and pen or pencil and a chair and desk to write? One should hope so. Any prisoner, political or not, who can read needs to read when immobilized in jail.
When I was working in West Bengal (2004-2009), I was moved by the advice of the prime minister, Manmohan Singh, to governors to visit prisons or Correctional Homes as they are now called and see the conditions there. I visited quite a few. I was glad to see bookshelves in some of them.
Two experiences from that time have etched themselves on my mind.
The first was in the Darjeeling Correctional Home. A young bespectacled and bearded inmate said to me in Hindustani: "I am a Pakistani. I came to India to visit Ajmer Sharif for a minnat. I was foolish enough to travel alone. And so I aroused suspicion and… well… here I am. But I am grateful to the Government of India. It has given me the chance to read for the first time the Qu'ran. I knew parts of it earlier. Now I have read the whole of it. Many times over. I know it by heart."
The second was in the Alipore Central Correctional Home. After having spoken to quite a few inmates there, as I was leaving, one young prisoner rushed to me. He was breathing hard. I thought he will say to me something about the injustice having been done to him, about the court proceedings having miscarried. But no. He asked if I could please ask the authorities to get for him some books he wanted. "They don't listen, Sir..." he said, "Please tell them..."
He could as well have been a student in a college talking to a visiting chancellor.
**********
A prison that gets books for its inmates has to be a place that seeks to correct.
But what any prisoner really wants, even a book-loving political prisoner, is release, freedom.
Convert Correctional Homes into libraries or ashrams, the inmates would still want to get out of them.
The hard fact is that those who are serving convictions cannot do so before their term is over.
But there is a category that can and can be helped to do so, under the law. This is the category of undertrials. The latest all India figures of prisoners in Indian correctional homes as published by National Crime Records Bureau show that as of 2018 the total number of prisoners in Indian correctional homes was 4,66,084, of which convicts were 1,39,488 and undertrial prisoners 3,23,537. Detenus and other inmates accounted for the rest.
Undertrials, the vast majority of prisoners, are the underdogs of the criminal justice system. The wretchedness of their emotional condition is indescribable. To a 'u-t' every hour is an eternity. And a good many of undertrials are, and are likely to be, found to be innocent. Their being imprisoned for so long is an irony trapped in an anomaly.
Through a salutary amendment to the criminal procedure code in 2005, a much-needed Section 436-A was introduced in the CrPC. Excluding offences for which capital punishment is envisaged, it provides for an undertrial to be released on a personal bond with or without sureties if the period spent in detention by the undertrial has been for more than half the maximum period of imprisonment prescribed for that offence. (The public prosecutor can move the court to deviate from this.)
Have all those qualified for release under this amended provision been so released?
No.
Why?
No one knows.
Decongestion was one principal aim of the 2005 amendment, fairness was the other. Correctional Homes being no exemplars of social distancing, their decongestion in our Covid-19 times is not just a desirability but also a desideratum. The UNHCR's appeal to nation states, in the Covid-19 context, to release political prisoners and others arrested for expressing dissent has been cited by human rights groups in India to ask for the release of political prisoners. While ardently hoping that this appeal will be heard and acted upon, I must say that in the Covid-19 context, one must ask for the immediate and massive activation of Section 436-A without sureties so as to benefit all undertrials eligible for it.
What is the risk factor in this? None, except that some of those undertrials who are actually guilty will get the benefit of being 'out' till the court proceedings give them their just deserts. Their cases will not be dropped, justice will not be subverted, the charges will not be withdrawn. Only the physical location of the person will be moved from the equivalent of institutional quarantine to home quarantine. The criminal justice system can easily keep a tab on those released and track them down as and when needed.
What is the gain factor in this? Huge, in terms of the preventing of an almost certain outbreak of the epidemic inside the Homes, endangering not just the inmates but also the guards and the supervisory staff who come from outside and their families. But even more important, it is huge in terms of India's image as a country where criminal law is administered in broad daylight and clean air and in which the bookish and the unschooled are equally entitled to the right to breathe.