Colour blind politics
The importance of being Rishi Sunak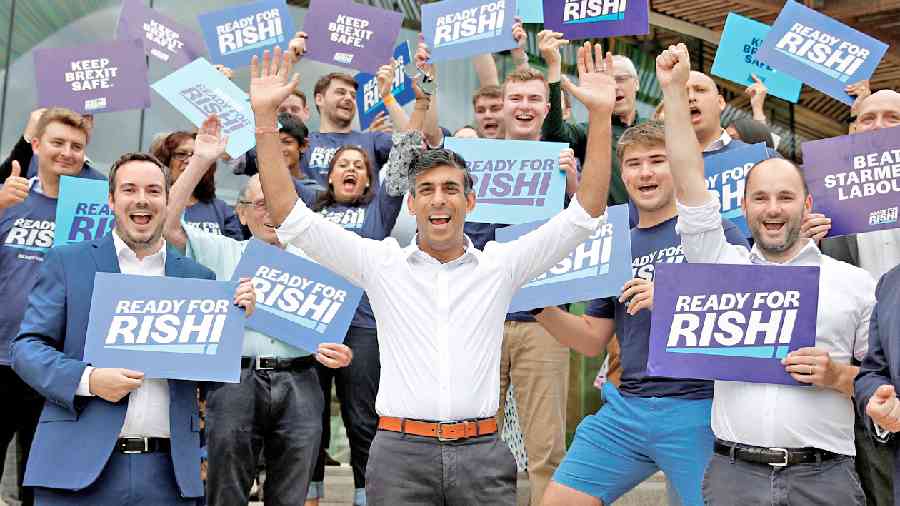 To deny the significance of a post-imperial power like Britain making a brown man from one of its former colonies its head of government is perverse
---
Published 30.10.22, 02:42 AM
|
---
It's obvious but still worth saying that Rishi Sunak's appointment as the prime minister of the United Kingdom is an order of magnitude less important than Barack Obama being elected the president of the United States of America. The institutionalised savagery suffered by black people in America for centuries freighted Obama's election with a symbolic weight that Sunak's elevation to prime ministership can't reasonably be expected to match.
Also, given Britain's parliamentary system, the prime minister isn't directly elected to the post and, therefore, lacks the personal mandate that an American president can claim. Had Sunak led the Conservative Party to a general election victory, as Boris Johnson did in 2019, he might have claimed, as Johnson did, personal credit for the large majority that the Tories won, but he didn't. Sunak's elevation to the top job happened almost accidentally after the Tories used up two prime ministers in short order in their bid to commit political suicide before the next general election. 
That said, Sunak as British prime minister is a landmark in the history of democratic politics everywhere. To deny the significance of a post-imperial power like Britain making a brown man from one of its former colonies its head of government is perverse. It's even more perverse when Sunak is plainly part of a constellation of non-white stars in recent Tory cabinets.
In the two rounds of party hustings held recently after Boris Johnson's resignation to elect the Conservative Party's leader (and therefore the prime minister), at least half the contenders weren't white: Nadhim Zahawi, Kemi Badenoch, Suella Braverman and Sunak himself. So an Iraqi Kurd, a woman with Nigerian parents and two Britons of East African-Indian origin all felt that it was worth their while to try out for the top job. That must tell us something about Britain's political culture.
What might that something be? At the very least, it tells us that the colour of a politician's skin and his or her nominal faith don't disqualify them from high political office. Is that too low a bar? Are we mistaking tokenism for representation? There is a riveting video clip of a phone-in programme on LBC, where a caller claims that Sunak shouldn't be prime minister because he isn't English enough. Under skilful questioning by the anchor of the show, he finally blurts out in plain words his real objection to Sunak: 85% of Britain's population is white and this majority expects someone who looks like them to be prime minister. For this caller, Sunak, because of his foreign origins, couldn't be properly English in the way that came naturally to a white Briton.
Sunak's elevation to the prime ministership shows us that this caller lives at the fringes of Britain's political culture. When you consider Viktor Orbán's Hungary, or Emmanuel Macron's France or Joe Biden's America or Recep Erdogan's Turkey or Vladimir Putin's Russia or, most pressingly, Narendra Modi's India, this accommodation of difference is not a small mercy, but a very considerable political achievement. Any progressive living in India — a country where the ruling party doesn't include a single elected Muslim MP or minister in its ranks — who thinks that ethnic diversity at the top of a political system is a trivial form of tokenism has to be a posturing idiot. 
In Sunak's cabinet, three of the four great offices of State — the prime minister, the chancellor, the foreign secretary and the home secretary — are held by politicians who aren't white. It has been argued that Sunak, Braverman and James Cleverly, the foreign secretary, are so fervently conservative that they present as honorary whites, that they have been assimilated and bleached by their rightwing beliefs. 
The obvious counter to this is that non-white identities don't come hardwired with progressive beliefs. This should be obvious to Indians who live in Modi's India. There is no necessary reason why someone like Zahawi from an Iraqi-Kurdish ruling class family should choose a social democratic party over a conservative one, especially if the Conservative Party is the most successful political organisation in the history of democratic politics and also willing to accommodate his ambitions.
There is a variant of this critique of deracinated minority politicians that is more persuasive. There are minority politicians whose opinions are so completely aligned with the right-wing, majoritarian parties they belong to that they even endorse their party's anti-minority tropes and prejudices. Some Muslims that the Bharatiya Janata Party sees fit to admit into its ranks are of this sort; time-serving clients seemingly without agency or volition. 
Suella Braverman and Priti Patel's grotesque enthusiasm for dispatching illegal immigrants to Rwanda seems to fit this critique. Critics of American politicians like Nikki Haley and Bobby Jindal allege that their careers represent a calculated re-making of their personas from South Asian to white-adjacent. Jindal was mocked for hanging a portrait of himself in his office in which he looks white. Both Haley and Jindal converted to Catholicism in a move that hostile critics saw as assimilationist or politically expedient.
Now, it is the case that Christianity has historically been one of the ways in which minorities have assimilated themselves into America's melting pot. Haley and Jindal might  be true believers or they might be pandering to majoritarian prejudice or both, but it's undeniable that they have had enormously successful political careers as governors of South Carolina and Louisiana, winning state-wide elections as minority politicians. They might be beholden to this tendency or that in conservative politics but they are not its clients or creatures. Again, the Indian example is instructive: can you imagine any Muslim politician becoming the chief minister of a state in contemporary India regardless of his politics? 
The interesting thing about Sunak is that he is avowedly Hindu, from the band of red thread on his wrist to his Diwali celebrations. And that is interesting because non-Christian minority politicians in the Conservative Party tend not to talk about their religious beliefs. Sajid Javid is avowedly not religious and does not practise Islam. Zahawi doesn't talk about his religious beliefs. It certainly serves the cause of pluralism that a British prime minister's private rituals remind his fellow subjects that an established Church is an anachronism. 
The Labour front bench in contrast is remarkably white. During Prime Minister's Questions, Keir Starmer sits flanked by Angela Rayner and Rachel Reeves. Labour can reasonably argue that in terms of vote share it is more representative of Britain's non-white minorities and it is widely seen as more sympathetic to their concerns. But the precedent of Scandinavian social democratic parties moving to the right in response to the racist populism of parties like the Sweden Democrats is a reminder that the diversity of a country's conservative party is the best measure of its political health.
mukulkesavan@hotmail.com