China: India must not put down her guard or be surprised again
PART 4: Urgent need to change 'defensive mindset', beef up cyber capabilities, stop spread of misinformation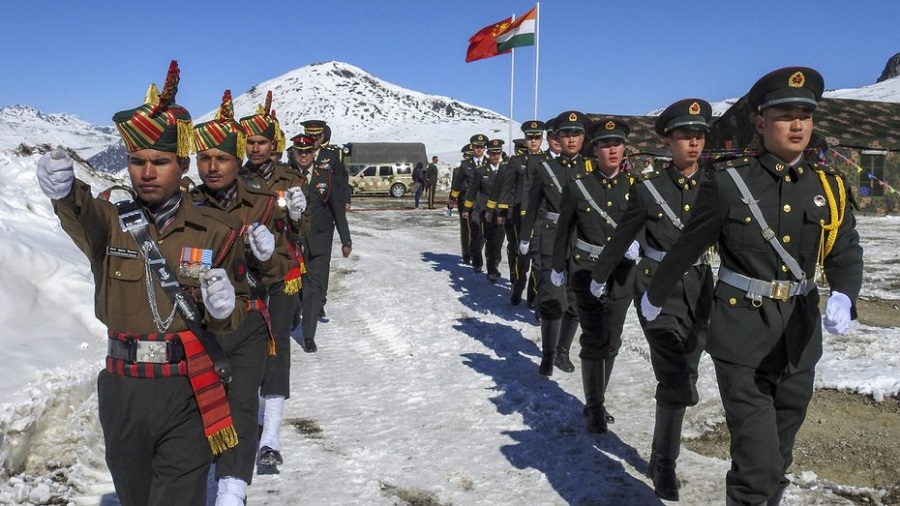 ---
---
This writer has no wish to get involved in the "nitty gritty" of government dealings. Nor do I wish to try and step into the shoes of the serving generals and soldiers who are doing such a wonderful job with utmost dedication and bravery. My aim is simply to bring about public awareness so that the problem on our border is better understood.
All the developments described in the earlier three parts article have caused great anxiety in India. China is also trying to wean away Nepal, Bhutan, Bangladesh, Maldives, Myanmar and Sri Lanka. Notwithstanding the strained relations, bilateral trade between India and China had witnessed spectacular growth over the last few years touching a staggering figure of close to US $ 100 billion. These economic aspects have, however, not deterred China from her current action in Ladakh or Sikkim/Bhutan as the Chinese leadership finds its back to the wall economically, politically and internationally.
China is now aware of the potential challenge from India, particularly after the Doklam Plateau incident where "they lost face". That, coupled with reasons given earlier, and due to growing Chinese confidence, an internationally enhanced position, economic and military strength, the balance of power that was shifting from the West to the East, prompted China to take this action in Ladakh. India's current weakness due to the economic recession and the coronavirus was what had given the Chinese added belligerency, assertiveness and the will to take her current action against India in Ladakh.
Now, some random thoughts on the present situation. China struck India in Ladakh, following the dictum of Sun Tsu, exhibiting surprise and deception, moving her forces surreptitiously in the garb of an exercise, to suddenly confront India, giving a reason that India is threatening her strategic interests.
While not wishing to comment adversely on anyone, particularly in the light of the splendid job being done by our soldiers, India is being repeatedly surprised – Kargil, now Eastern Ladakh, as also other areas where the Chinese have grabbed our territory following a pattern that has now come to be called "Salami Slicing". This is totally unacceptable in today's day and age of hi-tech intelligence gathering and sharing. India should have had intelligence of the PLA's build-up facilitating the Indian Army adopting a pre-emptive precautionary deployment – this unfortunately does not appear to have happened. This must, however, be investigated and people culpable of negligence taken to task.
Territory once lost in the high mountains of the Himalayas cannot be taken back easily without a great deal of loss of life. The present situation in East Ladakh is more worrisome than Kargil as the Chinese are in strength and have secured heights - it will, therefore, be much more difficult to recapture the area in case they do not pull back as per the agreement. In case the Chinese fail to restore the status quo ante fully as I strongly suspect will be the case, and all other efforts fail, it is imperative that the IA strike the Chinese elsewhere, that will facilitate India to carry out a trade-off. The Galwan sector is worrisome as the Chinese may be able to dominate India's newly constructed strategic road to Daulat Beg Oldi from Shyok. The PLA deployment in depth now also denies the IA the capability to cut their main artery to Xingjiang without a great deal of effort. The rest of the border/LAC is, however, available to carry out the counter action required – even though this may expand the conflict.
The Chinese are not to be trusted, the Chinese are quite capable of suddenly striking at us using her forces poised in depth – India, therefore, must not put down her guard or be surprised again. India must be mentally and physically prepared to use force if required. The concept of having a buffer zone is hence not workable in such an environment as it may put India at a disadvantage.
The Chinese have partly succeeded in denying India the strategic use of the Galwan Valley Road without a battle following Sun Tsu's dictums. Much though we may not wish to admit it, they have also again tried to "teach India a lesson" as in 1962, by seizing tactically important ground in lightly held/unheld areas by surprise and deception, thereby putting India into a difficult situation. One of the ways to avoid such a situation again is that the Army must be more forceful in projecting that all border guarding forces on operationally active borders must be under the operational control of the Armed Forces – in this situation it is the ITBP who were guarding the border.
There is no space in the mountains to deploy large formations. All that one can conceive is all arms battle group size organisations operating in such terrain. We thus need to restructure accordingly. With such a vast border to be defended it is a fallacy to come up with concepts such as "not an inch of territory must be lost". It is impossible to execute and India's political leadership have to be advised accordingly.
Notwithstanding claims to the contrary, India still has a "defensive mindset"– they are not pro-active like the Israelis whom all of us greatly admire. Therein lies a tremendous weakness which needs to be corrected. India's capabilities in the field of cyber warfare and information warfare are not up to the mark and over centralised – this must be rectified on topmost priority as this is a field where the Chinese may have the winning edge.
There is a lot of misinformation going around – this must be put to a stop by periodic press releases without giving out the Indian strategy. This will put an end to rumour mongering that is currently rampant.
In case we wish a resolution of the Border dispute and to improve relations with all our neighbours, I am strongly of the view that we would need to rein in the activities of the Tibetans in this country and for that matter the Dalai Lama. We would have to also be prepared to follow a policy of give and take in reference to the actual territorial dispute, whilst bearing in mind the sentiments of our own people, particularly those of Ladakh and Arunachal. Notwithstanding these foreign policy measures, we must be in a position to negotiate with China from a position of strength, i.e. military strength, adequate border infrastructure to support countermeasures against China; and most importantly by developing these areas adequately.
I regret to end stating that the Chinese have put in a lot of effort in mobilising, occupying some of their claimed areas and earning India's and the international community's ire – I do not see them reverting to a total status quo ante, without gaining substantially in some way. India, therefore, has a long haul ahead in terms of a combination of diplomatic, military measures and international pressure to get the Chinese to pull back in totality.
This concludes the four-part series. Here's part 1, part 2, and part 3.