China Diary: Keep safe distance
Job notices mention that only those who've never had Covid or, more shockingly, never volunteered at a makeshift Covid hospital can apply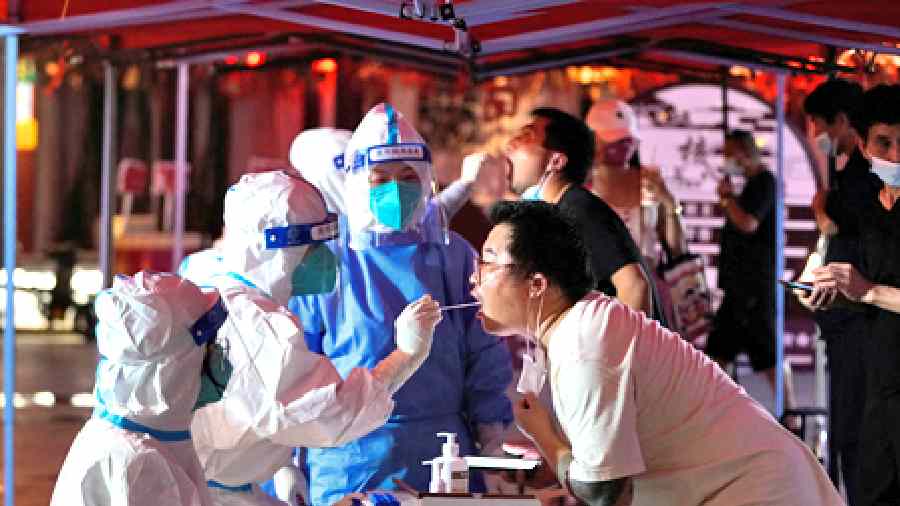 ---
Published 05.08.22, 03:13 AM
|
---
China has to be exceptional in every way. The country where the coronavirus originated, bringing the world to a standstill, is now stigmatising those affected by the virus. No other country is doing that today, a prime reason for that being the vast numbers affected everywhere. You can't stigmatise lakhs of citizens across the country.  But in China you can — because the number of those who've contracted Covid in the country of its origin remains small. Thanks to China's zero-tolerance policy, entire cities go into lockdown to prevent one person from spreading the virus. Whole buildings are forced into quarantine if even one resident has been exposed to an infected person. One infected employee could mean the closure of an entire work unit. This stringent policy has resulted in very few Chinese actually catching the virus. The numbers are so small, they can easily be identified. One wonders whether this kind of over-reaction to the virus has turned those affected by it into feared and despised carriers of disease. Could it be that they are also resented because of the terrible inconvenience they cause?
The stigmatisation isn't just at the level of pointing fingers and avoiding people, which could be a localised, uninformed, hysterical reaction. It's far more chilling: those who've had Covid are being denied jobs and there's no subterfuge about it. Job notices mention that only those who've never had Covid or, more shockingly, never volunteered at a makeshift Covid hospital can apply. Thanks to the Health Code installed on everyone's phone, it's easy for employers to find out whether you've had Covid.
It's ironic that this is happening in Shanghai, the most modern of China's cities. The two-month-long lockdown that ended in June, seems to have scarred the city more than it did any other. Jobless because they contracted Covid, many young workers have also become homeless. Some of them have had to move into Shanghai's public spaces.
One young man, after being turned down by many firms, ended up working as a daily wage loader, all the while terrified that his phone would be checked and his Covid positive past revealed. Unable to carry on paying his rent, he moved with all his belongings in two bags to one of Shanghai's biggest railway stations. To his surprise, there were already others like him there. One such woman had made the ladies' toilet her home. She survived on cheap snacks and had discovered a free WiFi zone in the nearby airport which she could access without having to enter the airport. Another young man had helped build a temporary Covid hospital. Once his work was done, the employer refused to pay him the 2,000 yuan fare to go back home. Meanwhile, he tested positive, putting paid to all hopes of getting a job. Nor could he go home: his hometown made it mandatory for travellers from Shanghai to quarantine at their own cost.
Soon, these homeless migrants, many of them university graduates, began to be turned out of railway stations and mall hallways onto the streets. This was in spite of the fact that a heatwave was sweeping Shanghai, with temperatures going beyond 40 degrees Celsius.
These stories were uncovered not by the media but by a blogger. The resultant uproar led to an official directive against "Covid discrimination" and an amendment in the Health Code. Now, only the record of the previous two weeks is available on it, down from the earlier two months. Citizens had willingly installed this app to prevent the spread of Covid. But it ended up becoming a tool to deny them their rights in every way.