Only in New York: Cannoli-eating contest to commemorate a martyred saint
The feast of San Gennaro in Little Italy, the evolution of Miss America, a secret white dinner, military pizza, and a cafe of cuteness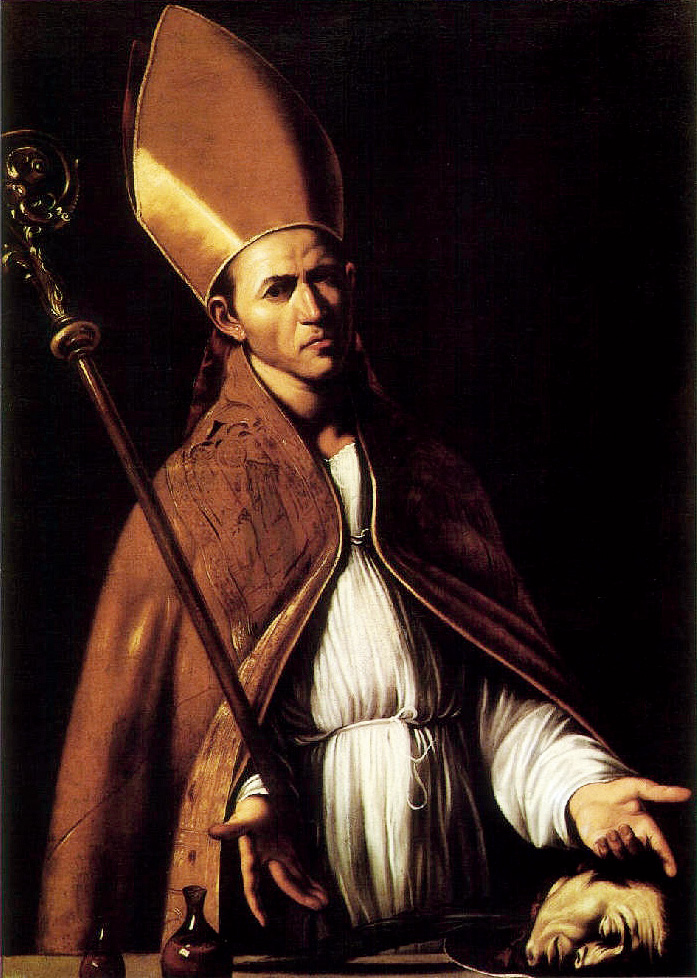 A painting of San Gennaro — reportedly a copy of a lost work of Michelangelo Merisi da Caravaggio
Wikimedia Commons
---
Published 28.09.18, 09:18 PM
|
---
Footnote
Say hello to the Hello Kitty Café, opening in Irvine, California by Sanrio. The store has a fast-casual cafe and a private room for reservation-only afternoon tea and cocktails at night. The decor is almost entirely pink. Other Hello Kitty food and beverage concepts in the United States of America include two pink Hello Kitty Café trucks. They have been roaming the US since 2014 and offer a small selection of sweets and merchandise.
Tough bites
There is a new kind of pizza on the block, and it is no ordinary slice. The newly-created Sicilian style piece can last for 36 months and is ready to join our troops on the battlefield. The American military calls its combat field rations MREs (Meals, Ready to Eat), since they require no cooking. However, it is no surprise that the MRE entrées are less than appealing. The army then set out on a mission to give their food a little upgrade. Food scientists hit the jackpot with the MRE Pizza. It is a three-by-five-inch slice covered with melt-proof shreds of mozzarella cheese and pieces of mild pepperoni, sealed in a pouch. To qualify for MRE duty, a food item has to be able to survive years of storage in a ship's hold or a sun-baked shipping container, Arctic freezes and tropical monsoons, assaults by insects, a parachute airdrop or even a free fall from 100 feet.
Pizza may be ubiquitous, but it is not easy to turn into army ration and still make it taste good. It took years for food scientists to perfect it. The slice was put into production, and it will debut in the field this year as MRE No. 23, packed in a tan bag with blueberry cobbler, a powdered chocolate protein drink, an oatmeal cookie, and Italian breadsticks with jalapeño cheese spread.
Secret white
It's that time of year again. A sea of people, completely clad in white, made their way to New York's eighth Annual Dîner en Blanc: the world's favourite secret dinner party. Over 6,000 attendees (by invite only) celebrate this pop-up tradition, which just marked its 30th anniversary in Paris, where it all began, and takes place in 80 cities across the globe.
Guests are led to a scenic location which remains a secret until they arrive. They dress in impeccable white suits; some even bring out their wedding gowns. They must also bring their own table, tablecloth, chairs, china, stemware, silverware and food. This year the dinner was held on Governors Island in New York with a full view of the Manhattan skyline in the background. However, there were a few unforeseen hiccups, primarily on account of weather. The location can only be reached by ferry, but the rough waters and high tides made the commute very difficult overall.
Christine Tripoli, one of this year's organizers and co-hosts, explained, "It's always challenging getting thousands of people to any location... Ultimately, we can't control weather and [people's] safety was of utmost importance. We just kept the party going longer." New York just celebrated the Feast of San Gennaro, an 11-day long celebration in Manhattan's Little Italy that draws more than a million people each year. Now in its 92nd year, the 'Festa di San Gennaro' is celebrated by Italian-Americans to mark the martyrdom of San Gennaro (or Saint Januarius), the patron saint of Naples. According to legend, Gennaro was on his way to Pozzuoli when he was intercepted by the emperor's forces and eventually beheaded, after he initially escaped being eaten by wild animals. According to Catholic records, the bishop's blood was collected in two glass ampoules as it drained from his body. Over the following centuries, it was reported that the blood had spontaneously liquefied inside the ampoules. The Church later declared the phenomenon a miracle.

The first Feast of San Gennaro in New York was held in 1926 on Mulberry Street by immigrants from Naples who wanted to continue the tradition of venerating their patron saint in their new home. It became increasingly popular, going on to become one of the longest-running food festivals in New York.
The feast offers traditional Italian food such as prosciutto, cannoli, sausages, arancini and pizza in abundance. In addition, they also host a cannoli-eating competition. This year's winner consumed 33 cannoli in 10 minutes. In addition to food, there is music, dance, carnival games and even a giant Ferris Wheel. The Feast of San Gennaro is entirely community-run by the Figli di San Gennaro, a non-profit of residents and business owners in Little Italy, serving to highlight the history of its current neighbourhood. Change over the years
The Miss America pageant has been running for 97 years. It has grappled with changing beauty standards while trying to ally with contemporary feminism. The competition has as much to do with physical appearance as with the powers behind it. In December last year, the CEO, Sam Haskell, and other board members abruptly departed following the leak of vulgar and sexist emails denigrating the appearance, intellect and sex lives of former winners of the pageant. The controversy prompted several resignations and the appointment of Gretchen Carlson as chairwoman. Carlson, who was Miss America 1989, is better known as the former Fox News host who, in 2016, won a $20 million settlement for sexual harassment from Roger Ailes.
This June, Carlson announced the end of the once-iconic swimsuit competition and rebranded the evening gown section as an interactive red carpet experience. But while many outside the pageant world cheered, reactions within the Miss America community were mixed. Those in support, including Jennifer Aniston, argued that beauty standards should not be based on body size and shape but on a woman's talents, ideas and personality. On the other hand, critics say they should just let the pageant be a pageant.