Academic performance is not truly indicative of students' critical abilities
Board examinations such as the CBSE reward rote learning and discourage critical thinking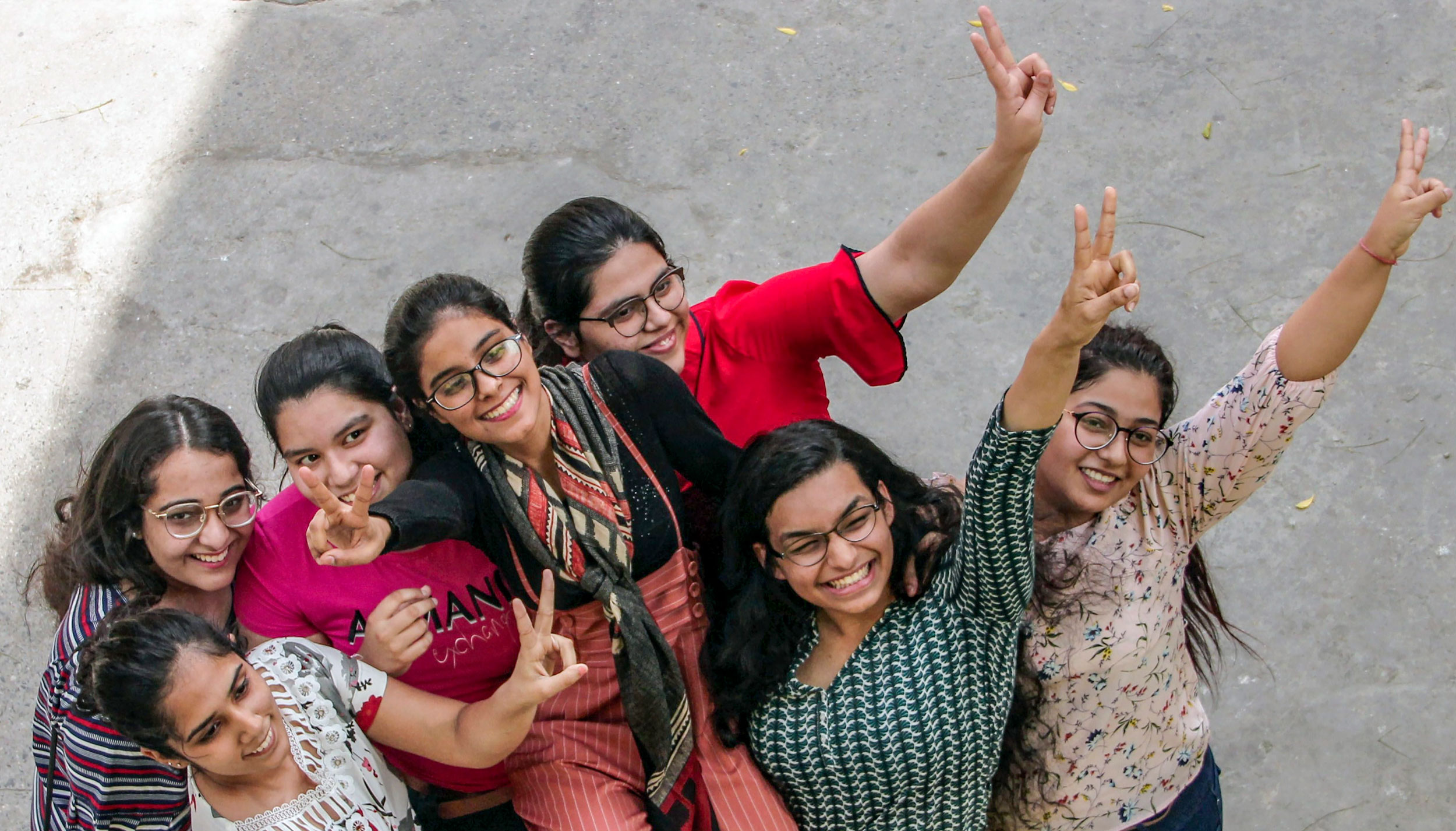 Students celebrate after the CBSE class XII results were declared, in New Delhi, on May 2, 2019.
(PTI Photo)
---
Published 07.05.19, 04:06 AM
|
---
Must indiscriminate improvement necessarily be a good thing? The answer to this cannot always be in the affirmative, as the concerns that have surfaced after the declaration of the results of the Central Board of Secondary Education's Class XII examinations have shown. The sharp rise in the number of students who have scored above 90 per cent — 94,299 students this year, as opposed to 72,599 in 2018 — has broken all previous records. At first glance, this might seem like cause for cheer; a greater number of students doing well academically is likely to further their prospects in the spheres of higher education and employment. Delving deeper into the causes behind such purported academic 'excellence', however, reveals a grimmer and more complicated picture. For one, given the system of setting questions adopted by boards such as the CBSE — objective questions with multiple-choice answer patterns — it can be argued that the culture of rote learning is rewarded and that students are effectively discouraged from thinking critically and developing well-rounded arguments. This is ironic, for it means that students' academic performance is not truly indicative of their critical abilities. In the long run, this might prove be a severe obstacle in the path towards intellectual growth and even impair political consciousness. Should not the assessment structure in board examinations be closely scrutinized and the checks and balances reviewed?
There are, unfortunately, many entities that benefit from lax standards, not least of which are schools. High marks tend to reflect well on the institutions from where students graduate, increasing the former's capital in the education market, while letting them off the hook with regard to their responsibility of nurturing independent, holistic thought. This pattern of rewarding superficial learning was also found to be mirrored in institutions of higher learning, thereby turning it into a vicious cycle. A growing number of high-scorers in board examinations also ensures that cut-off marks for universities and colleges reach unattainable levels for a vast majority of deserving students, many of whom belong to underprivileged backgrounds. Discouraging critical thinking in young people is, however, beneficial for the majoritarian forces in the political establishment; it makes their task of rewriting history and crippling higher education much easier. In order to stem the rot, the problem must be tackled at its root: the nurturing and evaluation of students' critical faculties must begin at the primary level.