Careless car operators endanger children's lives
All pool car service providers must put in place stringent safety measures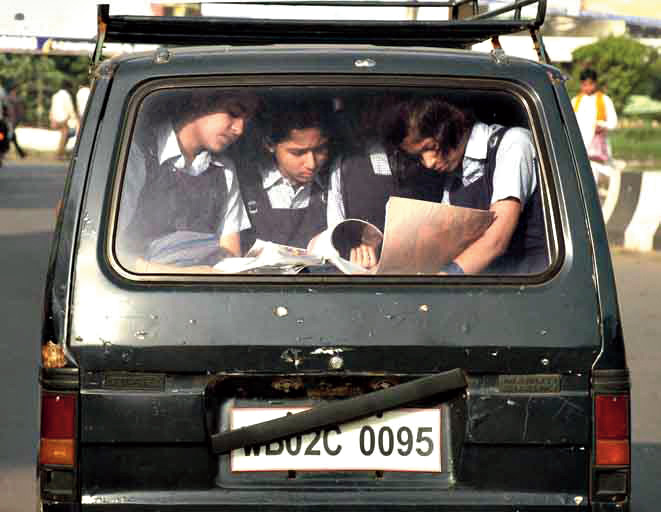 Students browse through text books in a pool car on their way to school to write an exam
File picture
---
Published 10.10.18, 06:21 PM
|
---
Sir — A four-year-old child was flung out of a pool car on to a busy street in Calcutta last week ("Child falls out of pool car", Oct 6). This happened as one of the left doors of the car suddenly flew open. Shockingly, the attendant did not even notice the mishap at first, even though the other children in the vehicle raised the alarm right away. The child survived owing to sheer luck.

Lessons should be learnt from this incident. All pool car operators must put in place stringent safety measures so that such episodes are averted in future.
Asit Kumar Mitra,
Calcutta
Deal with it
Sir — The Indian government must be commended for not succumbing to threats from the United States of America while finalizing a defence deal with Russia. During the recent trip of the Russian president, Vladimir Putin, to India, New Delhi signed a deal with Moscow for the purchase of S-400 surface-to-air missile system ("Defence deal minus drama", Oct 6). The US had warned India of sanctions should the latter go ahead with the transaction.
This missile system is often described as the best in the world. At a time when India is guarding its borders against two hostile neighbours — China and Pakistan — it is unfair for the Americans to expect India to not prop up its defence preparedness.
Vijay Dattatray Patil,
Curchorem, Goa
Sir — That India has inked an agreement with Russia for the purchase of five S-400 Triumf missile systems is good news. This is one of the biggest defence deals in recent history. It is a matter of pride for Indians to see their country grow in stature. All major powers are augmenting their defence capabilities; India is also doing the same. Further, the fact that India disregarded US threats and went ahead with the deal shows that the country is becoming more confident. This development should be appreciated by every citizen.
M.F.U. Tandvi,
New Delhi
Sir — New Delhi should not have gone ahead with the Triumf deal, in spite of repeated requests from Washington DC to not buy defence equipment from Moscow. Although many people in the country are lauding the Centre for showing intent, this decision might come back to haunt India. It was not unfair on the part of the US to make such a request. There have been times when India, too, protested against any intended sale of US F-16 fighter jets to Pakistan. If the argument of the 'patriots' is that the US has no business in interfering in a deal between two sovereign nations, then the same logic should have been applied earlier as well.
One cannot run with the hare and hunt with the hounds. By signing the deal, India has hurt the interests of the US. It will now be difficult for the Donald Trump-led administration to trust India.
Rhea Roy,
Calcutta
Image crisis
Sir — Chanda Kochhar quit as the managing director and the chief executive officer of the ICICI Bank, six months before her tenure was to end ("Chanda Kochhar quits ICICI Bank", Oct 5) . This development comes months after the board of the private lender instituted an inquiry to probe charges of nepotism and conflict of interest levelled against Kochhar.
In India, most private banks try hard to maintain a clean public image. They do not think twice before dismissing junior employees from service for even minor lapses. But a similar yardstick is not applied to those holding top managerial positions. Although ICICI Bank did initiate a probe, it was dismissive of the allegations against Kochhar at first. If the charges are found to be true, strict action must be taken against Kochhar.
Subodh Jha,
Patna
Sir — Chanda Kochhar might have been forced to quit from her positions in the ICICI Bank, but that does not nullify the fact that she had got the top job by the dint of hard labour. Even last year, she made it to the Forbes list of 100 most powerful women in the world. Her accomplishments have inspired many young girls and women around the globe. One expects that Kochhar will be given a fair chance to defend her actions.
Khokan Das,
Calcutta
Parting shot
Sir — Some Durga Puja pandals in Calcutta have been thrown open to the public quite early this year. Although this move has brought joy to many people, it has also led to traffic congestion and other problems. It would be helpful if Puja committees do not inaugurate their pandals before Mahalaya henceforth.
Rohit Bhattacharjee,
Calcutta