Calling all Potterheads: A world of wizardry in New York City
Food, drinks and shows at a museum inspired by Harry Potter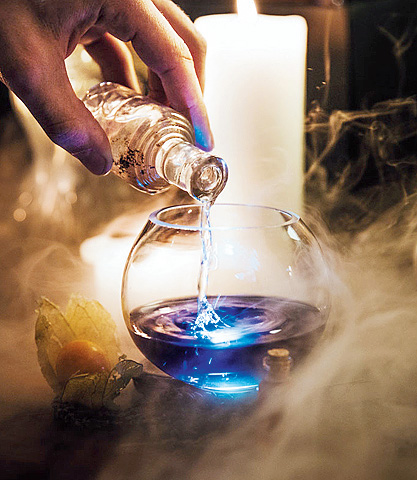 One of the Concoctions at The Cauldron.
Xavier Boldu @xavierboldu
---
Published 19.01.19, 06:13 AM
|
---
After the Harry Potter museum comes a cafe in New York City — the exact location is not yet known — that will make fans feel like they are in the world of witchcraft and wizardry. It will serve coffee and tea 'potions', pastries and homemade cookies, in an atmosphere inspired by 'Harry Potter & Halloween', as claimed by its Instagram handle. People are speculating that it will open in Alphabet City, since Cake Shake — the pop-up by the cafe's founder, Zach Neil, which recently shut down — was located on Sixth Street between Avenue A and Avenue B.
This is not the first pop-up or 'experience' in the city themed around Harry Potter. Potterheads can come together at one of the monthly events organized by "The Group That Shall Not Be Named", which has more than 3,000 members. Their past trips have included everything from a Diagon Alley-inspired cosplay excursion at the Oddities Flea Market to ice-skating in wizard costume and crafting nights.
There is The Cauldron, a pop-up immersive bar that lets you use 'magic' to craft your own cocktails. There is also the Pasta Wiz, which serves quick pasta dishes in a mildly medieval space. The off-Broadway play, Puffs, acts as a prequel: years before the arrival of The Cursed Child, Matt Cox's Puffs reveals the behind-the-scenes story of the lesser-known, yellow-and-black-clad students at the school of magic. Another show, Cursed Child and its Gryffindor, features jokes about Voldemort's stand-up routine and a mop playing Ron Weasley. The immersive exhibit, Harry Potter: A History of Magic, brings wizardry classes and mythological artifacts to the New-York Historical Society. On display are a philosopher's stone and J.K. Rowling's original scribbles and drafts.
Watchful eyes
Interact with robots the next time you go grocery shopping. Giant Food Stores will have robot assistants helping shoppers and employees at 172 locations. The robot's name is Marty, and he has a big grey body and large, animated eyes. Although he has limited speech, a small message is always plastered on his slender trunk: "This store is monitored by Marty for your safety. Marty is an autonomous robot that uses image capturing technology to report spills, debris and other potential hazards to store employees to improve your shopping experience."
After a pilot programme that kicked off in several stores in Pennsylvania, Giant Food Stores announced that it will place Martys in each of the chain's stores across Pennsylvania, Maryland, Virginia and West Virginia. The robotic rollout is part of a plan by Giant's parent company, Ahold Delhaize, to deploy about 500 robots to stores such as Giant, Martin's and Stop & Shop. The robots move around the store unassisted, scanning the floors for spills and trip hazards. Once a spill is located, the machine — which makes beeping noises as it moves — verbally communicates it to human employees. Marty says, "Caution, hazard detected," to alert customers, but also sends an announcement through the store's public address system.
Giant isn't the only retailer employing robots to guard aisles. In December, Walmart announced plans to place 360 autonomous robots inside stores across the country by the end of January. Their job involves scrubbing the store's aisles and collecting data in the process.
Pantless sessions
Not even the bracing cold can stop New Yorkers from taking their pants off in public. It is time for the annual No Pants Subway Ride again. On Sunday, hundreds of New Yorkers boarded the subway in the three boroughs. The idea is not to shock — the underwear has to be modest — but it is a rare chance to make people smile on a subway system that has not had much to laugh about recently.
The event was organized by the Improv Everywhere comedy collective. The tradition started back in 2002 with just seven Improv Everywhere members as a "small prank", but has grown into an international "celebration of silliness." Two dozen cities across the world also joined in. There are only two main 'No Pants Subway Ride' rules: Be willing to take off your pants on the subway, and keep a straight face. Read a newspaper, browse through your phone, bring a book and treat it as just another day. If anyone asks, you just "forgot to wear pants."
Clear bias
Even the latest technology event displayed a sexist bias. The Osé Robotic Massager — the first product of the company, Lora DiCarlo — won the 'honoree' designation in the 'robotics and drones' category of the CES Innovation Awards. That is, until the founder and CEO of the company, Lora Haddock, was told that it did not comply with the rules. The Consumer Technology Association said that products which are "immoral, obscene, indecent, profane or not in keeping with CTA's image will be disqualified." It later backtracked and said the product simply did not fit in the 'robotics and drones' category.
Backlash immediately flooded the internet, citing that CES has long failed to include and represent women. There were no women keynote speakers over the past two years (two were later added in 2018 after criticism) and just a fifth of the attendees in 2018 were women. Mashable wrote that "CES still fuels the sexist narratives so many have worked to change over the last year." It should be noted that CES openly welcomes sex dolls for men. As Buzzfeed pointed out, the show has been open to sex products in the past, even honouring another toy in 2016 with the same award it denied the Osé.
Footnote

It is time for the cowboys to come to New York. The Monster Energy Buck Off kicked off its tour recently in NYC. Crews were busy getting Madison Square Gardens ready for the world's top 35 riders to compete against the highest-ranked bulls in the nation. Every January, for three days, the arena turns into a dirt-laden area full of cheering fans and riders who have to stay on a thrashing bull, one-handed, for at least eight seconds. Needless to say, a few bones get broken.