A failure of the principles of urban living
After every fire, the government makes pious resolutions and conducts fire safety inspections. And then nothing moves.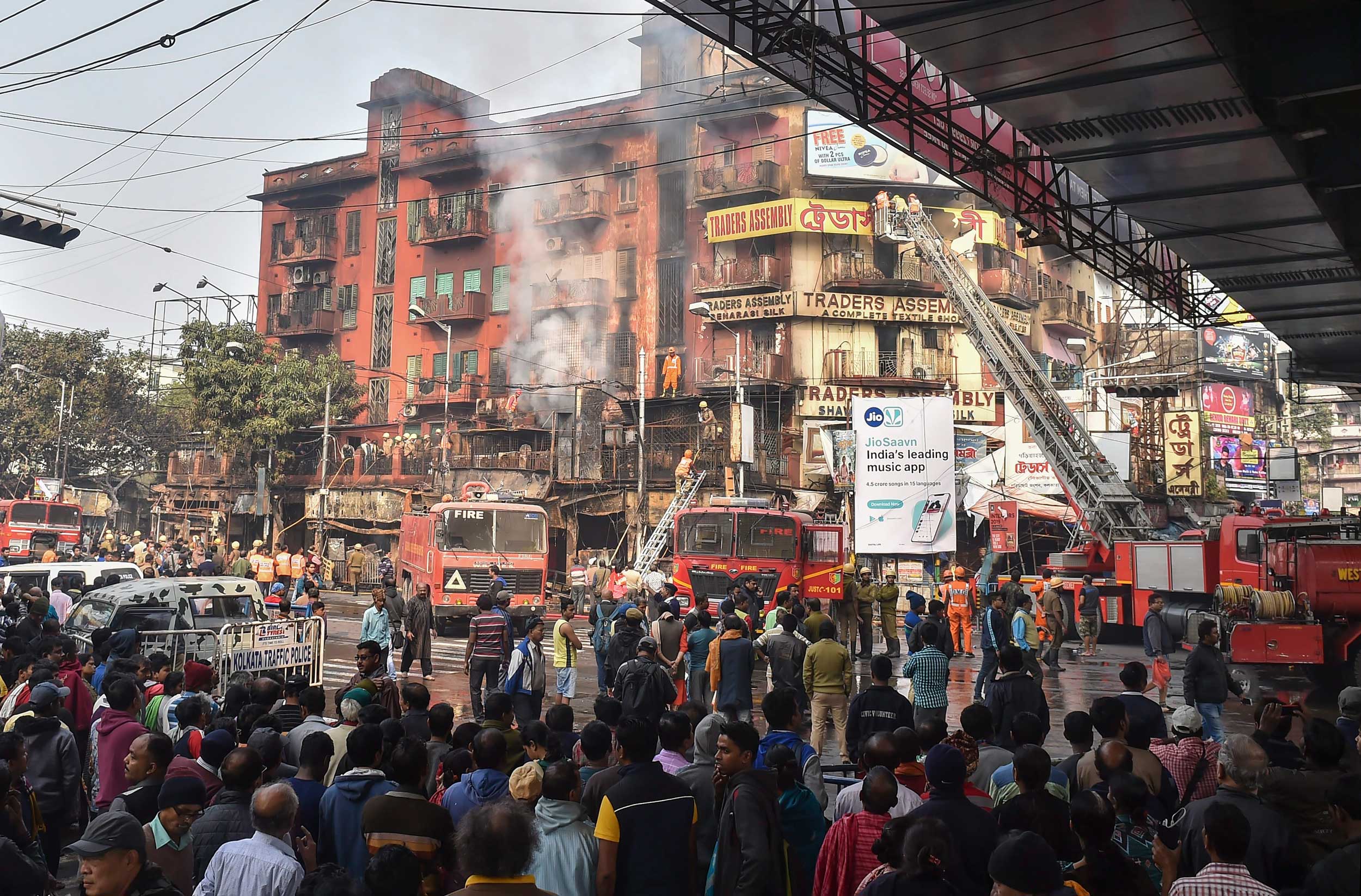 ---
---
It was pure luck that no one died in the midnight fire at Gurudas Mansion, except, pathetically, caged birds. As is now the established pattern in the fires of Calcutta, a combination of destructive conditions culminated in a fire that could not be controlled for around 13 hours, that destroyed crores worth of commodities in the shops on the ground floor that also functioned as landmarks at Gariahat junction, and devastated residential apartments above the shops, causing untold damage and trauma. This catastrophe was inevitable, with the building surrounded by tightly packed hawker stalls covered by tarpaulin, tangles of wires from which, allegedly, illegal lines were drawn, without any fire-safety measures in place. Although the police said that a short circuit caused the fire, the rapidity with which the flames spread was made possible only by the unviability of the physical conditions of the building.
Residents and owners of the building have said that complaints about the use of tarpaulin by hawkers and the misuse of electric connections were ignored. That is not surprising in the context of the passivity of the state government and the municipal authorities. Calcutta has a shameful history of conflagrations; the Bagri market fire has barely cooled. The Nandaram market went up in flames in 2008, the Hatibagan market in 2012, the Surya Sen market in 2013, to mention just a few markets. Fires in large apartment houses, such as Stephen Court, or in hospitals, such as that in the AMRI Hospitals, Dhakuria — both causing tragic deaths — form other sets altogether. The government in power each time made pious resolutions, arranged teams for inspecting and monitoring fire-safety measures in vulnerable structures, wished to check trade licences, especially after the Bagri market fire last year, and promised much bustle. Nothing has moved. Two questions must be asked again, even if the exercise seems pointless. How are different licences, such as of trade, or certificates, such as of fire safety, given or renewed? And why are hawkers allowed on every bit of available space in the city, using whatever material they choose to protect their wares and drawing electricity from whichever source they wish? Even without going into the possibility of unpalatable answers, it has to be acknowledged that Calcutta has failed the principles of urban living. Those who look after the city obviously do not accord the demands of civic safety much importance.