Where 'no voter to be left behind' is a cruel joke
The nearest poll booth is a 12km trek from Kharwar's Barwan Kala village under Adhaura block of Kaimur district in Bihar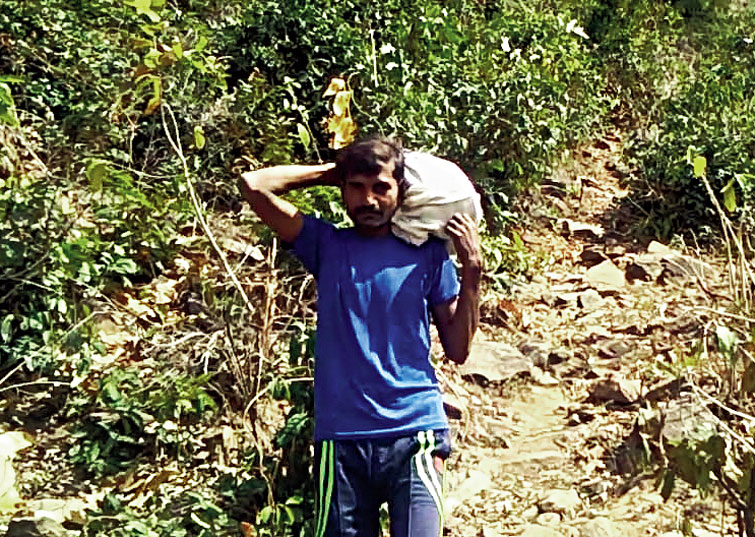 A man lugs supplies at Barwan Kala village, from where the nearest polling booth is 12km away.
Picture by Sanjay Choudhary
---
Kaimur
|
Published 30.04.19, 01:27 AM
|
---
Ram Vilas Kharwar, 65, will not vote. For him the Election Commission of India's catchphrase, "No voter to be left behind", is a cruel joke.
The nearest polling centre is around 12km from Kharwar's Barwan Kala village under Adhaura block of Kaimur district in Bihar. There are no roads in the hilly, forested region. A voter has to trek the entire distance and back.
"I voted in the 2014 Lok Sabha and 2015 Assembly elections, but I had to start at 5am and reached home late in the evening. This time I will not be able to endure the hardship," Kharwar said.
He and other elders said there was a polling centre at Barwan Kala till the year 2000. It was shifted to Vinobanagar, 12km away, after Maoists set off a bomb in the panchayat. Left-wing extremism has waned since then in the area, but the polling centre has not returned. As a result, only 300 to 400 of the 3,000 voters in the village are able to vote.
The panchayat has a population of around 5,000. Around 60 per cent are Kharwar tribals; the rest is a mix of Chamar, Yadav and other castes. Barwan Kala, around 275km from Patna, is part of Sasaram Lok Sabha constituency.
"We don't have any road, drinking water is scarce except in the rainy season, proper electricity has not reached though a little bit of light is available due to solar power," said Deshraj, a Barwan Kala resident, a carpenter who keeps shuttling between his village and nearby towns. "Agriculture depends on the rain gods; irrigation facilities are non-existent. Some rear desi cows that are very short and give thick, creamy and tasty milk, but there are no marketing facilities for it. The people here have accepted that development is not in their fate, yet they want to vote," he added.
Even if a voter does trek 12km, forget about polling booth selfies. There are no mobile towers in the area that can feed a 2G phone. The villagers narrate how a district magistrate and a superintendent of police came to the panchayat a few years ago, and panicked on realising that there was no mobile telephone service.
"Officials rarely visit, so they don't know how people live here. Health facilities are non-existent. The school is just in name," said Devanand Yadav, an erstwhile Barwan Kala resident who completed his studies and became a doctor. He practises in Bhabhua town, 45km away.
The villagers collect twigs and branches for fuel; cooking gas has not reached them. They used to collect tendu leaves and other herbs from the jungle and sell to traders or bidi manufacturers. However, as the area is close to the Kaimur Wildlife Sanctuary, the forest department banned collection of tendu leaves. This was followed by a ban on collection, storage and trade of mahua flowers after Bihar became a dry state, as mahua is used to brew liquor. However, the poor people also eat the flowers.
"We understand prohibition, but did the state government ban storage and sale of grapes in the state? So why ban mahua? Just because only poor people eat it?" asked Deshraj.
To get money related to government schemes, the villagers have to travel 25km to the nearest bank branch at Adhaura. "You can understand the kind of life we lead," said Suresh Ram of Barwan Kala. "Sometimes we think, why do we vote, or what has it given us? We live in hope that our luck will change and some of us do manage to vote. Why don't you ask the government to get us a polling booth here?"
Asked, Bihar chief electoral officer H.R. Srinivasa expressed surprise.
"This is the first time I am hearing about a place where the polling booth is located at a distance of 12km," he said. "I know about booths being located at a distance of up to 7km in interior areas of Gaya, Aurangabad, and Nawada districts due to the Maoist problem. The Election Commission decided about the location of booths on the basis of the report of the district administration concerned."
Kaimur district magistrate Nawal Kishor Choudhary said the polling booth was shifted from Barwan Kala in consultation with the political parties on the basis of local intelligence reports.
"We are sorry for having a booth at such a distance, but apart from conducting fair and impartial elections, our duty is also to ensure that no untoward incident happens with voters, polling officials and security personnel. In any case, we have been given less than the strength of security forces demanded by us for the polls," Choudhary said.
The Adhaura region of Kaimur district has 108 villages like Barwan Kala, where development remains a mirage.
Sasaram votes on May 19