Summer bonanza in the United States
American Diaries: Harry Potter store opens in Flatiron district in Manhattan; Memorial Day in the US; Florida high school's sexism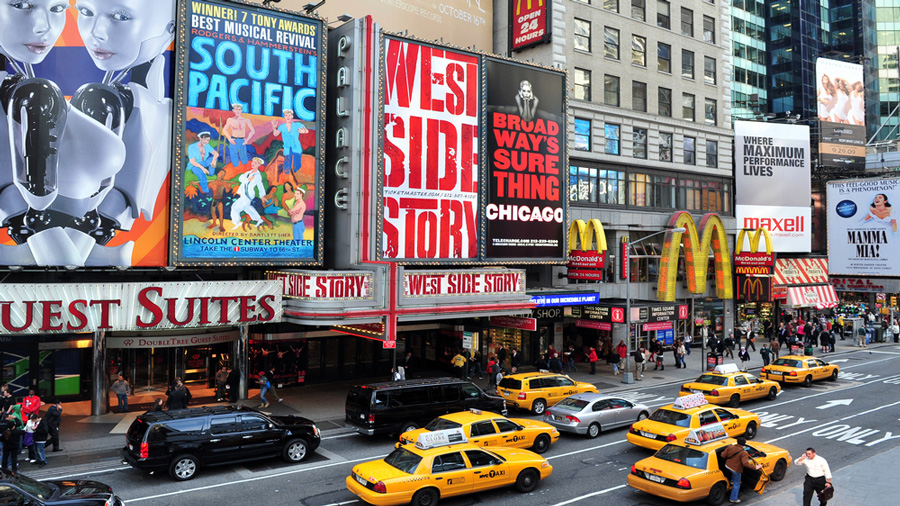 In New York City, Broadway shows are estimated to resume in September. (Representational image)
Shutterstock
---
Published 05.06.21, 12:32 AM
|
---
Summer's much anticipated this time around. After being cooped up at home for almost fifteen straight months, people can finally do the things they love and regain the lost human connection. This summer, many traditional events that were cancelled last year have returned and new ones have popped up. Movie screenings, concerts, food festivals and live arena sports have resurfaced as well. While local music festivals are popping up, the larger American festivals are gearing for a September launch. Milwaukee's festival, Summerfest, which is one of the largest music festivals in the world, said it will take place over the first three weekends of September. Coachella, postponed twice already, will be held next in 2022.
In New York City, Broadway shows are estimated to resume in September. The famous Shakespeare in the Park plays will return in July and the Tribeca Film Festival is slated to launch in June. Chicago's famous music festival, Lollapalooza, also returns in July with A-list musical guests. It typically brings in 100,000 attendees per day who watch multiple musical performances and enjoy local Chicago bites at the downtown Grant Park location. It is a much anticipated event for Chicago-dwellers, almost synonymous with summer, outdoors and fun.
Pride Month, which kicked off on June 1, is also back with a bang this year with blended virtual and in-person celebrations all over the country and people expected to take to the streets with parades, floats and rainbow colours.
Reel magic
To add on to a hopeful summer this year, the world's largest and much anticipated Harry Potter store opened in the Flatiron district in Manhattan recently. The store spans 21,000 square feet; intricate details of what it holds were released on the Harry Potter Fan Club app before the launch. The store is sectioned off into 15 themed areas. Merchandise ranges from wands, robes, chocolate frogs to your own Hogwarts acceptance letter. You can interact with actual movie props such as Hagrid's boots, an interactive wand table and even a 'moving' staircase. There are plenty of photo booths and photo opportunities throughout the sprawling space. 
The story also has a section with a multiplayer virtual reality game called "Chaos at Hogwarts" where you go exploring inside the magical castle. Another one, "Wizards Take Flight", will let players 'fly' on brooms and battle death eaters. The store is free to enter but will use a virtual queuing system. "It's been a really tough year in a lot of people's lives. We have a giant Fawkes the Phoenix hanging over our entrance at Fifth Avenue and I sometimes see that as a bit of a sign for the store — a phoenix from the flames," said Karl Durrant, a Warner Bros. vice-president.
But this summer was not just for Harry Potter fans; even diehard Friends fans had a chance to rejoice with the launch of the Friends: The Reunion, bringing back all six cast members and with special guest appearances from other supporting cast. The host, James Corden, mentioned that Friends has been watched one hundred billion times across the globe and now for the first time after 17 years the cast was united on television for the two-hour special.
Hit the streets
Unlike last year's more subdued, Covid-inflicted Memorial Day, this year was marked by optimism as various states slowly lifted Covid restrictions and more than half the adults have been fully vaccinated. The American Veterans Center describes the event as a "moving timeline of American history" that draws on traditions from past parades, going back to the beginning of the holiday just after the Civil War.
The National WWI Museum and Memorial in Kansas City hosted its first ever hot air balloon festival and in Washington, DC, bikers took to the streets keeping with the tradition since 1988 where motorcycle groups would ride the streets in memory of the troops who are classified as 'Prisoner of War' or 'Missing in Action'. In New York, Staten Island's 102nd annual Memorial Day Parade was back. The celebration serves to remember both those the country has lost in service as well as honour those who still serve today.
Shameful conduct
Recently a Florida high school's yearbook photos of the female students were altered to hide and cover their chest area, while pictures of the males — including of boys wearing just speedo swim shorts — were left untouched. The action was met with ridicule and shock. The school's dress code also is much more restrictive towards girls. Many stated that the school is body shaming and sexualizing them. The school's response seemed to indicate it was confused about the uproar. Most US schools have dress codes. In 2014, some students from a New Jersey high school created a #IAmMoreThanADistraction to protest their dress code. Several hundred online petitions to change traditional and sexist dress codes still exist.
Footnote
Ever heard of a retirement home for animal statues that used to be on display in various playgrounds? An aardvark, a frog, a camel, and two dolphins will be sent to a park referred to as the 'NYC Parks Home for Retired Playground Animals' by the city's parks department. They will not be touched up to keep their charm intact for park visitors to relive their nostalgia.