A sinister pattern
Actions that unsettle the State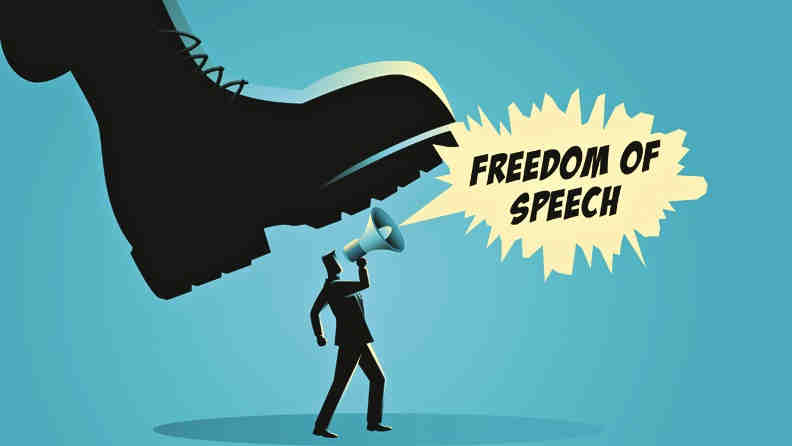 Representational image.
Pixabay
---
Published 21.06.21, 03:10 AM
|
---
This is a random, anecdotal account of the ordinary people — journalists of the regional media, cultural performers, those posting on Facebook — who provoke the law and order machinery to spring into action. It doesn't take much to unsettle the State.
Let's go back over the last decade.
In February 2010, Seema Azad, the editor of a monthly magazine called Dastak Naye Samay Ki, and her husband were arrested in Allahabad on charges of sedition and the Unlawful Activities (Prevention) Act. The Indian Express reported that the magazine, duly registered with the Registrar of Newspapers, focused on public issues. Its editor was the organizing secretary of the Uttar Pradesh chapter of the People's Union for Civil Liberties. The judge hearing the case for bail noted that she had been charged with offences which were not even remotely made out. The duo was arrested shortly after Seema wrote against the Ganga Expressway Plan, a project that would have displaced many farmers. She also wrote on Operation Green Hunt and the arbitrary arrests of Muslim youth by the Special Task Force in Azamgarh. They spent more than two years in jail before they got bail.
November 2012: Shiv Sena leader, Bal Thackeray, had died in Mumbai and the city shut down. Shaheen Dhada, 21, took to her Facebook account to ask why. "When was the last time did anyone show some respect or even a 2mins silence for Shaheed Bhagat Singh, Azad, Sukhdev or any of the people because of whom we r free living Indians...? [sic]" She added, "Today, Mumbai shuts down due to fear not due to respect!!!"
After the comment was noticed by a Sainik, Dhada and a friend who had liked the comment were arrested. They were first charged with Section 295(A) of the Indian Penal Code which deals with deliberate and malicious acts, intended to outrage religious feelings or any class by insulting its religion or religious beliefs. This was changed to Sec 502-(2) — statements creating enmity, hatred or ill will between classes. Finally, the police charged them with Sec 66(A) of the Information Technology Act, and then, a few weeks later, following widespread outrage, withdrew the charge.
The incident led to Sec 66(A) being challenged in the Supreme Court and the striking down of this section of the IT Act in 2015.
The year 2012 ended with a Kannada TV reporter, Naveen Soorinje, being sent to jail for reporting the raid on a homestay party by a Hindu fundamentalist group in July. The Hindu Jagarana Vedike allegedly attacked a birthday party at an unlicensed homestay in Mangalore, beating, stripping and molesting those who had attended. The police charged Soorinje under the UAPA and IPC, put him in jail in November, and the Karnataka High Court denied him bail. He was the criminal, for reporting the attack.
Between 2011 and 2017, members of the young Pune-based Dalit activist performing group, the Kabir Kala Manch, were arrested under UAPA by Maharashtra's anti-terrorism squad, jailed at different times and then released on bail, three of them by the Supreme Court in 2017. They would sing political songs in Naxal-dominated areas on issues of Dalit and tribal oppression, malnutrition, female infanticide, and farmers' suicides. They were charged with being a front for Maoists. Again in 2020, the National Investigation Agency arrested three members of this group in the Bhima Koregaon-Elgaar Parishad case.
In 2015, Santosh Yadav, a Bastar journalist, was arrested by the Chhattisgarh police for his alleged involvement in an encounter during a road operation that claimed the life of a police officer. He was charged with aiding Maoists under various sections of the IPC, the Arms Act, the UAPA, and the Chhattisgarh Public Security Act. The evidence offered was a police officer's statement that he could see Yadav's face in the light of a para bomb that was flared during an ambush in Darbha in August 2013. But later, in an identification parade memo in January 2016, the officer could not identify the accused "with certainty".
Nevertheless, Yadav spent a year and a half in jail till the Supreme Court granted him bail in early 2017. He told journalists that the police had been gunning for him because they felt he did 'too much' reporting on the adivasis and their plight.
Facebook posts have acquired the status of major unlawful activity, attracting charges of sedition and UAPA. The year, 2016, saw a Kashmiri youth in Chhattisgarh being arrested on charges of sedition for liking a cartoon on Facebook which allegedly made fun of India. He was finally granted bail by the Chhattisgarh High Court, on his fourth bail plea.
The year, 2018, saw the editor of a small newspaper in Chhattisgarh land a sedition FIR for posting a cartoon about the Supreme Court that someone had shared, on his Facebook wall. That was the year of the judges' press conference. The complaint to the police came from a citizen of Rajasthan.
Masrat Zahra, a Kashmiri photojournalist who covers women and children in conflict, was in April 2020 charged under the UAPA for uploading photographs that allegedly glorified "anti-national activities". The UAPA had been amended in 2019 to allow the government to proscribe individuals as terrorists.
In October 2020, Siddique Kappan, a journalist for a Malayalam news portal set out to report on the gang rape and murder of a Dalit girl in Hathras in western Uttar Pradesh. He was arrested before he even got there for alleged links to a radical group not proven so far. This has become a widely reported case of incarceration for charges relating to terrorism, outraging religious feelings, conspiracy to incite violence, and sedition. He was given bail briefly to visit his dying mother, and has survived Covid in jail. Earlier this month, a Mathura court dropped proceedings on the charges related to apprehension of breach of peace against him and three others after the police failed to complete the inquiry in time. But he remains in jail for other charges.
As the chronology shows, the unleashing of laws relating to sedition and terrorism did not begin with this government, and is not confined to the Central government. It has become both an occupational hazard and a random hazard for those who run out of luck.
Sevanti Ninan is a media commentator and was the founder-editor of TheHoot.org